Dispatches from the Culture Wars - Red & Expert edition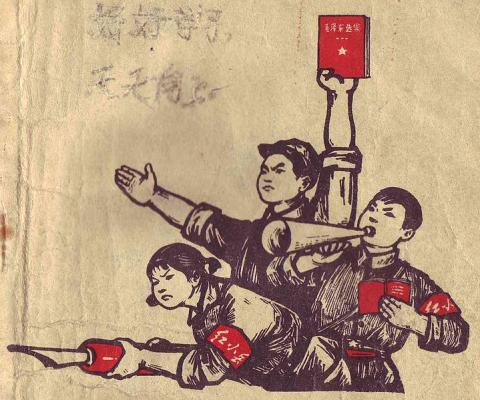 Cover of elementary school textbook from Guangxi 1971, shows three young Chinese Red Guards from the Cultural Revolution.,Wikimedia Commons
Famous Chinese Princeling Apologizes for Cultural Revolution
By Tyler Roney
January 16, 2014
The Diplomat
Sunday saw a tearful apology from Song Binbin, a controversial Red Guard figure connected to the brutal death of teacher Bian Zhongyun. The Monday story, which appeared in The Beijing News, opened the old wounds of the Cultural Revolution, and thrust one of the nation's most tumultuous eras of political turmoil back into the limelight.
Since the Cultural Revolution ended, conversation on this period has been whitewashed, muzzled, muted, and censored.  Song Binbin's apology surprised many. She truly emerged in the public eye at the start of August 1966 when she was met by Chairman Mao at Tiananmen Square. There, she put a Red Guard armband on the Great Helmsman. This meeting changed her life and even - arguably - her name, which Chairman Mao suggested should be "Yaowu" (meaning "be militant") rather than "Binbin" (which means "be elegant"). With that, Song became a lightning rod and a propaganda tool for Mao's war against his political enemies.
But the real controversy surrounding her stems from the death of Bian Zhongyun at the Girls' Middle School attached to Beijing Normal University, the first murder of the Cultural Revolution. Former classmate Wang Youqin claims Song Binbin was one of the Red Guard leaders, but in a 2003 documentary called Morning Sun, Song insisted, "I never participated in the Red Guard destructions, not even once ... I feel so wronged because I was always against physical violence." At first glance, Song's apology is no different from the hundreds of other confessions from that tumultuous time, but given her status as a Red Guard icon and her father's position as one of the "Eight Elders" of the CCP, the story quickly gained traction.  Despite appearances, China is a long way away from open discussion of the Cultural Revolution, and as the generation of the Red Guards ages, a chance to learn is being lost.
Leader of Russian Anti-gay Extremists who Target LGBT Youth Arrested in Cuba
By Brody Levesque
January 18, 2014
LGBTQ Nation
Cuban law enforcement officials on Friday arrested and detained the leader of a Russian anti-gay extremist group, according to a source in the Russian Federal Security Services. An Interpol "wanted" arrest and detention warrant was served on Maxim Sergeyevich Martsinkevich in a raid on a central Havana hotel room where he was determined to be residing.
Russian authorities initiated criminal proceedings in November against Martsinkevich for a number of anti-gay assaults on gay and perceived gay citizens inside the Russian federation by his group "Occupy Pedophilia." Martsinkevich's alleged attacks include assaults on citizens from Ukraine, Iraq, and South Africa.
Martsinkevich and his followers believe that being gay equates to being a pedophile, and boast via their social media pages that they are on the "hunt" for pedophiles to eliminate the "deviant filth" from Russian society.
The Politics and Popularity of "Downton Abbey"
By Gregory Kosc and Kallie Kosc
January 13, 2014
History News Network
On the surface, it isn't hard to imagine why Downton Abbey has received so much critical and popular acclaim in the states. The show's ability to recreate a visually stunning and overly-dramatic version of early twentieth-century Britain has captured the attention of many cultural commentators, all of whom tend to use these qualities to explain how Americans hunger for escapism and le happy end.
Tellingly, in an era of incredible partisanship and divisive rhetoric, the program is popular across the political spectrum. And, beyond production value and drama, Downton allows people from across the socio-economic and political spectrum to see their values legitimized through the storytelling process.
While the characters and plot lines offer viewers a chance to reconcile their varying political perspectives, Downton Abbey reinforces our accepted (if not always practiced) American values and offers us an opportunity to take pride in our collective past in an era when our collective future is in doubt. Perhaps the critics are partially correct; escapism does play a role in the show's success, but it has far less to do with sets and cinematography and far more with the need Americans have for national pride.
MLK's Radicalism Muted By MLK Archives (sponsors: JP Morgan Chase & Co.)
By Raj Patel
January 17, 2014
rajpatel.org
This Martin Luther King day, why not celebrate by reading one of MLK's last speeches, the one delivered at Carnegie Hall on 23 February 1968 to fête the 100th Anniversary of the birth of W. E. B. DuBois?
Well, you can't.
Not, at least, if you go to the MLK archive (sponsors: JPMorgan Chase & Co.). I wrote to them earlier this week, pointing out that in their million document collection of speeches, letters and pamphlets, they had omitted Dr King's encomium to the great W. E. B. DuBois.
Luckily, this speech explains the importance of writing history against power, points to those for whom such writing is so very uncomfortable, and demands - demands - that criticism come with organizing for justice. It's a speech that deserves to be far better known. So here it is, in its entirety.
Korean Community Leaders Urge McDonald's Boycott
By Sarah Maslin Nir and Jiha Ham
January 16, 2014
New York Times
Word ricocheted around the Korean enclaves of Queens, then onto the Internet, where it was picked up by Korean news media and sent in translation to the homeland. The situation inspired television news reports, an animated parody and on Thursday culminated in a summit on a Flushing street corner calling for a boycott: all because a McDonald's had appeared to disrespect several older Korean people who treat a neighborhood branch of the fast-food chain like their living room.
On Thursday afternoon, several Korean community leaders hand-delivered a letter to a manager of the McDonald's franchise at the corner of Parsons and Northern Boulevards, outlining their outrage that, over the past several months, the management has called 911 to oust older men and women who sit for hours hovering over a single cup of coffee. The dispute was reported by The Korea Times and this week by The New York Times.
Whether the Koreans, many in their 70s and 80s, were right or wrong to spend their days at the restaurant, arriving as early as 5 a.m. and paying as little as $1.09 for a cup of coffee during their daylong stays, seemed not to matter much to the small but vocal group protesting against McDonald's before an assortment of television cameras and photographers. What seemed to nettle the Korean community most was the perception that in asking police officers to remove the group, the business had been rude.
In Suggestions for Victorious Bus Boycotters, MLK's Powerful Turn Toward Nonviolence
By Rebecca Onion
January 17, 2014
The Vault - Slate's history blog
This document, drafted by the Montgomery Improvement Association, advised victorious bus boycotters on best practices for riding the newly integrated city bus system.  When the document was distributed on Dec. 19, 1956, the bus boycott had been going on for nearly 12 months. The MIA, headed by Martin Luther King, Jr., coordinated the boycott throughout.

As what had initially been a short-term campaign of a few days stretched into weeks and months, the MIA organized carpools and weathered bombings and legal challenges. African-American citizens walked miles to work, and marched in protest. Gandhi-inspired civil rights leaders Glenn E. Smiley and Bayard Rustin advised King and the MIA during the boycott. This document shows how far the philosophy of non-violence had permeated the movement by the time of this victory.  The MIA advocated quiet presence and "calm dignity" in victory: "Remember that this is not a victory for Negroes alone, but for all Montgomery and the South. Do not boast! Do not brag!"