Dispatches from the Culture Wars - Do It On Monday edition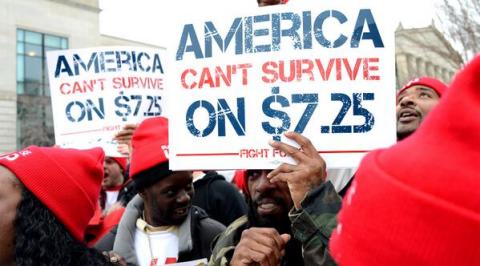 "We need more money. We need affordable benefits. We need people that actually see that we are working hard. We need support." - Zelma Higgs, manager, Taco Bell, Lexington, N.C.,credit Stephen D. Melkisethian via Flickr // WUNC - North Carolina Public Radio
15 Photos From The Massive Progressive Protest You Didn't Hear About This Weekend
By Esther Yu-Hsi Lee
February 9, 2014
Think Progress
Activists have gathered at weekly protests, called `Moral Mondays,' in North Carolina since 2013 as a way to give voice to individuals whose rights were under attack by the Republican-controlled legislature. While there were no reported arrests in Saturday's protest, hundreds of nonviolent protesters were arrested during last year's Moral Monday events.
Here's a look at 15 of the best photos from Saturday's Moral March.
Exxon CEO Comes Out Against Fracking Project Because It Will Affect His Property Values
By Rebecca Leber
February 21, 2014
Think Progress
At ExxonMobil's CEO, it's Rex Tillerson's job to promote the hydraulic fracturing enabling the recent oil and gas boom, and fight regulatory oversight. The oil company is the biggest natural gas producer in the U.S., relying on the controversial drilling technology to extract it.
The exception is when Tillerson's $5 million property value might be harmed. Tillerson has joined a lawsuit that cites fracking's consequences in order to block the construction of a 160-foot water tower next to his and his wife's Texas home.  
The Wall Street Journal reports the tower would supply water to a nearby fracking site, and the plaintiffs argue the project would cause too much noise and traffic from hauling the water from the tower to the drilling site.  Though Tillerson's name is on the lawsuit, a lawyer representing him said his concern is about the devaluation of his property, not fracking specifically.
In shale regions, less wealthy residents have protested fracking development for impacts more consequential than noise, including water contamination and cancer risk. Exxon's oil and gas operations and the resulting spills not only sinks property values, but the spills have leveled homes and destroyed regions.
Protest Action Erupts Inside Guggenheim Museum
By Hrag Vartanian
February 23, 2014
Hyperallergic
Last night, over 40 protesters staged an intervention inside the Guggenheim Museum in Manhattan during Saturday night's pay-what-you-wish admission hours. Unfurling mylar banners, dropping leaflets, chanting words, handing out information to museum visitors, the group worked to highlight the labor conditions on Saadiyat Island in the United Arab Emirates, where Guggenheim Abu Dhabi, a franchise of New York's Guggenheim, is being built.
The participants, who were a diverse group of artists, professors, students, and activists loosely affiliated with Occupy Museums, Gulf Labor, and various NYU-related groups, timed their protest to take place during the pay-what-you-wish hours of the museum, which normally charges $22 admission for adults.
Gulf Labor is a coalition of artists, academics, and activists who have worked for over a year to ensure that the labor conditions on Saadiyat Island in Abu Dhabi, which will house Guggenheim- and Louvre-branded museums and a NYU-affiliated university, are not exploitative to workers. Many human rights organizations say that the workers who are brought to Saadiyat Island are victimized by the nation's sponsorship system and face grueling and inhuman conditions on a daily basis.
The coalition, which was using the acronym G.U.L.F. (Gulf Ultra Luxury Faction) to identify themselves in their informational brochure, hope that this will be the first in a series that builds bridges in their continuing fight for social justice.
Amid Bus Protests, Google Donates $6.8m to Fund Free Transit Rides for San Francisco Youth
By Casey Newton
February 27, 2014
The Verge
Amid widespread protests over tech companies' use of public transit infrastructure, Google said today it would fund two years of free transit rides for San Francisco youth. The $6.8 million grant, which is said to be one of the largest private donations in the city's history, will fund the year-old Free Muni for Low Income Youth program. The cost of the program was previously paid by the city. More than 31,000 low-income youth, ages 5 to 17, have taken advantage of the program since it began a year ago.
Google's donation comes a month after it and other tech companies agreed to pay for their use of public bus stops to transport workers to and from their campuses in private shuttles. The shuttles have become a powerful symbol for rising inequality in the Bay Area, where evictions of lower-income residents have skyrocketed as landlords seek to profit from the influx of affluent tech workers. Protests have continued even after the agreement, in part because the deal does not generate any new revenue for the city. Google's move today signals that pressure from the community has gotten the company's attention.
Smartphones, Smart TVs, and now... Smart Diapers?
By Michael Franco
February 12, 2014
CNET
Imagine this: You're sitting in your living room watching the season premiere of "Game of Thrones" when suddenly you get a text message from your 2-month-old daughter saying her diaper needs to be changed. No, she's not a super-smart infant who learned how to text at birth -- but her diaper is pretty smart and it knows when it's wet and needs your help -- even if winter is finally coming right this second.
That future that might be possible, thanks to a new invention from Takao Someya and a team of researchers at the University of Tokyo. This team announced in the journal Nature that they'd come up with flexible circuits, thinner than a piece of plastic wrap, that could be implanted in the body to monitor body temperature or blood pressure or implanted on the roof of the mouth to be used as a touch pad for quadriplegics.
Now, they've applied their research to a truly worthwhile problem -- knowing when a diaper is soiled without having to undress the wearer first. The Tokyo team, led by Someya and Takayasu Sakurai (both professors at the university) have created a disposable, organic sensor that can be embedded in a diaper. The sensor, which is printed on a film using inkjet technology, responds to conditions that cause a change in electrical resistance, such as pressure, temperature, and -- most relevantly -- wetness.