BDS and American Jews; Israelis Resist Draft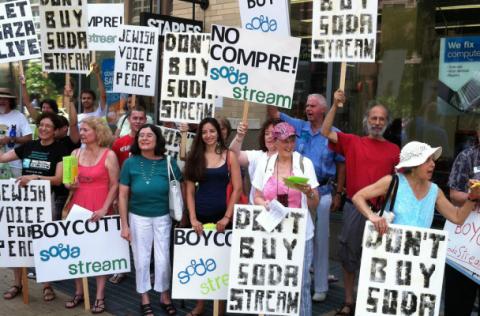 Recent Jewish Voice for Peace demonstration against Soda Stream, credit - Jewish Voice for Peace
Boycott, Divestment, and Sanctions (BDS) and the American Jewish Community
by: Donna Nevel
March 7th, 2014
Tikkun Daily
Many American Jewish organizations claim to be staunch supporters of civil and human rights as well as academic freedom. But when it comes to Boycott, Divestment, and Sanctions (BDS) against Israel, they make an exception. In their relentless opposition to BDS, they leave even core principles behind.
The Palestinian-led call for BDS, which began in 2005 in response to ongoing Israeli government violations of basic principles of international law and human rights of the Palestinian people, is a call of conscience. It has strengthened markedly over the last few years among artists, students, unions, church groups, dockworkers, and others. Media coverage of endorsers of the boycott has gone mainstream and viral. Recent examples include Stephen Hawking's refusal to go to Jerusalem for the Presidential Conference, the successful campaign surrounding Scarlett Johansson's support for Soda Stream and its settlement operation, and the American Studies Association (ASA) resolution that endorsed boycott of Israeli academic institutions.
Alongside BDS's increasing strength have come increasingly virulent attacks on, and campaigns against it. These attacks tend to employ similar language and tactics - as if the groups are all cribbing from the same talking points - including tarring BDS supporters as "anti-Semitic" and "delegitimizers."
These attacks simply don't address or grapple with the core aspirations or realities of BDS. As described by Hanan Ashrawi, executive committee member of the PLO, in a recent letter in the New York Times, BDS "does not target Jews, individually or collectively, and rejects all forms of bigotry and discrimination, including anti-Semitism." She goes on to explain that "B.D.S. is, in fact, a legal, moral and inclusive movement struggling against the discriminatory policies of a country that defines itself in religiously exclusive terms, and that seeks to deny Palestinians the most basic rights simply because we are not Jewish."
The use of name-calling like "anti-Semites" and "delegtimizers" is problematic for a number of reasons, not only because its claims are untrue, but also because it takes the focus off the real issue at hand - whether and how Israel is, in fact, violating international law and basic human rights principles - and, instead, recklessly impugns the characters of those advocating for Israel to be held accountable.
Criticisms, even extremely harsh ones, of the Israeli state or calls to make a state democratic and adhere to equal rights for all its citizens are not anti-Semitic. Rather, anti-Semitism is about hatred of, and discrimination against the Jewish people, which is not anywhere to be found in the call for BDS, and these kinds of accusations also serve to trivialize the long and ugly history of anti-Semitism.
Most recently, the anti-BDS effort has moved to the legislative front. A bill, introduced in the New York State Assembly last month, would have trampled academic freedom and the right to support BDS in its quest to punish the ASA and deter any who might dare to emulate its endorsement of the academic boycott. Those supporting the bill were opposed by a broad coalition of education, civil rights, legal, academic, and Palestine solidarity organizations, as well as Jewish social justice groups. The bill was withdrawn, but a revised version has been introduced that is designed, like the original, to punish colleges that use public funds for activities related to groups that support boycotts of Israel, including mere attendance at their meetings.
The Jewish Community Relations Council (JCRC) worked closely with the sponsors of the New York bill.
Like the JCRC, rather than engaging in substantive debate about the issues raised in relation to BDS, the Israeli government and many Jewish communal organizations choose, instead, to try to discredit and derail the efforts of those supporting BDS.
For example, as recently reported by Ha'aretz, the Israeli Knesset is debating how to continue to counter BDS efforts across the globe, that is, "whether to launch an aggressive public campaign or operate through quieter, diplomatic channels." It is also considering what the role of AIPAC might be in introducing anti-boycott legislation and how to best bolster military surveillance-which has significant funding behind it-against supporters of BDS.
American Jewish communal organizations have also expended massive resources and energy in their campaigns to demonize endorsers of BDS. The Israel Action Network (IAN)-which describes itself as "a strategic initiative of The Jewish Federations of North America, in partnership with the Jewish Council for Public Affairs (JCPA), created to counter assaults made on Israel's legitimacy"-has funded the anti-BDS effort to the tune of at least six million dollars over a three-year period.
The IAN website characterizes supporters of BDS as "delegitimizers"and says that, in order to gain support from "vulnerable targets," which include "college campuses, churches, labor unions, and human rights organizations," delegitimizers utilize Boycott, Divestment and Sanctions (BDS) tactics, "the same tools used to isolate and vilify apartheid South Africa, Iran, or Nazi Germany. BDS activists, IAN continues, "present distortions, fabrications and misrepresentations of international law in an attempt to paint Israel with the same brush."
In another example of name-calling without any substance, the Anti-Defamation League's (ADL's) July 2013 report attacked Jewish Voice for Peace (JVP), featuring ad hominem accusations (JVP "intentionally exploits Jewish culture"), rather than discussing JVP's actual positions. (A JVP report on the ADL points out that the ADL not only targets JVP but is well-known for its long history of spying on Arabs and supporters of the Palestinian movement.)
On the charge of anti-Semitism, the Simon Wiesenthal Center, in its call to fight the BDS movement, urges it supporters to "learn the facts behind this hypocritical and anti-Semitic campaign," and the ADL's Abe Foxman echoed those same sentiments: "The BDS movement at its very core is anti-Semitic." And most recently, in his speech to AIPAC, Prime Minister Netanyahu, after shamelessly drawing upon classic anti-Semitic imagery of Jews to speak of supporters of BDS, says: "So you see, attempts to boycott, divest and sanction Israel, the most threatened democracy on earth, are simply the latest chapter in the long and dark history of anti- Semitism."
The demonization of BDS is not only the domain of the Israeli government and the mainstream Jewish community. The self-declared liberal J-Street, in its seemingly relentless quest to stay under the Jewish "tent," has also jumped on the anti-BDS bandwagon, sometimes in partnership with the IAN, which (precisely because J Street is positioned as a peace group) proudly documents its relationship with J Street in fighting BDS. Discussing how J Street is gaining acceptance in the mainstream Jewish community, JCPA's CEO Rabbi Steve Gutow points to "its role in pushing back against the boycott, divestment and sanctions movement..."
Further, the refusal of both liberal land mainstream Jewish groups to discuss substantive issues around Israel's actions or BDS also reveals itself in language that admonishes BDS as being "beyond the pale." Recently, for example, as reported by the director of JVP in an op-ed in the Forward, the director of the JCRC of Greater Boston, who has a history of involvement in liberal organizations, explained that "any organization that supports BDS...doesn't belong at the communal table. In fact, he was referring specifically to Jewish Voice for Peace. He even argued that opening the public conversation to BDS is roughly akin to welcoming the Ku Klux Klan."
This attempted silencing of those simply discussing BDS plays out even in seemingly minor local skirmishes. For example, last year, the liberal rabbi of a large New York City synagogue canceled the synagogue's facilities-usage contract with a group of Jews who, he feared, might, on his premises, discuss BDS. That, he said, would be "beyond the pale."
These attacks against BDS appear to be an almost desperate reaction to the increasing successes of BDS, not only in the world at large, but also within the broader Jewish community itself. Respected members of the liberal Jewish community as well as a few liberal Zionist groups that were vehemently anti-BDS are now calling for boycotts against products made in the settlements and are engaging with the issue publicly. Further, the mission and vision of groups like Jews Say No and Jewish Voice for Peace - "a diverse and democratic community of activists inspired by Jewish tradition to work together for peace, social justice, and human rights" - are resonating with increasing numbers of Jews who support BDS as a natural outgrowth of their commitments. And that movement is growing in partnership with the broader Palestinian-led movement for justice.
How should the rest of the Jewish community respond? Ad hominem attacks on BDS just will not do. It is time for BDS opponents to take a deep breath. Consider this: BDS is a principled response to Israel's actions and behavior as an occupier. It is a profound call by Palestinians - and supporters world-wide-for justice. It is not BDS that should be opposed, but, rather, the very policies and practices that have made BDS necessary.
[Donna Nevel, a community psychologist and educator, is a long-time organizer for peace and justice in Israel/Palestine. She was a co-coordinator of the 1989 landmark Road to Peace Conference that brought PLO officials and Knesset members together to the US for the first time. More recently, she was a founding member of Jews Say No!, is a member of the board of Jewish Voice for Peace, and is on the coordinating committee of the Nakba Education Project, U.S.]
[Thanks to the author for sending her article to Portside.]
Israeli Youth: 'We Refuse to Serve in the Occupation Army'
Sixty young people sign open letter to Netanyahu announcing their resistance to the draft in biggest wave of refusal since 2008
By Sarah Lazare, staff writer
March 10, 2014
Common Dreams

Dafna Rothstein Landman told Common Dreams she'll go to jail before she'll serve in the Israeli Army.  Photo courtesy of Dafna Rothstein Landman // Common Dreams
 
"If necessary, I will go to jail."
Those are the words of 17-year-old Dafna Rothstein Landman, one of 60 and counting Israeli youth who signed an open letter sent to Israeli Prime Minister Benjamin Netanyahu over the weekend declaring their refusal of compulsory service in the Israeli military - the biggest wave of conscientious objection the country has seen since 2008.
Under the banner of Shministim - Hebrew for 12th graders - the group of conscientious objectors condemns the dehumanization of Palestinians living under occupation. In the Palestinian territories, "human rights are violated, and acts defined under international law as war-crimes are perpetuated on a daily basis," their letter states. "These include assassinations (extrajudicial killings), the construction of settlements on occupied lands, administrative detentions, torture, collective punishment and the unequal allocation of resources such as electricity and water."
Entitled We Refuse to Serve in the Occupation Army, the letter charges that this dehumanization hurts Israelis as well. (see below for full text) "The problem with the army does not begin or end with the damage it inflicts on Palestinian society. It infiltrates everyday life in Israeli society too: it shapes the educational system, our workforce opportunities, while fostering racism, violence and ethnic, national and gender-based discrimination."
"We refuse to forsake our principles as a condition to being accepted in our society," reads the joint letter, penned by people aged 16 to 20 who are eligible for compulsory service in the Army. "We have thought about our refusal deeply and we stand by our decisions."
Dafna, who helped write the letter, told Common Dreams she was only 15 years old when she began questioning her military service - a process she says was catalyzed when she reflected on the imprint of Israeli militarism on her own schooling experience. "I realized to what extent the education system is geared towards the Army and not towards further education, the job market, personal interests, etcetera," she said.
Soon after, she began traveling from her home in Tel Aviv to the West Bank, where she participated in Palestinian demonstrations against Israeli occupation. Here, she witnessed the "violence of the Army" first-hand. "I met people from those Palestinian villages," she said. "That meant that instead of names in a newspaper they became people, with faces and personalities."
She added that she became aware of the way "the Army perpetuates an ideal of male violence," within Israeli society.
When she and her friends began receiving letters about their Army draft around last summer, they became "worried" and began taking steps towards their joint refusal.
This year's crop of public resisters follows a history of joint draft refusal in Israel, which has been waged since 1970, when a group of students declared their refusal of the draft in an open letter to then-Prime Minister Golda Meir. The term Shministim caught on in 2008 when 100 young people signed an open letter refusing the draft, and the years since have seen waves of conscientious objection.
This includes resisters from the Druze religious community - a conscientious objection movement that is reportedly growing, as well as ultra-orthodox draft refusers. According to the Committee for the Druze Initiative, a Druze organization that supports conscientious objectors, since compulsory service was imposed on Druze men in 1956, approximately 5,000 have been imprisoned for refusing to serve in the Army.
"We stand in solidarity with the ultra-orthodox youth and the Arab youth - Christian and Druze, some of whom are currently in an army prison," said Roni Lax, a 20 year old signatory from Bnei Brak, in a statement about the letter emailed to Common Dreams.
The Israeli military makes it near-impossible to declare conscientious objector status, and refusers are often jailed for multiple consecutive terms for refusing an order. Meanwhile, many Druze resisters face horrific conditions in prison, including religious and ethnic discrimination. Several Palestinian citizens of Israel from the Druze community are currently incarcerated for refusing the draft.
"The Army serves the people in power and not the civilians, who are only a tool," said Shaked Harari, a 17-year-old signatory from Bat Yam. "My friends and I refuse to be cannon fodder."
"My refusal is a way of expressing my opposition to the wrongs done daily in our name and through us," said Mandy Cartner, a 16-year-old signatory from Tel Aviv.
Says Dafna, "In a society where Army service is taken for granted, we wanted to shake this concept and make people think about the implications of serving in the Army."
The following is their statement:
`We, citizens of the state of Israel, are designated for army service.
We appeal to the readers of this letter to set aside what has always been taken for granted and to reconsider the implications of military service.
We, the undersigned, intend to refuse to serve in the army and the main reason for this refusal is our opposition to the military occupation of Palestinian territories. Palestinians in the occupied territories live under Israeli rule though they did not choose to do so, and have no legal recourse to influence this regime or its decision-making processes. This is neither egalitarian nor just. In these territories, human rights are violated, and acts defined under international law as war-crimes are perpetuated on a daily basis. These include assassinations (extrajudicial killings), the construction of settlements on occupied lands, administrative detentions, torture, collective punishment and the unequal allocation of resources such as electricity and water. Any form of military service reinforces this status quo, and, therefore, in accordance with our conscience, we cannot take part in a system that perpetrates the above-mentioned acts.
The problem with the army does not begin or end with the damage it inflicts on Palestinian society. It infiltrates everyday life in Israeli society too: it shapes the educational system, our workforce opportunities, while fostering racism, violence and ethnic, national and gender-based discrimination.
We refuse to aid the military system in promoting and perpetuating male dominance. In our opinion, the army encourages a violent and militaristic masculine ideal whereby `might is right`. This ideal is detrimental to everyone, especially those who do not fit it. Furthermore, we oppose the oppressive, discriminatory, and heavily gendered power structures within the army itself.
We refuse to forsake our principles as a condition to being accepted in our society. We have thought about our refusal deeply and we stand by our decisions.
We appeal to our peers, to those currently serving in the army and/or reserve duty, and to the Israeli public at large, to reconsider their stance on the occupation, the army, and the role of the military in civil society. We believe in the power and ability of civilians to change reality for the better by creating a more fair and just society. Our refusal expresses this belief.
For details:
Dafna Rothstein Landman - 0522470123 - dafna.e.r.l@gmail.com