labor
NUHW Wins Squeaker Victory at Seton Medical Center -- Or Does It?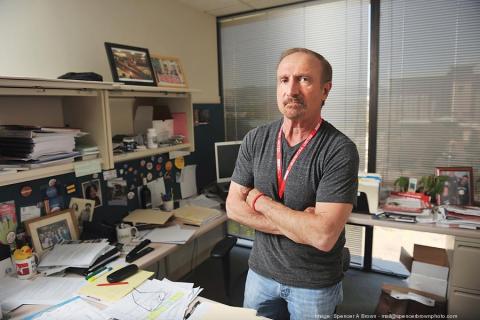 Sal Rosselli of United Healthcare Workers West is battling his old union, SEIU' s United Healthcare Workers West.,Spencer A. Brown
The National Union of Healthcare Workers says it's prevailed in a March 19 do-over election at Seton Medical Center over its arch-rival, the Service Employees' International Union, but the other side says the verdict isn't official yet.
NUHW said this morning that it won 279 votes, with SEIU's United Healthcare Workers West local nabbing 252, in a union representation election to rerun a challenged 2012 vote. Nineteen voters in the Wednesday replay election wanted neither health care union to represent them. Nearly 700 workers could be affected by the ultimate decision.
But SEIU, the incumbent, says there are enough challenged ballots in the tally to affect the results, and submitted National Labor Relations Board documentation to back up its side of the argument.

Steve Trossman, an SEIU spokesman, said getting challenged ballots reviewed and accounted for by federal labor authorities could easily take weeks or even months.
About 670 service workers at Daly City's Seton Medical Center and its Seton Coastside satellite in Moss Beach belong to the bargaining unit at stake in the confrontation. SEIU won an earlier vote two years ago that's been tied up in controversy and challenges at the National Labor Relations Board.
Seton, meanwhile, has its own challenges. It's part of the financially challenged Daughters of Charity Health System, based in Los Altos Hills, which is in the midst of trying to sell its six hospitals, including Seton.
NUHW is led by ousted former longtime UHW president Sal Rosselli; the two organizations are bitter rivals that fight over every piece of health-care turf.
Results of the 2012 election were challenged by NUHW, which alleged that the hospital's management gave improper aid to SEIU.
UHW seems eager to return the favor. The SEIU "will be filing objections" to various aspects of the March 19 vote, Trossman said. The UHW unit is headed by Dave Regan.
Not counting the Seton bargaining unit, NUHW represents roughly 10,000 workers statewide, compared to about 149,000 at SEIU's Oakland-based UHW local.