labor
Operatic Drama Swells in Labor Talks at the Met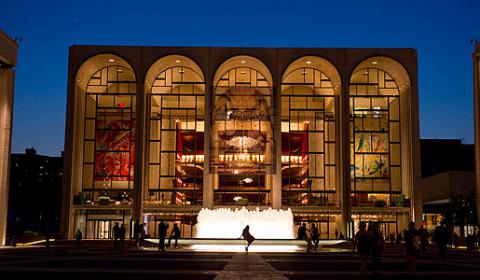 The Metropolitan Opera is asking unions to accept a pay cut of 16 percent.,
Labor strife at the Metropolitan Opera has been known to reverberate from the opera house to the White House. President John F. Kennedy helped salvage the 1961 opera season by asking his labor secretary to intervene in negotiations. President Jimmy Carter sent telegrams urging management and labor to keep talking in 1980, but a long lockout still truncated the season.
Now, as the latest labor talks at the Met have gotten off to their most contentious start in decades, replete with colorfully threatening emails and emotions running nearly as high offstage as on, it is beginning to look as if a little presidential intervention might come in handy again.
The Met — worried by declining box office income, high labor costs, a growing reliance on donors and heavy spending from its endowment that has left it smaller than it was a decade ago — opened the negotiations recently by asking its unions to accept cuts of roughly 16 percent. The unions, whose contracts are up at the end of July, have balked, urging the company to seek savings elsewhere in a budget that reached $327 million last year. The American Guild of Musical Artists, which represents the chorus and others and is one of the 16 unions at the house, had publicly been warning its members to prepare for a possible lockout next season.
The offstage drama that has been playing out has highlighted the difficult economics of opera in the 21st century, which have forced several companies to close or scale back. A spate of recent emails between labor and management, and a review of the opera house's financial statements have pulled back the curtain a bit on life at the Met, one of the most important opera houses in the world.
Many of the talks will center on work rules that the Met finds too costly. The Met estimated in a recent memo that members of its chorus earned an average of $200,000 last season and called for changes that it said would reduce that figure to around $170,000. The union said that it believed that the changes the Met is proposing would cut deeper than that.
Already, some dirty laundry is being aired in public: An email complaining that bedbugs had been seen in the men's chorus dressing room was recently forwarded to The New York Times, along with long strings of emails between the American Guild of Musical Artists and management. In one, Alan S. Gordon, the union's executive director, insisted that their first meeting be held on neutral ground, and suggested the Empire Hotel, across from Lincoln Center.
"If you refuse to meet with us there, you make that choice at your peril," he wrote to Peter Gelb, the Met's general manager.
Mr. Gelb replied with an email that said, "I would suggest that you reread your note below in the clear light of morning and think about a more temperate response."
Mr. Gordon fired back, "When you and your advisers are out to destroy the livelihood, welfare and families of the people that it's my job to represent and protect, there's little for me to be temperate about."
With declining box office revenue at the opera house, the Metropolitan has had to look for money elsewhere.
The new century — which has brought two recessions and an increasingly squeezed middle class — has been tough on American opera companies and some orchestras. Last fall, New York City Opera folded after nearly 70 years, and last month, the San Diego Opera announced its intention to close at the end of this season, citing dwindling donations and falling ticket sales — a decision that is being reconsidered. (A labor showdown at the Minnesota Orchestra led to a 16-month lockout that ended this winter after musicians accepted a pay cut, but the tumult there continues.)
When Mr. Gelb became the Met's general manager in 2006, he embarked on a strategy of expansion to try to make opera more relevant to younger audiences. He increased the number of new productions each season and hired well-known directors to create them; began the successful "Live in HD" program that now beams operas to some 1,900 movie theaters in 64 countries; and added performances for families around the holidays, among other things.
Those initiatives have helped drive up expenses by more than $100 million a year, but have also attracted record fund-raising and created a key new revenue stream from the movie theater simulcasts. But after an initial spike in box office income at the opera house, attendance has fallen since the recession hit. Last season, which ran from late September 2012 through early May 2013, a price increase combined with Hurricane Sandy to help drive attendance to a new low: The Met earned only 69 percent of its box office capacity. So the house lowered ticket prices, and is now seeking to cut labor costs.
In a letter to the union representing the chorus, Mr. Gelb explained the need for cuts by citing declining box office income and the Met's "insufficient" endowment: The recession and large drawdown in recent years left it worth $253 million at the end of last year, down from a high of $336 million in 2007.
"While I realize that the prospect of facing a cut is painful, it will be far more painful if the Met were to cease to exist," Mr. Gelb wrote to members of the chorus. "That is what I am trying to prevent from happening, working in collaboration with the Met's employees."
In an interview, Mr. Gelb said, "The Met's plan is to both reduce its expenses and increase its endowment to an amount double what it currently is, in an effort to create a sustainable business model that will also provide hope to our generous donors and a reason for them to continue to support the Met."
The union representing the chorus has called on the Met to target "waste" so it can give its members modest raises, and has proposed creating a committee of its members to sign off on the number of new productions mounted each season and their costs. The Met, in a memo back, said that labor costs account for two-thirds of its expenses. The company's financial statements said that last year it spent $21.7 million — less than 10 percent of its expenses — on new productions. These productions have become a crucial part of its strategy to attract new audiences, and are generally paid for by donors.
Opera is labor-intensive. The Met's production of Puccini's "La Bohème" — one of its most lavish, which is running this month — employs seven principal singers, 80 chorus members, 35 children, 72 musicians in the pit, 12 musicians in a stage band, 106 nonsinging supernumeraries and a horse and a donkey. Backstage, 94 stagehands help change its monumental sets and make it snow in the third act.
European opera companies rely on state subsidies to augment their income, while American troupes rely on donations. And the revenue mix is shifting in America. As recently as a decade ago, the Met took in more from the box office than from donations, but last year, contributions covered nearly half of the Met's expenses, while box office income covered just over one quarter. (The rest comes from media income from its simulcasts, endowment income and other sources.)
In opera houses, payment systems can be as complex as a 12-tone score, and the negotiations are expected to center on the Met's proposals to change them.
Chorus members currently derive only about half their pay from their base salary, which covers four performances a week. The rest comes from the extra money they are paid for rehearsals and for things including working more than seven and a half hours in a day, changing costumes during breaks and, in recent years, appearing in the movie theater simulcasts. Chorus members are paid extra for rehearsals even in weeks when they have not had to sing in the four performances that their salaries are based on — a practice the Met wants to end.
Singers said the work rules protect them by discouraging the company from overscheduling them. Robert Maher, a baritone in the chorus, said that one day last week, he had a 10:30 a.m. rehearsal for Bellini's "I Puritani," an afternoon rehearsal from 1:30 to 4:30 p.m. to work on three operas, and a 7 p.m. call for a performance of Bellini's "La Sonnambula."
That night, he said, he left the stage door nearly 12 hours after his first rehearsal. "A day like that would have meant a substantial cut under these proposals," he said.
The Met's other biggest unions — Local 1 of the International Alliance of Theatrical Stage Employees, which represents the stagehands and which shut down Carnegie Hall's opening night with a strike this season, and Local 802 of the American Federation of Musicians, which represents the orchestra — have taken a less public stance as they prepare for negotiations with the Met.
The next act will begin on May 5, when the American Guild of Musical Artists sits down with the Met. The two sides agreed to find a neutral setting for the meeting — but not the Empire Hotel.