labor
Fast-Food Workers Set to Strike over Wages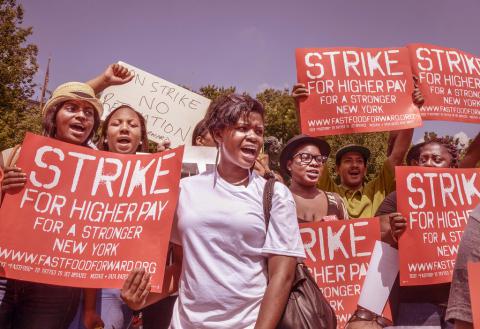 In 2012, workers in New York City started what has become a national campaign of fast-food workers for better wages and union representation. Now the movement could be going global., sweetestmag.com
When fast-food workers go out on strike around the world Thursday, Oakland resident Rhonesia Victor will be among the cooks and cashiers from 40 Oakland restaurants staying home to protest low wages.
The goal she shares with the strikers: to raise the city's minimum wage to $15 an hour from $8 and allow workers to join unions without "interference" from employers. They will join low-income workers from 150 U.S. cities and 33 countries in protests to call attention to wealth inequality.
In the Bay Area, strikers will convene at 6 a.m. and 11 a.m. to protest at two McDonald's restaurants in Oakland. Organizers are focused on the East Bay city because San Francisco already has the nation's highest big-city minimum wage ($10.74 an hour) and because activists are expected to push for a November ballot measure to raise the minimum wage in Oakland. Workers there plan to walk out from McDonald's, Burger King, Wendy's, KFC, Jack in the Box, Carl's Jr., Taco Bell and Domino's Pizza restaurants.
The protest comes amid a national push to raise the minimum wage - and it could mark a significant moment in the campaign, according to John Logan, a professor of labor and employment studies at San Francisco State University.
"This gives more momentum to the movement - especially when you see that they're organizing in some cities in the Midwest and the South," said Logan.
Victor, 24, says working at a fast-food restaurant is the only job she can find right now as she studies photography at Laney College in Oakland. Her parents both receive disability payments and don't work. She doesn't have health benefits, and worries what could happen if she became seriously ill.
Two years ago, Victor made $8 an hour when she started working at a KFC in Oakland. Now, she makes $9.25 an hour at McDonald's, usually working 25 hours a week. She's been "applying everywhere to get another job," she said. "But it's hard now. Fast-food jobs are all that's available."
In many ways, Victor is typical of a minimum-wage worker. Women make up half of the U.S. workforce, and 60 percent of minimum-wage workers are female. Roughly 3 in 4 are older than 20.
While Congress has stalled on raising the federal minimum wage, the idea has attracted some unlikely supporters. Last week, 2012 Republican presidential nominee Mitt Romney said he supports raising it, but didn't say to what level.