Fast-food Strikes: Why Going Global Could Work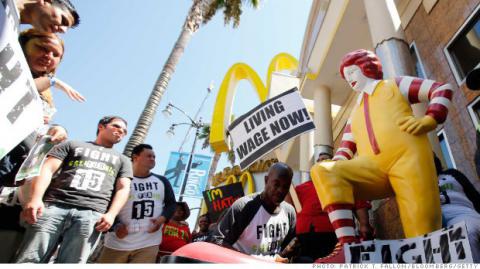 Fast-food workers and supporters protest at a McDonald's in Los Angeles, in August 2013.,
FORTUNE -- The fast-food protests are going global! The news was trumpeted all over the Internet last week as the workers and organizations behind strikes targeting the low wages and stingy benefits doled out by employers like McDonald's (MCD), Wendy's (WEN), and Burger King (BKW) announced that their next moves would cross America's borders into more than 30 countries spanning six continents.
The workers' global campaign grabbed plenty of attention, but the strategy itself isn't new.
"There is certainly precedent," says Kate Bronfenbrenner, director of labor education research at the Cornell University School of Industrial and Labor Relations.

To determine the origins of this approach, you have to take a trip back to the 1800s, when workers in Britain and India jointly protested the way the East India Company (yes, of the Boston Tea Party) treated its Indian workers, Bronfenbrenner says.
Today, people may remember the solidarity U.S. miners showed in the late 1980s as mine workers in South Africa protested the country's apartheid system. Those efforts in the U.S. included boycotts of companies that did big business in South Africa, like Royal Dutch Shell (RDSA).
What might count as the biggest-ever global strike came a few years later, in the mid-1990s, when workers from the United Steelworkers Association protested proposed changes that tire maker Bridgestone/Firestone had made to a labor contract. Workers staged a nearly 12-month campaign against the company that reached 86 countries and even saw foreign workers visit the United States to lend their support.
Labor groups have used multinational protest tactics in recent years, such as the 20-year Justice for Janitors campaign by the Service Employees International Union -- one of the organizations that have supported the fast-food workers -- which has reached custodians in Canada.
Fast-food workers plan to strike in 150 cities on Thursday, including 33 international sites. There's a protest planned at a Burger King in Germany, strikes are set for fast-food restaurants in Venice, Milan, and Rome. And a demonstration will take place at a Buenos Aires McDonald's. There are flash mobs planned at five McDonald's in the Philippines. Workers in U.S. cities will strike on Thursday as well, including first-time walkouts in Philadelphia, Sacramento, Miami, and Orlando.
"The Fight for 15 in the U.S. has caught the attention of workers around the world in a global fast-food industry where workers have recently been mobilizing," says Ron Oswald, general secretary of the International Union of Food, Agricultural, Hotel, Restaurant, Catering, Tobacco, and Allied Workers' Association -- a group that's helping to organize the protests.
The global worker protest isn't a new idea, but is it an effective one?
Actually, yes, says Bronfenbrenner, namely because workers in foreign countries are more likely to protest working conditions than Americans. "Global protests aren't easy, but they're easier to pull off than nationwide strikes in the U.S. Places in South America or South Africa have a greater tradition of striking in solidarity than we do."
Global strikes and boycotts are especially effective if they target regions where a company wants to grow. "It's all about researching companies and understanding where their growth and profit is," Bronfenbrenner says. "If [workers] can pull [protests] off in those countries, it's more significant."
For what it's worth, McDonald's said in its latest earnings call in late April that it saw growth opportunities in the United Kingdom, Russia, France, and China. Fast-food workers haven't planned any strikes in Russia, but there are protests planned at a McDonald's in Paris, at a McDonald's in Hong Kong, and at McDonald's restaurants in 20 cities in the U.K.
"There's no magic bullet," Bronfenbrenner says, but a global movement helps "show the company that it's bigger than just one country, and that they're going to have to deal with workers everywhere."