Working Families Party - What Happened?; Why; What Next?

Capital District Chapter, Working Families Party, Albany, New York
The Working Families Party and Cuomo
By Ted Fertik
June 6, 2014
Jacobin
Before writing off the Working Families Party's Cuomo endorsement as yet another capitulation, consider the concessions wrung out of him.
credit - Office of Gov. Andrew Cuomo // Jacobin
On Saturday, the New York Working Families Party's state committee voted 58.6% to 41.4% to put Andrew Cuomo on its ballot line for the November election for governor, capping off a week of intense speculation, negotiation, and deal-making. As recently as Friday morning, WFP co-chair and Citizen Action executive director Karen Scharff had said that she thought a deal to secure Cuomo the nomination was extremely unlikely.
Many on the Left are expressing their understandable revulsion at the outcome. But before this goes down as yet another capitulation to austerity, Albany back room dealings, and Democratic Party hegemony, the scale of what just happened needs to be appreciated.
First, the timing of events matters. Until April 22, hardly anyone was paying attention to the WFP's decision. Then, a Siena poll (highly respected in New York politics) showed an unnamed WFP challenger to Cuomo's left snatching 24% of the vote and shrinking his margin over his Republican challenger from thirty points to fifteen. Suddenly, the party's decision was a matter of real concern to the governor and his strategists.
Leaders of the WFP were deliberately coy in responding to the poll and did not try to hide the fact that there was massive discontent within the party's ranks over Cuomo's austerity budgets, his humiliation of Bill de Blasio around charter schools, and his failure to take meaningful steps towards passing campaign finance reform. The story that the WFP might actually run its own candidate gathered steam. A high-stakes game of chicken had begun.
Cuomo began by putting the screws to labor leaders, who wield significant power within the WFP and are its major source of funding. Those leaders then pushed internally and publicly for the WFP to go with Cuomo, with the implication — increasingly explicit over the course of these weeks — that those unions would pull their support from the party if it didn't fall in line.
But others within the WFP stood their ground, in large part because state law requires that minor parties'gubernatorial nominations be made by their state committees, which are made up of two delegates from each assembly district, although one third of the roughly 300 seats are vacant. (Most endorsements are made by the Party's executive committee, which is dominated by big unions.)
Meanwhile, the WFP said publicly that the only issue that could lead the party to back down from a challenge would be passage of a New York City-style system of public financing for all state elections, which the party believes could lead to New York State's elected leadership looking like New York City's.
Cuomo had paid only lip service to this issue up until this point. He now began to take it seriously. But the governor was late to the table and there was no obvious way to get a deal through the Republican-controlled state senate, as Republican senators in super-majority Democratic New York State would be the group of incumbents most disadvantaged by public financing.
On May 21, a new poll, this one from Quinnipiac, showed numbers nearly identical to the Siena poll a month before (head-to-head Cuomo leads Astorino 57%-28%; with a WFP challenger the lead shrinks to 37-24, with 22 for the unnamed WFP candidate). A close election with a sizable vote to Cuomo's left would damage his brand just as he is trying to burnish it for a possible presidential run.
Then, in an unexpected twist. Bill de Blasio decided to rally to the governor's cause and lobby publicly and privately for the WFP to support him. De Blasio has been a friend and ally of the WFP's since its founding; the party's former elections director (herself a former ACORN and 1199 organizer) managed de Blasio's come-from-behind victory in the public advocate race in 2009 and is now the most trusted and powerful of his aides.
Earlier in the year Gov. Cuomo dealt de Blasio two serious blows: first by refusing to push for a tax increase on high income earners to fund the mayor's signature plan for universal pre-kindergarten education, then by publicly appearing at a rally with charter school zealot Eva Moskowitz staged to back de Blasio down from his modest checks on charter school growth. Playing the bigger man — and the canny strategist — De Blasio's entrance into the negotiations made a deal more likely.
But before anyone could write a postmortem, on Thursday, two days before the nominating convention, Fordham Law School professor and Howard Dean campaign veteran Zephyr Teachout announced that she would run as a "Working Families Democrat"and would seek the WFP's nomination. A WFP co-chair went on the record with the New York Times saying that Teachout was likely to get it. Cuomo was signaled for the final time that the party was prepared to risk the consequences and go its own way.
It seems that Cuomo got the message. On Friday night, reports began to surface that a deal had been brokered.
Not only would there be a commitment from Cuomo to pass public financing, but now there was also talk of support for decriminalization of marijuana, access to financial aid for undocumented college students, a $10.10 state minimum wage indexed to inflation with a provision allowing municipalities to raise their own minimum wages up to 30% above the state's (Cuomo had publicly opposed both of these measures earlier this year), increased funding for public schools, and a Women's Equality Act.
The crucial bit (sadly, an insider story that is unlikely to resonate beyond a small fraction of extremely high-information voters) is Cuomo committing to support a Democratic takeover of the New York State Senate. For most of the twentieth century, New York State had a Democratic assembly and a Republican senate, and both sides preferred to keep it that way, such that at every redistricting, the lines were drawn to ensure that changes in the electorate did not result in changes in their elected representation.
By the 2000s, when Democrats held a 5-3 registration advantage over Republicans statewide, this had become a shameful exercise. A coalition of state senate Democrats and the Working Families Party set about defeating vulnerable Republican senators in 2004, and by 2008 had won a Democratic majority. More than once since then, several opportunistic Democrats have defected to the Republican side, and in 2012 a chamber with majority Democratic members voted for a Long Island Republican for majority leader. A coalition of Republicans and "independent"Democrats have run the Senate since, and have resisted reforms of every sort.
Andrew Cuomo has been fine with this arrangement. It's a convenient scapegoat for whatever progressive measures he would rather not pass. Reports indicate that getting a public commitment from him to support a Democrat/WFP takeover of the Senate senate was the hardest pledge to wring from him. But that is what he did Saturday in a video message to the WFP's state committee followed by a call over speakerphone.
An intense floor fight apparently transpired. At issue was whether anyone had any business trusting Cuomo. Many longtime WFP stalwarts, including former party co-chair and former ACORN executive director Bertha Lewis, were adamant that the Party party should support back Teachout. The vote was contested, but Cuomo prevailed.
* * * * *
How to evaluate the result? First, it must be clear: The measures Cuomo committed to are big. They will make people's lives better, they are victories that the Left can point to, and they have the possibility to transform the political system.
Aside from public financing, measures like the $13 minimum wage were not even in discussion before Friday. Whether the WFP added them as conditions, Cuomo's team offered them because they could not deliver public financing before the May 31 decision, or de Blasio brought them into the mix so as to ensure that a deal with the WFP also won him commitments from Cuomo for the mayor's priorities for New York City is unknown beyond New York's innermost political circles. But the sheer magnitude of the pledges is a measure of Cuomo's fear of a WFP challenge.
Cuomo's commitments furthermore represent a complete reversal from four years ago. Then, the WFP was facing a federal investigation that threatened to bankrupt it. Many in the party wished to nominate their own candidate against Cuomo, but he wielded credible threats to break the party if it did.
In 2010, Cuomo considered it a favor to allow the WFP to have him as the party's nominee, and he extracted his pound of flesh (public support for his platform, including austerity measures) in return. Four years later, the most powerful politician in New York had to commit to the WFP's program, including planks that he himself had until recently vocally opposed, in order to stave off a challenge from his left.
The process matters, too. The decision was made by the WFP's state committee in a properly democratic roll-call vote. The significance of this can easily be missed. Two hundred activists just forced enormous capitulations from a man who wants to be president. I can't point to a comparable moment in my lifetime
The clear implication is that the stronger that group is, and the bigger a base it represents, the more leverage the party wields — which means that the Left wields more power, too. There is room inside the party for more voices from the Left, especially younger ones. And there is little doubt that the decisions the party makes matter.
Not everyone is pleased, of course. For many on the Left, a Cuomo endorsement is simply beyond the pale. Those who already viewed the WFP as a hopelessly compromised organization will no doubt find that position reinforced.
There are some legitimate points on this side. As I wrote last week, a challenger in this race would have allowed many voters to develop a much stronger identification with the party, and would have put it in a position to build a bigger and denser rank and file. The disaffected Democrats who are rallying behind Elizabeth Warren would very likely have found in Zephyr Teachout someone who articulated their view of the world.
Meanwhile, many loyal WFP voters will find that a vote for Cuomo on whichever line is a pill they can't swallow. The "threat of exit"that is the source of the party's leverage might be weakened by their refusal to use it against Cuomo. On these grounds, the committee's decision was a missed opportunity.
Perhaps a more persuasive point is that it is not clear that a Cuomo endorsement was necessary to win the things that Cuomo just committed to. But here a crucial corrective is required, which exposes the genuine dilemma that the WFP faced in this moment. Many reports have been utterly mistaken in saying that the risk facing the WFP was that it would not get the necessary 50,000 (roughly 1.25% of typical gubernatorial turnout) votes for its candidate in November in order to retain access to the ballot. The only time the WFP came close to missing that threshold was the first time it tried, in 1998, when it got 52,000. Since then it has cleared the hurdle comfortably.
It is extraordinarily unlikely that Teachout would have received the 22% the polls were showing, but it seems next to impossible that she would have received less than 150,000 votes, given the low risk of spoiling and the support from large groups like MoveOn.org for a WFP candidate.
So the risk was never that the WFP would lose its spot on the ballot — the risk was that it would hemorrhage union support, which means union dollars, access to union members, and union weight being thrown behind WFP priorities. And the more seriously that Cuomo negotiated, particularly alongside de Blasio, the more justified union leaders would have felt in cutting ties with the party if it went with Teachout.
A Teachout candidacy into the fall would have been the Party's top priority, and with presumably less funds to spread around, the party would likely have had to leave the state senate to its own devices. Cuomo would still be governor, Republicans would still control the senate, the WFP's coalition would be smaller, and the possibility of moving legislation of the sort that Cuomo just committed to would be dimmer.
Furthermore, WFP leaders had to seriously weigh the implications of passing up a pledge that would increase the minimum wage by almost fifty percent. One party activist who is a leader in the fast food struggle stressed that community organizations within the party like Make the Road NY, New York Communities for Change, and Citizen Action thought a good deal was worth taking — if it was a really good deal.
"Community groups were at the front lines pushing back and saying that we as the party will not sit idly by… We as a party will use the tools that the party is built on to force the governor to his knees, and force him to understand that he needs to push issues that matter to working people and people of color." The delegates hailing from those organizations who voted for Cuomo over Teachout did so believing that it was the best decision for the communities they represent.
The most powerful force within the WFP, however, are large unions, and for the most part these were unequivocal in their support for a Cuomo endorsement from the beginning. Indeed, a good deal of the trade union leadership that is in the party seems to oppose the use of the party's outside option almost on principle.
It is telling that only a union president, 1199 chief George Gresham, tried to scare the delegates with the specter of an unsought Republican victory in November. Given their weight within the party, and the risks the party courted if it broke with them, it's not altogether surprising that they achieved the outcome they had sought all along.
New York unionists who feel that the WFP sold out on Saturday should direct some of their anger at their union's leaderships. And they should fight inside their unions for a more visionary approach to politics, right alongside fighting for a more militant approach to employers.
Bill de Blasio has to figure in any judgment as well. I strongly suspect that only he could have brokered this deal. Any other emissary of the governor's would have lacked the credibility with the party's activists to sway their votes. It is hard to think who else could have even put negotiations like these in motion.
Indeed, it may be that de Blasio is the real winner of this episode. The mayor turned the tables on the governor, who now owes him in a big way. He will count a $13 minimum wage as a huge victory for his administration. And he will be able to claim credit for a Democratic takeover of the state senate, which could easily propel him over Cuomo as the most powerful Democrat in New York.
Which is a good thing — better him than Cuomo. But if the goal is ultimately to be less dependent on powerful politicians, and instead rely on a mobilized base, then there are clearly disadvantages for the WFP and the Left in such a situation.
The WFP has always felt that the real action was in legislatures, and has overwhelmingly devoted its energies to those bodies. Saturday's decision keeps the party fighting on its preferred turf. It is a strategy that has delivered many wins for working people up until now, and there is no reason to think it won't work again. But with disgust at Cuomo and the political system boiling over — disgust that Teachout eloquently captured — the WFP no doubt stood to gain considerably from adopting the mantle of the insurgent.
There will be a challenger to Cuomo's left on the ballot in November, Green Party candidate and Teamster Howie Hawkins. No doubt he will get the 50,000 votes needed to keep the Green Party on the ballot, and he may get many more. But the Green Party is a tiny organization, with no ties to institutions, limited resources, and no track record of legislative or electoral successes. It perennially runs candidates for statewide office, and they rarely leave a trace. Maybe Hawkins'message will strike a chord with disaffected voters, but he'll be playing it on a very quiet instrument.
The difficult thing for WFP supporters in this moment is that the WFP's mouthpiece has grown extremely loud. Outrage with the rule of the one percent and the political system that enables it continues to grow. It will need to be channeled if it is going to weaken the fortifications that the political system has erected around itself. The very fact that this deal was negotiated indicates that they can be breached by smart and well-organized forces.
Whether the breach becomes a breakthrough will depend on whether any of Cuomo's commitments — perhaps especially the commitment to public financing, which is the only one that affects the political system itself — actually materialize. This in turn depends on the collective determination of everyone who is fighting for progress on these issues. It is not a foregone conclusion. But the wins are within reach, and it would be obtuse to deny the importance of the power that the WFP has built to putting them in play.
We should not doubt that better wages for the lowest paid workers, expanded access to public education for those previously denied it, and real election reform are partial but significant victories in a struggle of classes. Absent an organized extra-parliamentary political movement capable of articulating a more radical set of demands, party-political negotiations like the one that played out over the last month will continue to be perhaps the greatest point of leverage for American workers.
We should applaud the victories we have won, use them to build more power, and go bigger the next time around.
[Ted Fertik is a PhD candidate in history at Yale and an organizer with GESO. From 2008 to 2010 he was an organizer with the Working Families Party in New York and Oregon.]
      If you like this article, please subscribe.
The Working Families Party went out on a limb when it endorsed the conservative Democrat.
By Sarah Jaffe
June 2, 2014
In These Times - Web Only Feature
 
[Reprinted with permission from In These Times. All rights reserved.]
Whichever candidate the Working Families Party decided to endorse in the New York state governor's race, there was going to be blood.
There was Zephyr Teachout, the progressive activist and law professor who emerged in the days before Saturday's convention as a potential challenger to incumbent Democratic Gov. Andrew Cuomo on the progressive third party's ballot line in November's general election. Her platform, she tells In These Times, was based on the idea that it's time to demand more: investment in infrastructure, "really good jobs" and an economy that creates them and a challenge to "the concentrated economic power that is choking our economy."
And then there was Cuomo, the governor who has drawn fire from progressive critics for trying to divert settlement money for foreclosure fraud victims into a general fund that could underwrite tax cuts for banks; freezing wages for public workers and allegedly helping to hand the state Senate back to Republicans. Most recently, in March, he angered progressives by wading into a messy battle over New York City charter schools and granting them what the New York Times called "some of the most sweeping protections in the nation," including a requirement that the city either provide public space for the privately run schools or give them public money to rent private space. One state Democrat told Buzzfeed, "The core activists are asking, 'How can we endorse this guy? He's a right-wing douchebag.' "
**Even Andrew Cuomo, a savvy politician if not a responsive one, understands that suddenly his left flank is more vulnerable than his right.
If the WFP endorsed Teachout, they ran the risk of losing several major unions who provide a lot of the party's funding and clout, maybe permanently. The union leaders were opposed to an independent candidate, preferring to be at the table to negotiate with the governor rather than to wind up on his hit list. Michael Hirsch, a longtime labor activist, union staff writer and WFP member who attended the convention, is critical of the unions' threats to leave, yet tells In These Times that he understands their pragmatic impulses to support a deal.
A spurned Cuomo might also have stepped up his attempts to wipe out the WFP entirely. Despite receiving the WFP's 2010 endorsement, Cuomo has since tried to ban the "fusion voting" process by which the WFP can endorse Democrats like him and deliver votes to Democrats on a separate ballot line.
If the party did endorse Cuomo, it would face a lot of anger from statewide activists who point to the governor's right-wing record, and a lot of questions from progressives across the country as to whether you can actually build power by challenging Democrats if you wind up endorsing them anyway.
In the end, the party's state committee, made up of representatives from each state assembly district, voted for Cuomo over Teachout at its convention Saturday night outside of Albany, New York. The vote was 58.7 percent to 41.3 percent, with the party's leadership, major union leaders such as 1199 SEIU president  George Gresham, and even New York City mayor Bill de Blasio—last seen in the losing battle with Cuomo over charter schools—whipping votes hard for the unpopular governor.
The party's choice of Cuomo, whom no one within the party appears to be able to say something genuinely nice about, is contentious, to say the least. By extending trust to a governor who has done little to earn it, the party is setting itself up for tough criticism if the plan backfires. It's also reigniting a debate about the best way for third parties to wield power.
How the deal was struck
The story is different than the one in 2010, when the WFP first endorsed Cuomo. Back then, the party was on shaky ground, and the narrative was that it couldn't risk losing its ballot line on a protest vote. Because New York State law requires a minor party to get 50,000 votes for its gubernatorial candidate in order to secure its spot on the ballot for the next election, the WFP felt trapped into not only endorsing the governor but signing onto his agenda—which included pay freezes for public workers, property tax caps, and more. Bertha Lewis, former ACORN head and WFP founding member, as she stood up to nominate Teachout, said, "We gave [Cuomo] four years and we said then, 'Never again.' "
At this convention, no one argued that the party risked coming in with too few votes. There was no doubt that the WFP could hold its ballot line and even increase its margin with a challenger. A poll released in April showed a generic Working Families Party candidate could take a significant bite out of Cuomo's expected margin of victory—24 percent of those polled preferred a "more liberal or progressive" WFP candidate, any such candidate, to Cuomo. Gresham's argument on the floor of the convention, in fact, was that an alternative candidate could actually get enough votes to throw the election to the Republican (a familiar argument against third parties, and a rather ironic one to invoke when one is already part of such a party).
Instead, Cuomo came to the table and, according to an email sent out by the WFP on Sunday, committed to the WFP's agenda. Bill Lipton, the New York State director of the WFP, says, "We met with Governor Cuomo to make the concerns of members of our state committee clear, and explain what we'd need to hear from him to consider an endorsement, being as specific as possible. He heard us, and after some back and forth, came out in support of that agenda."
The list of policies he pledged to support includes public financing of campaigns, marijuana decriminalization, a 10-point "Women's Equality Agenda" with stronger abortion-rights protections and increased regulations aimed at producing pay equity, allowing New York City and other municipalities to raise their minimum wages up to 30 percent higher than the state minimum, and more. The governor didn't appear in person at the convention, but sent a video and called in via Skype, to jeers and boos—Laura Nahmias at Capital New York reports that Bob Master, legislative and political director of the Communications Workers of America and state co-chair of the WFP, was nearly drowned out by hecklers when he introduced Cuomo's name for nomination.
"The question on the table," says Hirsch, "was and is still a practical question: Is the deal a healthy way to proceed or a bridge too far?"
Why trust Cuomo now?
The slate of progressive promises is a significant shift for the governor, who has repeatedly been criticized for being closer to Republicans than to his own party. Perhaps that's why many news reports have focused on Cuomo's commitment to support Democrats in statewide races: It's telling that the governor had to be pushed by a third party to support candidates from the party he ostensibly belongs to.
The real question, however, is: Now that the governor has the endorsement, what leverage do the WFP and other progressives have to keep him honest? That was the foremost concern of WFP delegate Susan Weber, from the Albany region, who spoke on the floor of the convention against endorsing Cuomo. "He's a liar," she said. "He won't keep his promise. He'll figure out a way to squirm out of it." And Hirsch says, "I didn't support the deal for one reason: because I don't believe it can hold."
Indeed, on Sunday morning, Cuomo appeared to already be walking back his commitments, telling Capital New York's Azi Paybarah, "No. I opposed municipalities being able to set their own wage. I did and I do." And Saturday night at the convention, the governor's people sent a video to be aired from the governor that reportedly did not contain all of the commitments he had made, so they demanded another. Cuomo, it seems, even fresh from cutting a deal, has to test the boundaries.
Teachout tells In These Times, "One of the things that's most troubling to me about Cuomo is not just his policies, but his reputation, which I think I'm already feeling, of using fear as a way to build power. It can be effective, but I would much rather live in a democracy where power is built through shared values and people organizing around those shared values."
If Cuomo has built his power based on his ruthless reputation, it's worth asking whether he will respect a handshake deal. He did his best in the days before the convention to get two prominent statewide Democrats—Attorney General Eric Schneiderman and Comptroller Thomas DiNapoli—to refuse the WFP's endorsements if the party didn't back him as well. They weren't tested on this, as the vote fell in Cuomo's favor, but Schneiderman and de Blasio, both of whom have repeatedly been targets of the governor's political and personal attacks, were there campaigning for him, raising the question of just who really had the power in that room—if the decision to endorse was made from a position of strength or out of fear.
Should Cuomo backs down from his public pledges, it won't be the first time. As I reported in 2013 for RH Reality Check, the governor made sweeping commitments to his "women's equality agenda" in that year's State of the State speech, but none of those items has moved in that time. Before that, he promised to prioritize nonpartisan redistricting for state legislature seats, then signed off on highly partisan maps created by Republicans, and when enough of those highly gerrymandered districts still swung to Democrats, he backed a deal between Senate Republicans and a breakaway "Independent Democratic Caucus" (IDC) to put the Republicans back in charge on a rotating basis with the IDC caucus.
Challenging those IDC Senators is a key part of the WFP's agenda—they endorsed a primary challenger to Klein, and the commitment extracted from Cuomo to support Democrats included a promise, which he voiced at the convention, that, "Either [the IDC] announce that they agree to come back to the Democratic Party, or they will face primaries this year from our unified Democratic coalition."
At the moment, the Working Families Party leaders sound confident that they'll win; Lipton tells In These Times, "We're proud to have helped jump-start a powerful new coalition, including the mayor, the state's most powerful labor unions, and the governor, that united to win back Democratic and Working Families control of the state Senate and pass our progressive agenda in 2015."
Cuomo's other challengers
Teachout may yet decide to petition to appear in the Democratic primary against Cuomo despite having lost the Working Families ballot line to the governor; she tells In These Times that she's already got a great campaign infrastructure (and if there's one thing that Teachout, the former architect of Howard Dean's strategy knows well, it's campaign infrastructure). She says she'll decide within the next week. "If I decide to run, I am going to look at [Cuomo's] use of governmental power and its relationship to what he says. When you have a governor like Cuomo, the strongest power you have is, it's so simple, it's telling the truth," she says. "I don't think we should settle for a governor who governs on fear."
And there's another candidate to Cuomo's left in the race—Howie Hawkins of the Green Party, now running with teacher activist Brian Jones as his lieutenant governor candidate. On Sunday, after the news of the WFP's endorsement of Cuomo broke, Jones told In These Times, "Progressives are in an abusive relationship with the Democratic Party. They keep hoping the party will change, but it never does. Cuomo has made it clear that he supports the privatization of our schools and hospitals and the weakening our unions. The bulk of his financial support comes from the 1% and that's who he serves, not working families."
National waves
Though it's easy to focus on the governor's outsize reputation (and his reported presidential ambitions), the question of the gubernatorial endorsement has always been bigger than Cuomo. It's a question of the WFP's entire strategy, as I pointed out in March. That's why political watchers from around the country were following the Twitter feed from the convention on Saturday night, commenting on its choices and offering sometimes less-than-polite criticism.
Does it make sense to operate as a political party alongside the Democrats, mostly endorsing them when the chips are down, in order to pull policies that much further left? If the power that will enable the Working Families Party and its member groups to hold Cuomo to his promises is their on-the-ground organizing and committed base, does it matter if they make endorsements at all? Labor and the Left have gotten all too used to extracting lovely promises from candidates on the campaign trail, who realize they can't win with corporate cash alone and that they need foot soldiers and actual voters to seal the deal, only to see those promises evaporate when the votes are counted. One doesn't have to look much further than the current occupant of the White House to remember that.
The ability to extract those pledges does show that progressives are making gains; even Andrew Cuomo, a savvy politician if not a responsive one, understands that suddenly his left flank is more vulnerable than his right. But Cuomo has known that for a little while now and continues to bluster in the other direction. It will take real power to make sure his promises are kept.
[Sarah Jaffe is a staff writer at In These Times and the co-host of Dissent magazine's Belabored podcast. Her writings on labor, social movements, gender, media, and student debt have been published in The Atlantic, The Nation, The American Prospect, AlterNet, and many other publications, and she is a regular commentator for radio and television. You can follow her on Twitter @sarahljaffe.]
Portside is proud to feature content from In These Times, a publication dedicated to covering progressive politics, labor and activism. To get more news and provocative analysis from In These Times, sign up  for a free weekly e-newsletter or subscribe to the magazine at a special low rate.
The Real Reason WFP Cut a Deal With Cuomo
By Charles Lenchner
June 12, 2014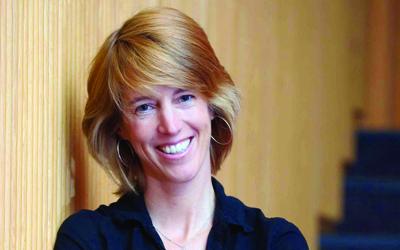 Zephyr Teachout
Photo: New America Foundation // The Indypendent
As the Working Families Party (WFP) gathered for its state convention on May 31, it appeared the small but influential third party was set to turn New York politics on its head and challenge incumbent Democratic Governor Andrew Cuomo.
Progressives' frustration with "Governor 1%" has been building for years, to the point where statewide polls this spring showed a hypothetical WFP candidate getting more than 20 percent of the vote in a three-way race with Cuomo and Republican nominee Rob Astorino. And the party had a candidate waiting in the wings: Zephyr Teachout, a Fordham Law School professor and former Howard Dean campaign aide who was the favorite of many of the state committee's 200 members. Yet by the end of a raucous convention, the WFP endorsed Cuomo, just as it had in 2010. In return, the party received a string of promises that no one believes the governor intends to keep — including WFP insiders.
The endorsement deal dismayed many WFP supporters who ask how a left-leaning party with strong ties to labor unions could back a right-wing governor who has cut the pensions of state workers, lavished support on charter schools and handed out tax breaks to millionaires while putting much of the state government on an austerity budget.
Eye On the State Senate
What critics of the WFP's endorsement are missing is that the strategy isn't about trusting Cuomo, but boxing him in so he won't interfere with the real goal: restoring control of the State Senate to the Democrats. Large unions are promising to help bankroll this effort, which will almost certainly include deployment of the WFP field staff. And some of this has already happened; SEIU 1199 has committed to only supporting Democrats this year, while the UFT has told Independent Democratic Caucus (IDC) members they need to rejoin the Democrats 'or else.'
Republicans have controlled the State Senate almost continuously for the past 50 years. The Democrats won a majority in the 2012 election, but soon afterwards, five Democratic state senators announced they would caucus with the Republicans. It's widely believed that Cuomo encouraged this accord because it takes the pressure off of him to act on progressive legislation that regularly passes the Democratic-held State Assembly but dies in the Senate.
Senate Democrats have almost no money in their coffers. However, the millions that will now flow to contested races will enable the WFP to put boots on the ground in key districts and organize the kind of get-out-the-vote efforts that swing elections. They will target the five renegade members of the IDC plus a couple of vulnerable Long Island Republicans.
If the WFP can bring the Democrats to power in the Senate, a raft of progressive legislation becomes more likely, including a minimum wage increase, campaign finance reform, more funding for public schools and decriminalization of marijuana. These are all issues that Cuomo was forced to endorse publicly during the WFP convention. The WFP's strategy is a gamble. The union leaders who cut a deal with Cuomo will feel like it was worth it if they can win a substantial boost to the minimum wage. However, if the Senate doesn't change hands, don't expect Cuomo to go out of his way to help the WFP.
Teachout's Next Move
Meanwhile, Teachout and her supporters are now looking to run against Cuomo in the September 9 Democratic primary. As The Indypendent went to press, Teachout had not made a final decision to run but was moving quickly to raise the money to mount a credible campaign against Cuomo in the primary.
Should Teachout run, she will pressure Cuomo from the left. She could also help drive the turnout of progressive voters in districts where the WFP is trying to win primary races against the five renegade Democratic state senators. In the process of building a campaign and mobilizing supporters, Teachout may give birth to something akin to the WFP, but without the dominance of organizations that prioritize transactional politics.
[Charles Lenchner is executive director of Organizing 2.0 and former director of online organizing for the Working Families Party.]
More coverage - a more critical view by John Halle in Jacobin; the view from The New York Times
For a more critical take on the WFP endorsement, see John Halle's piece Pulling the Plug on Working Families (Jacobin, June 6, 2014)
Just as revealing as the endorsement itself were the circumstances which framed it. Mirroring the contempt towards the WFP demonstrated repeatedly by the governor's policies in his first term was that emanating from the party leadership directed toward the party's Howard Dean wing. The latter, in response to the shit sandwich offered up to them, had made their displeasure known by supporting the insurgent candidacy of Park Slope law professor Zephyr Teachout and by demanding real action from Cuomo on campaign finance reform in exchange for the endorsement.
This provoked the wrath of party insiders who regarded he failure to wave the pom-poms for Governor 1% as tantamount to treason. A concise expression were the remarks of Mike McGuire, the political director for the Mason Tenders of New York City, who professed to be "ashamed [he] ever helped found the WFP."
After a Pledge of Allegiance, Some Doubters - Michael Powell (New York Times, June 2, 2014)
For a brief moment, the progressive heavens opened on Saturday night. Gov. Andrew M. Cuomo proclaimed himself a could-be (stranger things have happened) progressive Democrat.
And the Working Families Party, the left-liberal mouse that roared, held its uneasy coalition of liberals and unions together as it endorsed the governor, in exchange for his support of a higher minimum wage, marijuana decriminalization and taking on State Senate Republicans.
As Antics Subside, Both Cuomo and the Left Claim the Last Hurrah - Thomas Kaplan and Susanne Craig (New York Times, June 1, 2014)
Weeks of intense negotiations between Gov. Andrew M. Cuomo and an impatient, insurgent left resolved themselves shortly before midnight on Saturday in a stormy night of brinkmanship and shuttle diplomacy.
In the end, liberals were exulting in what they believed would be the start of a tectonic shift in New York politics, as the governor agreed to abandon his Republican allies in the State Senate and throw his weight behind electing fellow Democrats. In turn, the Working Families Party agreed to support Mr. Cuomo.
"I believe the world starts to turn now," Mayor Bill de Blasio of New York City told a rollicking crowd at the convention of the Working Families Party, a group of liberal activists and labor unions that had been divided over whether to support the governor's re-election.
The Theater Beyond the Clintons - Frank Bruni, Op-Ed Columnist (New York Times, June 2, 2014)
Since becoming governor of New York three and a half years ago, Cuomo has been performing a balancing act with implications for Democratic politics well beyond the state. It could be hugely relevant if Clinton takes a pass on a presidential bid and lets a host of overshadowed overachievers dream their Oval dreams and scheme their Oval schemes.
And it speaks to a perennial challenge in both parties: How does a pragmatic politician steer the kind of centrist course that often works best in the long run without provoking a revolt from the more partisan warriors in his or her camp?
Over the weekend, Cuomo confronted such a revolt from the Working Families Party, which was threatening to complicate his re-election by running a candidate to his left. He was forced to grovel before its members and to accept help in placating them from Bill de Blasio, a man he prefers to pummel and keep at a distance.