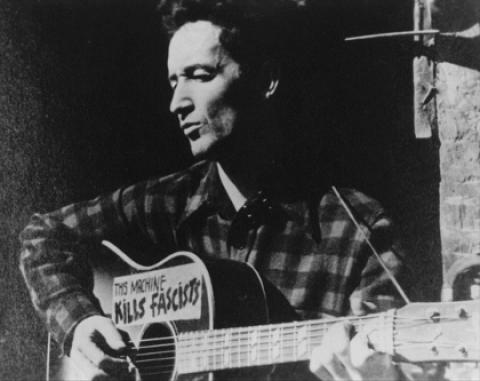 Woody Guthrie,Music Bloodline
I was thinking about an old Robin Hood song written by Woody Guthrie in the 1930s about an Oklahoma legend, Pretty Boy Floyd. According to Woody's rendition, Pretty Boy Floyd got into a fight with a deputy sheriff and killed him. Floyd was forced to flee and allegedly took up a life of crime. At least authorities and journalists blamed Floyd for every robbery or killing that occurred in the state of Oklahoma. "Every crime in Oklahoma was added to his name."
But in true Robin Hood fashion Pretty Boy Floyd stole from the rich and gave to the poor. Floyd, the outlaw, paid the mortgage for a starving farmer. Another time when Floyd begged for and received a meal in a rural household, he placed a thousand dollar bill under his napkin when he finished dinner. One Christmas Day Floyd left a carload of groceries for starving families on relief in Oklahoma City.
And in these days of massive unemployment, mortgage foreclosures, criminal wealth, and staggering poverty, through the voice of Pretty Boy Floyd, Woody Guthrie tells the wrenching story of capitalism that today is not too much different from during his time.
"Yes, as through this world I've wandered
I've seen lots of funny men;
Some will rob you with a six-gun,
And some with a fountain pen.
And as through your life you travel,
Yes, as through your life you roam,
You won't never see an outlaw
Drive a family from their home."
[Harry Targ teaches foreign policy,US/Latin American relations, international political economy, and topics on labor studies in a Department of Political Science and a program in Peace Studies at Purdue University. He is a member of the Committees of Correspondence for Democracy and Socialism (CCDS), the Northwest Central Labor Council (AFL-CIO),and the Lafayette Area Peace Coalition (LAPC).]
This Land is Your Land - Musician's Tribute
Arlo Guthrie, Emmylou Harris, Bono, Bruce Springsteen, Little Richard, John Mellencamp, Taj Mahal