labor
Hiring Picks Up, But Wages Not Keeping Pace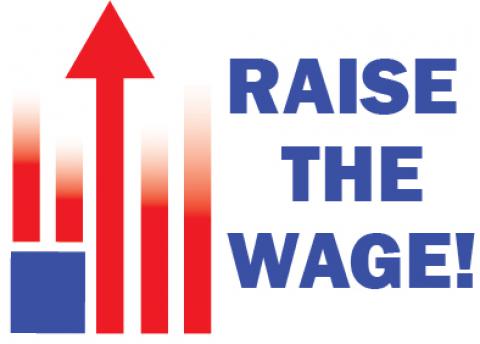 Amid the broad pickup in the nation's job market, one thing is still missing for many workers: a raise.
Government data released Friday show that the economy added 209,000 jobs in July — the sixth straight month that hiring has surpassed the psychological benchmark of 200,000. The unemployment rate inched up to 6.2 percent as the number of people either working or looking for work expanded, possibly a sign that Americans may be feeling more confident about their prospects of finding a job.
Consensus is building among economists that those improvements are sustainable, and many expect that the next phase of recovery will bring higher wages — eventually. But they have not yet materialized. According to Friday's data, average hourly pay was $24.45 in July, about 2 percent higher than it was a year ago and on par with the sluggish growth of the past few years. Yet even that gain disappears after adjusting for inflation.
The lack of wage growth is one reason why many consumers feel that the broader economic recovery hasn't reached their wallets. The problem has divided academics and fueled political debate on Capitol Hill and across the country, turning an increase in the minimum wage, for example, into a central issue in the midterm elections.
"Too many people are working hard and falling behind," Labor Secretary Thomas Perez said in an interview Friday. "Our strategies are all focused around growing wages and growing jobs that pay a middle-class wage."
House Speaker John A. Boehner (R-Ohio) cautioned against complacency in the recovery and blamed Democrats for holding up dozens of GOP-sponsored bills aimed at boosting the economy, ranging from efforts to create jobs for veterans to tax breaks for small businesses.
"When I look at this report, I think one thing: We can do better," Boehner said in a statement.
According to economics textbooks, as businesses pick up hiring and the unemployment rate falls, labor is in shorter supply. That means that businesses will have to pay workers more, boosting wages.
The government data released Friday added to the recent string of evidence that the recovery has shifted into the next gear. Hiring was strong across a wide spectrum of industries. Businesses brought on architects and engineers, and manufacturers beefed up their assembly lines. Since the recession ended, the economy has added nearly 10 million jobs.
Now the question is: How much longer will it take for wages to go up, too?
Atlanta resident Armondo Dukes said his bosses have told him that the long-awaited moment will come next year. A cashier and sometime-cook at a Burger King near his home, he hasn't been given a raise in five years. The last one was in 2009 and increased his hourly earnings by 10 cents, to $7.35.
Dukes said raises seemed to fall through the cracks as his store changed management several times. He is falling behind on his rent and isn't banking on any more money.
"I'll believe it when I see it," he said. "They're really working us hard and not doing enough for the workers where I'm at."
Burger King did not respond to a request for comment.
Some economists argue that higher wages are a long way off despite the progress in hiring and unemployment. Friday's data show that the number of people who have been out of a job for at least six months didn't budge in July, accounting for about one-third of the unemployed. The ranks of part-time workers who would prefer more hours also stood pat at about 7.5 million after spiking the previous month. Those factors could be dampening pressure on employers to pay their workers more.
"We still have plenty of slack in the labor market," said Tim Duy, an economist at the University of Oregon. "And that slack seems sufficient to hold down wage growth."
Curtis A. Shiver, head of T-shirt manufacturing company Sun Dog, made his latest hire just this week. The Fairfax, Va.-based business employs about 45 people, more than it usually has on staff this time of year. But Shiver is frank when it comes to what he can pay his workers.
"I will tell you straight out — for wages, from our perspective, they're not going up," he said.
Shiver said the main reason is competition from overseas factories producing cheaper products. Although sales are up, that has allowed the company to only reverse the reductions in salaries instituted during the economic downturn. Meanwhile, plenty of people are applying for his open positions.
"We get a decent amount of résumés every time we get a job offering," he said. "The biggest thing is people are so desperate they're not reading what is being looked for. It's we'll take a job, any type of job."
There are signs, however, that pressure may be starting to build. The unemployment rate for the short-term jobless is near its pre-recession low, which some economists say could be a harbinger of higher wages. The Employment Cost Index, a government indicator that includes benefits such as bonuses and paid leave in addition to wages, jumped 0.7 percent during the second quarter, the fastest pace since 2008. Still, the spike came after a particularly low reading the previous quarter, when the economy shrank 2 percent.
And there are industries in which workers have enjoyed pay increases recently. Real hourly earnings for transportation workers have risen an average of 1.5 percent each month for almost a year after falling for the previous two years.
At Two Marines Moving, dispatchers just received a 10 percent raise as part of a bonus incentive plan. Founder Nick Baucom said those workers were the last of his roughly 100 employees to get a bump over the past six months.
He said his biggest challenge has been finding enough workers to meet customer demand. Baucom estimates that he has turned down $2 million to $3 million in business this summer alone because of a lack of staff.
"They're a key functioning of my company," he said of his employees. "I didn't want to lose them to that Department of Health job or that Department of Defense job."
Sarah Halzack contributed to this report.