Female Workers Who Rely on Tips More Sexually Harassed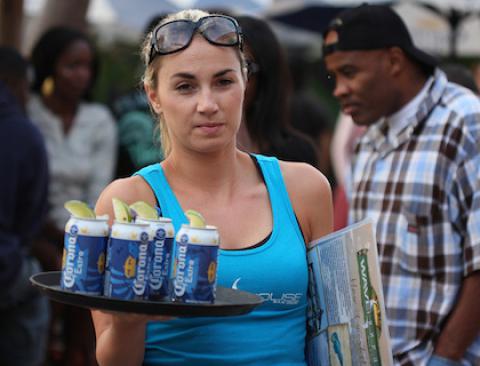 Female restaurant workers who live off tips are "uniquely vulnerable.", Nathan Rupert
Laws that allow employers to pay tipped workers below the minimum wage lead to increased sexual harassment in the workplace, according to a new report, which shows that female restaurant workers who virtually live off tips are in a "uniquely vulnerable position."
Some state laws permit employers to pay hourly wages as low as $2.13 to employees who carry out services that are customarily tipped by customers — such as bar and wait staff — "creating an environment in which a majority female workforce must please and curry favor with customers to earn a living," said the report.
"Depending on customers' tips for wages discourages workers who might otherwise stand up for their rights and report unwanted sexual behaviors," it added.
The report, "The Glass Floor: Sexual Harassment in the Restaurant Industry," was published Tuesday by Restaurant Opportunities Center (ROC) United, which aims to improve wages and working conditions in U.S. restaurants, and Forward Together, which works to empower women, youth and families.
"Glass floor," a term coined by ROC, refers to a system that exacerbates the already poor job security of low-wage workers by layering on a sexualized atmosphere. If workers feel expendable at their workplace, they are more likely to ignore sexual harassment, the report said.
Workers earning tipped subminimum wage are twice as likely to experience sexual harassment than those making a standard minimum wage, the report found.
"The United States is the only industrialized democracy that has a two-tiered minimum wage," Maria Myotte, national communications coordinator of ROC, told Al Jazeera. According to the U.S. Department of Labor, only seven states and the territory of Guam require employers to pay the minimum wage before tips.
Researchers found that tipped workers in states where subminimum wage is permissible are three times as likely to be told to wear sexier or more revealing clothing than those where such payment practices are barred.
One of the case studies profiled in the report highlighted this phenomenon. "I said to myself, 'I can't be putting up with this. Let me talk to my boss about it,'" a server told researchers. "I was kind of surprised by what my boss said ... He said, 'Well those people pay a lot of money for our services, and, I mean, would it hurt to smile a little bit, be a little bit more friendly to them?' And I was blown away."
The restaurant industry is the single largest source of sexual harassment complaints, according to the report. Many incidents are ignored or go unreported because of fear of retaliation by customers — not tipping — or their employers.
In lieu of a change in legislation requiring employers in subminimum wage states to pay full minimum wage, there are actions that employees can take on their own to improve conditions and lower the risk of vulnerability to sexual harassment, the report said.
"The report importantly provides really specific ideas and instructions for restaurants … They don't have to wait for the lawsuit or the complaint," Fatima Goss Graves, vice president for education and employment at the National Women's Law Center, told Al Jazeera.
Those include creating worker-led and worksite-based enforcement of sexual harassment policy that would see an advocate among the workers take the role of reporting violations to lower fear of retaliation, the report said.
Also, employers can establish a policy of one fair wage for all workers instead of paying the $2.13 tipped wage, require similar uniforms for men and women and emphasize no tolerance for sexual harassment, the report said.
"Widespread harassment, particularly towards women and tipped workers, demonstrates how power is used to exert control over other workers' bodies and livelihoods," the study said. "Our data shows that all too often the economic insecurity of living off tips contributes to higher levels of physical insecurity being reported by all restaurant workers."
Graves echoed that sentiment, saying, "The huge elephant in the room is how vulnerable these workers really are."
"We're at 50 years since the Civil Rights Act and sexual discrimination and harassment policies for the workplace, and the idea that this sort of conduct … can be routine and experienced by a majority of women workers is absurd," she added.
[Renee Lewis is a Digital News Producer for Aljazeera America. This article includes additional reporting by Saila Huusko.]