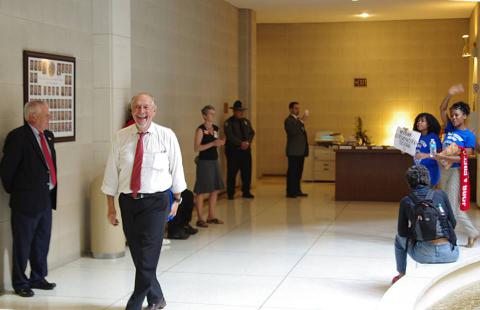 Bob Zellner leading Freedom Summer volunteers inside the NC General Assembly,
We are on the brink of a new progressive era in the United States. I know it sounds demented in light of this election debacle, but it's true. There are three reasons we are experiencing the birth of a new people's era. One, the election made it plain that white men are the main roadblock to progress. Their power, waning though it may be, is most evident in off year elections. During presidential year elections our traditional national progressive coalition actually comes out to vote.
The second development leading to the new era is that white organizing, especially among poor and working class Southerners, must now move to the front burner. Progressives across the nation, the Democratic power structure and especially the civil rights establishment must seriously address this as an essential ingredient if the new progressive era is to be realized. This should be clear by now. No longer should our leaders hide behind the term "middle-class" when they mean poor and working class.
Rev. Dr. William Barber here in North Carolina has organized at the grass roots for years building toward a Third Reconstruction, insisting that we work with and talk about the poor – moving poverty back to the center of the progressive agenda.

A third and possibly the most important reason the new progressive era will flourish is that grassroots white Southern organizing has been done in the past and it works. SNCC (the Student Nonviolent Coordinating Committee) and SCEF (the Southern Conference Educational Fund) proved almost fifty years ago that poor and working class Southerners could be brought into the civil rights' and workers' rights movements using fusion politics. The GROW Project (Grassroots Organizing Work), also called "Get Rid of Wallace," organized, educated and mobilized thousands of white Southerners across the deep South to join their black and Latino sisters and brothers in building a new unionized South. The GROW Project brought factory workers and woodcutters together in places like Laurel, Mississippi, to join with civil rights leader Susie Ruffin in a black-white workers political campaign. Former Klansmen ran for office with civil rights leaders in the hometown of KKK leader Sam Bowers, the puppet master responsible for the assassinations of Chaney, Goodman and Schwerner. White organizing was successful also in the SCEF Mountain Project under the leadership of Anne and Carl Braden and Margaret and Al McSurely, who are organizing today in the Moral Monday Movement with Rev. Barber. This form of SNCC style organizing must now be applied to white organizing, especially in the South. White men have historically provided the most reliable votes for an extreme right-wing agenda, which ironically directly and quickly damages them, their families and the whole country.
Progressives have to get serious about targeting this demographic group with smart, well-planned and well-financed organizing. The left always talks a good game of workers unite black and white but the last thing most liberals do is actually talk to overtly racist white folks. Shirking this movement duty leaves our nation vulnerable to a neo-fascist future paid for by the Koch Brothers and their clone, Art Pope of North Carolina.
The Moral Monday Forward Together movement in North Carolina, just this past February 8th, organized the largest civil rights demonstration ever to occur in a former Southern slave state, as 80 to 100,000 citizens protested the right wing turn of the legislature in Raleigh. USA Today was the only national newspaper to cover the historic event. The New York Times and The Washington Post were strangely silent and they have not apologized for their neglect.
At least 60 percent of the marchers were white Southerners, many of whom were seniors and middle class. The large number of militant poor and working people who were present, many of them from labor unions or were organizing unions, reveals that with focused efforts we can reach even more people. This grassroots organizing success has exposed inadequacies in key parts of our movement infrastructure. Lincoln Republicans are becoming scarce as hens teeth as their party dismantles itself in full view of the public. Democrats ran away from the president, disavowing their own progressive program. Their timidity and fear of extremists, representing at best a third of the voters, caused independents, especially poor and working class white people, to wonder what may be wrong with the administration and the president. When Democrats will not defend and advocate for their own programs, why should anyone vote for them?
To Rev. Barber's credit, and because of the work of the two hundred organizations making up the HKonJ coalition, North Carolina has moved against the deadly tide in significant ways. Years of grassroots organizing that does not depend on election results has built a powerful movement, not a moment.
Our liberal political establishment, in the form of the national administration, has not taken up the opportunities presented by this North Carolina, SNCC-style of long-term grassroots organizing. They are afraid of it because they cannot control it. President Obama could have avoided many embarrassments simply by having key veterans of the movement and SNCC as advisors. When Julian Bond retired as NAACP Board Chair, he would have helped mightily as a close advisor.
The extreme right would not have bamboozled President Obama, Agriculture Commissioner Villsac, and even NAACP CEO Ben Jealous, into firing Shirley Sherrod. They would have recognized the great civil rights name of her husband Charles Sherrod.
Another reason the administration is not representing the people they are supposed to represent is that the civil rights establishment has gotten too cozy with those people who are in power. The role of a civil rights leader is to make those in power feel uncomfortable. Our leaders have gotten into the habit of making those in power feel comfortable. The national NAACP has historically been conflicted about militant grassroots organizing, mass demonstrations and jailings, even though they have served valiantly in getting us out of jail and literally have saved lives. Roy Wilkins used to cuss Medgar Evers daily for marching and sitting-in with his youth and college branches and courageous students like the Ladner sisters, Joyce and Dorie.
This is important because a new intensification of the struggle is at hand, as over half a century ago when SNCC adopted a program of Jail No Bail. Yes, it is effective when over a thousand people are arrested, but can you imagine the power that will be generated when hundreds dedicate themselves to remaining in jail. In 1961 I and other SNCC folk and Albany, Georgia, citizens, were bound in jail with Martin Luther King. Engaged in a Jail No Bail campaign, we were all planning to stay in prison. Police Chief Laurie Pritchett was the head segregationist in charge. Realizing the power we had while sitting in jail, Pritchett arranged to oust Dr. King, who mused that, "We had witnessed persons being kicked off lunch counter stools ... ejected from churches ... and thrown into jail.... But for the first time, we witnessed being kicked out of jail."
Since the election this month there is a growing determination of doing serious white organizing. The Poverty Initiative of Union Theological Seminary is moving to launch a new Poor Peoples Campaign. Up to three new fronts are opening up in North Carolina where organizing efforts are getting under way to bring hundreds and thousands of poor and working class whites into the movement. As this white manifesto continues as a work in progress, we will look at efforts around the nation that are planned or underway.
Please let us know of efforts in your area and all comments, additions and subtractions are welcome as we prefect this organizing plan.
In struggle,
Bob Zellner, Wilson, NC.