#BlackLivesMatter Takes the Field: A Weekend of Athletes Speaking Out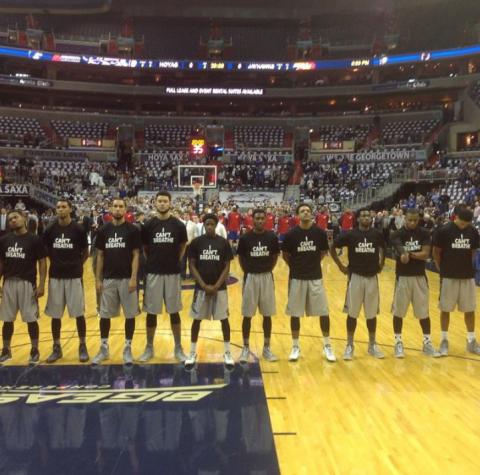 Georgetown Hoyas are the first college team to pay tribute to Eric Garner, making the decision as a team to wear shirts honoring Garner., SB Nation
The marches in the streets are not done. The die-ins disrupting traffic are not done. Any kind of closure for the families of Michael Brown, Eric Garner, Tamir Rice, Akai Gurley nd so many others is far from done. So why should anyone be surprised that the St. Louis Rams were not done? A week after five players raised their arms in the now iconic protest pose of "hands up, don't shoot," wide receiver Kenny Britt took the field with the names "Michael Brown" and "Trayvon Martin" written on his cleats. His teammate Jared Cook had the words "I can't breathe," the last gasp of Staten Island's Eric Garner as a police officer cut off his oxygen with a chokehold, written on his wristband. Teammate Davin Joseph had the same phrase written on his cleats.
They were not alone. Detroit Lions running back Reggie Bush, who was attacked by Abe Foxman and the Anti-Defamation League for comparing the late Michael Brown's hometown of Ferguson to Gaza on Instagram, was not cowed into silence and wore a shirt that read "I can't breathe" during warm-ups. He said, "Honestly, I've always been the quiet kid. I've always been the one who's reserved, to kind of sit back and not really get into politics and things like that. But I don't know why I just felt some kind of . I guess the situation just touched me."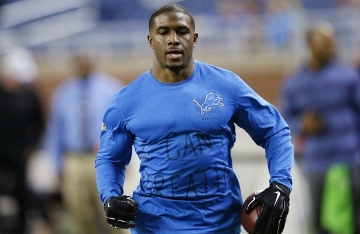 Reggie Bush during pre-game warmups
Credit: AP Photo/Rick Osentoski // The Nation
Bush's mom has also been a police officer for twenty years, and yes, I wish I could be a fly on the wall at the Bush house this Christmas.
Browns cornerback Johnson Bademosi also wore an "I can't breathe" shirt before game time, as did San Diego Chargers linebacker Melvin Ingram. Then there was Brandian Ross of the Raiders, who came out during player introductions without a helmet and with his hands up high, and Washington defensive lineman Chris Baker, who raised his hands up after a sack. Although, in Baker's case, the gesture of anti-racism while wearing a Redskins uniform probably won't make it onto a protest poster anytime soon.
These actions by NFL players come the day after NBA star Derrick Rose wore an "I can't breathe" shirt during warm-ups, which prompted the NBA's number-one icon, LeBron James, to say, "I thought it was great. I'm looking for one."
Then there is All-Star guard Damian Lillard who posted this gut-punch of a political cartoon by Rik Sansone to his Instagram account, causing the image to go viral among sports fans and protesters alike.
Two members of the Oregon Ducks basketball team also raised their hands up during the pledge of allegiance the week after Knox College basketball player Ariyana Smith, playing near Ferguson in Claremont, Missouri, lay on the floor of the court and would not move for four and a half minutes, to represent the four and a half hours that Michael Brown was left in the street after dying at the hands of Darren Wilson.
Each of these actions has the effect of amplifying the impact of a new struggle for human dignity in the face of racism. It has found expression in all fifty states and in solidarity actions in cities around the world all with the message that black lives matter. Seeing the movement impinge upon the highly sanitized, deeply authoritarian world of sports is not only a reflection of just how widespread the outpouring of anger has been. These athletic protests also shape the movement, giving more people the confidence to get in the streets and puncturing the self-imposed bubbles of those who want to pretend that all is well in the world. It is politicizing sports fans and educating those who think that sports in general-and athletes in particular-have nothing to offer the struggle for a better world.
Yes, it is also provoking a great deal of ugliness among a segment of fans on social media, not to mention snide smirks from some sports writers who once a year find time to praise people like Muhammad Ali, Bill Russell, Arthur Ashe and others tucked away in the past. They should listen to Lions coach Jim Caldwell, one of only four African-American head coaches in the NFL. When asked about his players getting political the normally taciturn Caldwell said:
I grew up in the 60s, where everybody was socially conscious. I believe in it. I'd be a hypocrite if I stood up here and told you any differently, because more than likely, some of those protests that Dr (Martin Luther) King and some of the others that took a part in non-violent protests, is the reason why I'm standing here in front of you today.
This is a similar moment. Except this movement is not only explicitly about the right to live a life with more opportunity, but the right to simply live. As Howard Zinn said, "You can't be neutral on a moving train." The train is leaving the station, even in the world of sports.

[Dave Zirin, The Nation's sports correspondent, is the author, most recently, of Game Over: How Politics Has Turned the Sports World Upside Down. Named one of UTNE Reader's "50 Visionaries Who Are Changing Our World," Zirin is a frequent guest on MSNBC, ESPN and Democracy Now! He also hosts his own weekly Sirius XM show, Edge of Sports Radio. His other books include What's My Name Fool? (Haymarket Books), A People's History of Sports in the United States (the New Press), Bad Sports: How Owners Are Ruining the Games We Love (Scribner) and, with John Wesley Carlos, The John Carlos Story. You can find all his work at www.edgeofsports.com ]
Copyright c 2014 The Nation. Reprinted with permission. May not be reprinted without permission. Distributed by Agence Global.
Please support our journalism. Get a digital subscription to The Nation for just $9.50!