'Turning Back on American People,' US Senate Votes to Approve Keystone XL Pipeline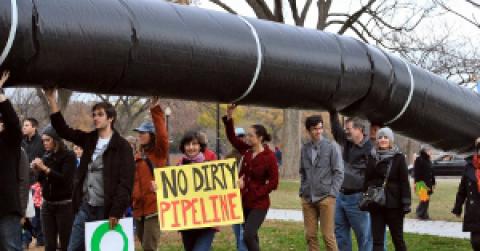 .,Photo: Chesapeakeclimate/flickr/cc // Common Dreams
Marking a major-and likely symbolic-victory for Republicans on Capitol Hill, the U.S. Senate voted on Thursday to approve the Keystone XL tar sands pipeline in a 62-36 vote that will not be sufficient to override President Barack Obama's expected veto.
The nine Democrats who voted to approve Keystone were Sens. Michael Bennet (Colo.), Tom Carper (Del.), Bob Casey (Pa.), Joe Donnelly (Ind.), Heidi Heitkamp (N.D.), Joe Manchin (W.Va.), Claire McCaskill (Mo.), Jon Tester (Mont.), and Mark Warner (Va.). Sen. Marco Rubio (R-Fla.), who is traveling, missed the vote, as did Senate Minority Leader Harry Reid (D-Nev.), who is recovering from eye surgery.
All other Republicans voted in favor of the $8 billion project that Obama has vowed to strike down.
"The senators who voted in favor of the Keystone XL pipeline know they don't have the votes to override President Obama's veto, so ultimately this was a symbolic vote for them-a testament to their loyalty to dirty money over rational public policy," said Greenpeace legislative representative Kyle Ash. "Thankfully, these members and their fossil fuel agendas are increasingly irrelevant to the clean energy revolution taking place throughout communities all over the country."
350.org executive director May Boeve issued a similar statement:
Given the fossil fuel industry's stranglehold on our political system, it's no longer even surprising that this Congress has made it their number one priority to try and force approval of an oil pipeline, instead of addressing the wide range of real issues confronting American families.  But thankfully, this vote is a farce-because Keystone XL is a decision for President Obama, not the Climate Denial Congress. As the President himself has pointed out, Keystone would worsen climate change, threaten the livelihood of tribes and landowners along the route, and create essentially no long-term jobs-all so a Canadian company gets to ship dirty oil to the rest of the world. That's why we're looking to the President to follow through on his word, veto this bill, and then reject the permit application for this pipeline for good.
Calling on his Senate colleagues to sustain Obama's expected veto, Sen. Bernie Sanders said: "With the scientific community telling us loudly and clearly that we must transform our energy system away from fossil fuels if we are to combat climate change, it is totally crazy for the Congress to support the production and transportation of some of the dirtiest oil on the planet."

And several Keystone XL opponents said the vote illustrates who GOP politicians are really beholden to.
"The Republican's Keystone XL obsession is about one thing and one thing only-a direct payback to Big Oil, specifically to the Koch brothers who likely spent more than anyone else to elect the Republican Senate, and also happen to be the largest non-Canadian leaseholder in the Alberta tar sands," declared Elijah Zarlin, senior campaign manager at CREDO. "The American people oppose Congress forcing a decision on Keystone XL, and given the actual problems we are facing and the solutions available, the notion that Keystone XL should be the first or highest priority of Congress is literally insulting. As long as they continue their Keystone XL obsession, Republicans are turning their back on the American people."
[Deirdre Fulton is a staff writer for Common Dreams. Previously she worked as an editor and writer for the Portland Phoenix and the Boston Phoenix, where she was honored by the New England Press Association and the Association of Alternative Newsweeklies. A Boston University graduate, Deirdre is a co-founder of the Maine-based Lorem Ipsum Theater Collective and the PortFringe theater festival. She writes young adult fiction in her spare time. Email her at deirdre@commondreams.org or find her on Twitter: @deirdrefulton]
This work is licensed under a Creative Commons Attribution-