Chicago Teacher Union Chief Blasts Rauner, Says Union Will Not Back Down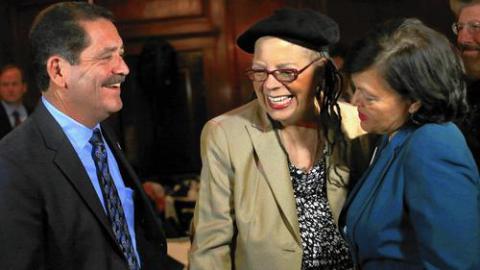 Chicago Teachers Union President Karen Lewis, center, chats with mayoral candidate Jesus "Chuy" Garcia before his talk at the City Club of Chicago on Jan. 20, 2015. Lewis spoke at the City Club on Feb. 2, 2015, criticizing Gov. Bruce Rauner and Mayor Rahm,E. Jason Wambsgans, Chicago Tribune
Chicago Teachers Union President Karen Lewis pilloried Gov. Bruce Rauner on Monday and promised the CTU would not back down from Springfield or City Hall as it prepares demands for a new contract.
"Bruce Rauner ran on a platform about nothing," Lewis said Monday at a City Club of Chicago luncheon. "He's wasted no time attacking the wages of working-class people, attacking their labor unions and threatening massive cuts to social service programs, which help the most vulnerable people in our state.
"That is the real Bruce Rauner. He's not some easygoing, blue-jeans-wearing, $20-dollar-watch-having good guy who's coming to save the day. He is (Wisconsin Gov.) Scott Walker on steroids."

Lewis offered a steady stream of wisecracks and improvised passages in which she derided standardized testing, Mayor Rahm Emanuel's longer school day and private partnerships in public education.
Lewis, who was considered a prime challenger to Emanuel until she was diagnosed with a malignant brain tumor in October, criticized the mayor's "hedge fund homies" and his fight to maintain an appointed Board of Education.
But Rauner received particular attention from Lewis, who said the governor was "busy trying to make the term 'collective bargaining' into dirty words." Rauner, she said, "thinks that only certain people are worthy of a high-quality education."
"If there's any silver lining, it is in the fact that no governor can rule by fiat. He's going to have to learn to listen to everyday citizens that he spent nearly $30 million of his own money to represent," she said. "And he's going to have to learn to work with organized labor."
The Republican governor in a speech last week revived his anti-union rhetoric and blamed what he said was an unfriendly state business climate on an alliance among Democrats who get strong labor support and reward workers with costly benefits.
Rauner flashed a chart that listed a series of unions, including representatives of teachers and blue-collar workers, as he lambasted a "conflict of interest" and "corrupt" alliance in which big labor campaign contributions support Democratic candidates to reap better state benefits and higher wages on public works projects.
In her speech, Lewis promoted her mayoral candidate, Cook County Commissioner Jesus "Chuy" Garcia, and described the illness that forced her to abandon her mayoral ambitions as "an unfortunate moment in our movement.
"This is sort of a relay race, I simply pass the baton to the better runner ahead of me," Lewis said.
Lewis said the union would soon have ready its proposals for a new contract and that they will require resources from the cash-strapped school district.
"If you want well-resourced schools, educators with tenure and job security — it's going to cost money. We shouldn't shy away from this," Lewis said. "Great working conditions for educators are also great learning conditions for our students."
Lewis, whose saber rattling fired up teachers before their 2012 strike, said talks are in the early stages and "we don't know" if the school board "will make the same mistakes it made three years ago that sent 30,000 educators to the picket line."
"If they do," she said, "I assure you, we will be prepared."
Copyright © 2015, Chicago Tribune