Two Educators Vie For Aldermanic Seats in Runoffs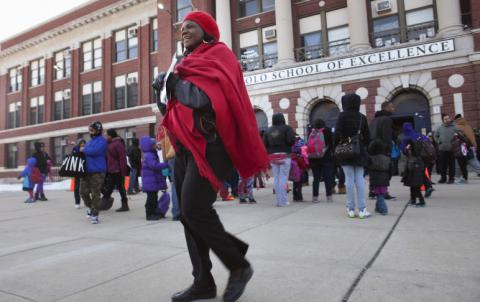 Aldermanic candidate Tara Stamps canvasses in the 37rd Ward outside Piccolo Elementary on March 6. The CPS teacher will face off against incumbent Ald. Emma Mitts on April 7. ,Michelle Kanaar
On a bitter early-March afternoon, Tara Stamps calls out to a woman who has been watching her carefully from across North Keeler Avenue.
"I'm running for alderman because this city needs change," says Stamps, a fifth-grade teacher at Jenner Elementary. "Do you live in this ward?"
The woman doesn't, but she points to an apartment building down the street where her adult son and his wife live. She takes some flyers.

Approaching another voter who speaks limited English, Stamps takes a different tactic. She flips the campaign literature around and points to a picture of mayoral candidate Jesus "Chuy" Garcia. "We're running with Chuy," she says.
Stamps is one of just two CPS educators who made it into runoffs – two out of an unprecedented wave of eight teachers and counselors who ran campaigns to unseat incumbent aldermen in the Feb. 24 elections. Catalyst Chicago profiled Stamps; Sue Sadlowski Garza, a counselor at Jane Adams Elementary; and others in our fall issue about the role of education in the municipal elections.
Both Stamps and Sadlowski Garza say they were inspired to run, in part, by what last fall seemed a certain decision from Chicago Teachers Union President Karen Lewis to challenge Mayor Rahm Emanuel. Though health reasons ultimately put the brakes on her expected campaign, the union's progressive political agenda has continued and teachers have rallied behind Garcia, a Cook County commissioner.
A third CTU-backed educator running for alderman, Roosevelt High history teacher Tim Meegan, narrowly missed a runoff election against incumbent Deb Mell, in the 33rd Ward. Last week, Meegan decided to suspend his campaign after the city's Board of Elections certified Mell as the outright winner, with 17 votes more than the 50 percent minimum requirement.
Meegan had initially filed a legal challenge to the preliminary results and sought a recount, alleging voter fraud and other breaches of election law. But, in the end, he said there was no viable strategy in sight for producing a ruling before the election.
"We realized it would have been too expensive, taken too long for too little chance of success," Meegan said. "We chose to suspend the campaign and will put energy into building an independent political organization in the ward. We have all these volunteers, and still have money, and have a lot of momentum."
Meegan, Sadlowski Garza and Stamps were the first three CPS educators who received critical financial and strategic support from the Chicago Teachers Union, which has been a major force in the city's progressive politics. The union later endorsed other educators running for aldermanic seats, but it poured more resources into those three candidates.
On the Saturday after the Feb. 24 elections, when provisional ballots had yet to be counted in the tight 33rd Ward race, CTU Vice President Jesse Sharkey said it was not a mistake that those three candidates appeared to have forced runoffs.
"These guys are really strong," Sharkey said in Meegan's crowded campaign office, before canvassing the neighborhood along with dozens of other volunteers. "They weren't just another warm body we got to run."
Altogether, CTU endorsed 24 aldermanic candidates; of those, nine won outright, eight lost and seven are in a runoff. Meanwhile, Democrats for Education Reform, a group whose education agenda contrast strongly with that of the current CTU leadership, endorsed 14 aldermanic candidates; six won outright, three lost and five are headed into a runoff.
In addition to the mayor's race, a total of 18 aldermanic races are in runoffs. The elections are April 7.
Grace Donnelly
Mayoral race influences ward-level races
In the first round, Stamps and Sadlowski Garza were double-digits behind the incumbents in their respective wards: Emma Mitts in the 37th Ward and John Pope in the 10th Ward.
But they say the fact that Garcia forced Emanuel into a runoff increases the energy around the elections and, with luck, drives more people to the polls. Garcia's presence bodes especially well for Sadlowski Garza, as more voters in her ward chose Garcia over Emanuel.
"Our signs say 'Garcia-Garza,' " she points out. "Hopefully people will make the connection and we'll be okay. Our ward is probably about 70 percent Latino. If we can get everybody to the polls, it's a good thing for us."
A Garcia spokeswoman says he "of course" supports Stamps, Sadlowski Garza and other CTU-backed progressive candidates.
In the Feb. 24 elections, Pope obtained 44 percent of the vote, while Sadlowski Garza -- one of six challengers -- received the second-highest percentage, with 24 percent.
Pope, who has voted in line with the mayor's proposals and has the backing of his super-PAC, did not return calls.
The mayor's race is likely to play a different role in the 37th Ward, a majority black ward where Emanuel captured 41 percent of the vote. Another mayoral challenger, Willie Wilson, who is black, got more votes than Garcia.
The ward's alderman, Emma Mitts, nearly won the election outright with 49 percent of the vote. Stamps was the top vote-getter among Mitt's three opponents, with 32 percent. Mitts' campaign did not respond to a request for an interview.
Stamps says the runoff elections – both for aldermanic candidates and the mayor's seat – are crucial for turning the tide on what she sees as the privatization of city services, starting with the educational system. Mitts and other aldermanic allies of Emanuel are supporters of charter schools, which Stamps and others see as a form of privatization.
"If we're unable to seize this opportunity," Stamps says, "it will have devastating effects for generations to come."
Melissa Sanchez is a reporter for Catalyst Chicago.