labor
Labor Union Membership in the U.S. is Down to Just 11%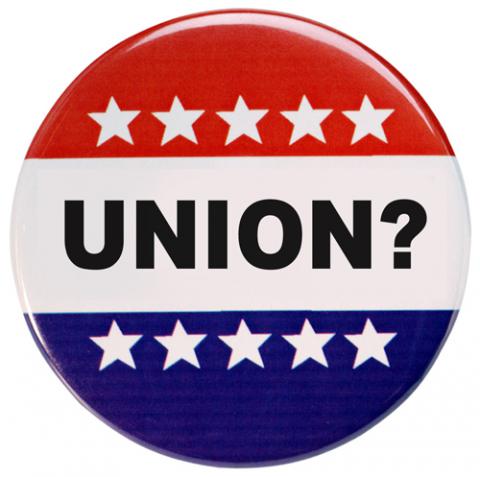 , The Huffington Post
Over the last three decades, U.S. labor union membership has fallen by nearly half, even though more Americans are actually in favor of unionization.
Some 11% of all wage and salary workers in 2014 were in a union — down from 22% in 1983 after peaking at nearly 35% in 1954, according to Bureau of Labor Statistics data analyzed in a report from the Pew Research Center, a Washington, D.C.-based nonpartisan think tank. The decline of organized labor has affected nearly all occupational groups, but not uniformly, according to BLS data. The biggest declines, in fact, have come in occupations that were — and still are — among the most unionized in the country, especially those dominated by the private sector such as construction, transportation and maintenance and repair. "More jobs require a college education," says Harry Holzer, economist at the McCourt School of Public Policy at Georgetown University, "and those jobs are traditionally less likely to be unionized."
And yet most Americans are not sure this is a good thing, a separate Pew survey of 1,500 adults found. Some 52% say the decline in union representation has been mostly bad for workers, compared with 40% who say it has been mostly good. What's more, the balance of opinion on this question is about the same as it was in a 1994 NBC/Wall Street Journal survey that asked about the previous 20 years. Among Democrats, support for the ability to form a union ranges from 77% for fast-food workers to 92% for manufacturing and factory workers; among Republicans, 71% say factory and manufacturing workers should be able to unionize, but only 46% say fast-food workers should be able to unionize.
Membership in labor unions is far higher in Europe than the U.S., with a 22% average union membership in the European Union — or 24% including Norway, which is not a member of the European Union — according to data from the "Institutional Characteristics of Trade Unions, Wage Setting, State Intervention and Social Pacts," provided by the University of Amsterdam's Amsterdam Institute for Advanced Labour Studies. Finland (74%), Sweden (70%) and Denmark (67%) lead the way with union membership and France (8%), Lithuania (10%), Estonia (10%) and Poland (12%) are among the countries with the lowest rate of labor union membership.
Most studies find that, after controlling for individual, job, and labor market characteristics, the wages of union workers are in the range of 10% to 30% higher than the wages of nonunion workers, according to the Congressional Research Service, a nonpartisan think tank that provides policy and legal analysis to both the House and the Senate. "The wage premium is generally greater for less skilled, less-educated, and younger workers and larger for private than public sector workers," it found. "Union members generally receive better or more generous fringe benefits than similar nonunion workers. Job tenure tends to be greater and quit rates lower among unionized workers."
The fall in union membership is a significant contributor to the rise in inequality since the 1970s, says John Schmitt, senior economist at the Center for Economic and Policy Research, a nonprofit left-of-center think tank in Washington, D.C., although there's been no single cause of the economic inequality. "We had a deterioration in the inflation-adjusted value of the minimum wage, deregulation of some industries like long-distance trucking and privatizing of government jobs, including school cafeteria workers or bus drivers," Schmitt says. "Trade agreements may or may not have had a positive impact on our economy, but they hit our manufacturing sector hard and helped to drive down wages there, too."
And not every worker necessarily wants to be unionized. "Many [high-skilled] workers would rather be judged on their own merits," Holzer says. "The highest performers in these jobs don't always get paid as well under a union system." The playing field has also been tilted against the unions, he adds, as the U.S. economy and the labor market have become more competitive, an argument that is often cited by those on the right of the political spectrum. "Historically, a company that sold a localized product could let their workers unionize and sell their product at a higher price," Holzer adds. "People can sit in their homes and buy products from all over the world. It makes it harder for unionized companies to compete with higher priced products."