BDS and the "Anti-Semitism" Charge; Penalties Will Grow Worse The Longer Israel Persists In Settling - Israeli and Jewish Perspectives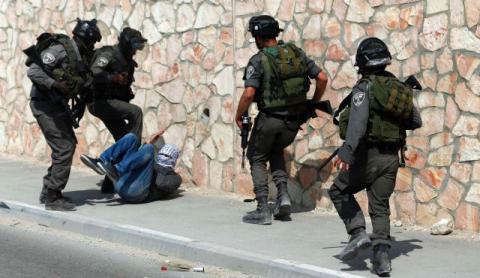 Israel border police detain a Palestinian protester during a West Bank protest against land confiscation by Israel for Jewish settlements, March 17, 2015., Photo by Reuters // Haaretz
For the Sins of Occupation, Boycotts Are a Light Punishment
By Gideon Levy
June 7, 2015
Haaretz (Israel)
Orange or SodaStream, academic or artistic boycott, the penalties will grow worse the longer Israel persists in settling, exploiting and stealing Palestinian land.
What are you defending? What are you fighting for? Over what are Israelis entrenching themselves now, with the assaults of the nationalist politicians and the populist media fulminating against the world. Why are they patriotically covering up the orange flags of Orange with the blue-and-white national flag? Has anybody asked why? Why is the boycott starting to gnaw at Israel now, and is this all worth it?
As usual, there are questions that are not even asked. Soul-searching, after all, is a clear sign of weakness. And so an explanation has been invented that absolves us of responsibility: The boycott fell out of the sky, an unavoidable force majeure of Israel hatred, and the only way to fight it is to fight right back at them. Israel always has an abundance of fitting (and sometimes violent) Zionist responses, but it's always about the outcome, never about the reasons. That's how was with terror, that's how it was with the position of the world that Zionist Union chairman MK Isaac Herzog, of all Israeli ultranationalists, rushed to label with the ridiculous name "terror of a new kind" (referring to the statements by Orange SA CEO Stephane Richard). Never give in. That's fine, but why? We are fighting the boycott, but why did it break out?
Israel is now defending the preservation of the status quo. It is fighting against the whole world to preserve its advanced school of brutality and cruelty, in which it is educating generations of young people to act brutishly toward human beings, old people and children, to tyrannize them, to bark at them, to crush and humiliate them, only because they are Palestinians.
Israel is defending the continuation of apartheid in the occupied territories, in which two peoples live, one of them without any rights. It is defending its entire system of justification for this - a combination of Bible stories, messianism and victimhood, accompanied by lies. It is defending "united Jerusalem," which is nothing but a territorial monster where separation also exists. It is fighting for its right to destroy the Gaza Strip for as long as it cares to do so, to maintain it as a ghetto and to be the warden of the biggest prison in the world.
The Israelis are fighting for their right to persist in settling, exploiting and stealing land; to continue breaking international law that prohibits settlement, to continue to thumb its nose at the whole world, which does not recognize any settlements. They are now defending their right to shoot children who throw stones and helpless fishermen pursuing the crumbs of a livelihood in the sea off the coast of Gaza, their right to continue snatching people from their beds in the middle of the night in the West Bank; they are fighting for the right to detain hundreds of people without trial, to hold political prisoners, to abuse them.
That is what they are protecting, that is what they are fighting for - for an area that most of them have not been to for years, and don't care what happens there, for conduct that is shameful even to some of them. These are the sins and this is the punishment. Does anyone think that Israel can go on without being punished? Without being ostracized? And to tell the truth, doesn't Israel deserve to be punished? Hasn't the world been unbelievably tolerant so far?
Orange or SodaStream, academic boycott or artistic boycott, these are light punishments. The penalties will grow worse the longer Israel avoids drawing the necessary conclusions. As opposed to attempts by Israel and the Jewish establishment to divert the discussion, at its heart is not anti-Semitism. At its heart is the occupation. That is the source of the delegitimization.
The nation can fight against the position of the whole world. It can stand up for its rights (which are not its rights) and think that it is fighting for its survival. But do the Israelis know what they are defending now? What they are not willing to surrender? Is all this worth it to them? That discussion has not even begun here.
[Gideon Levy is a Haaretz columnist and a member of the newspaper's editorial board. He joined Haaretz in 1982, and spent four years as the newspaper's deputy editor. He is the author of the weekly Twilight Zone feature, which covers the Israeli occupation in the West Bank and Gaza over the last 25 years, as well as the writer of political editorials for the newspaper.
Levy was the recipient of the Euro-Med Journalist Prize for 2008; the Leipzig Freedom Prize in 2001; the Israeli Journalists' Union Prize in 1997; and The Association of Human Rights in Israel Award for 1996. His new book, The Punishment of Gaza, has just been published by Verso Publishing House in London and New York.]
The Pro-Palestinian Boycott, Divestment, and Sanctions Movement (BDS) and the "Anti-Semitism" Charge
By Jerry Haber
June 9, 2015
The Magnes Zionist
Many people have different positions on the wisdom, and even the legitimacy, of tactics involving boycotts, divestment, and sanctions (BDS) directed against alleged human rights abuses in Israel/Palestine. But all should condemn recent attempts in some quarters to brand these tactics as "anti-Semitic". BDS is neither motivated by anti-Semitism, nor it is it, in effect, anti-Semitic. The "anti-Semitism" charge against BDS is false, intellectually lazy, and morally repugnant.
The "Anti-Semitism" Charge against BDS is False. Anti-Semitism has been defined as "a prejudice against, hatred of, or discrimination against Jews as an ethnic, religious, or racial group". Anti-Semitism is commonly considered a form of racism, in its broadest sense. By contrast, the BDS movement is a movement initiated by Palestinian civil society and its supporters to promote and defend the human, civil, and political rights of the Palestinian people living in Israel, the Occupied Territories, and the Palestinian diaspora, most notably the rights of liberty, equality, and self-determination. The movement comprises people of different creeds and nationalities, including Israelis and Jews, and explicitly condemns all forms of racism, including anti-Semitism. The BDS movement is in its essence a human rights movement, grounding its call on international human rights law, conventions, and decisions. It not only explicitly opposes anti-Semitism; it is diametrically opposed to it.
The "Anti-Semitism" Charge against BDS is Intellectually Lazy. One of the arguments for BDS's alleged anti-Semitism is that in singling out Israel for moral opprobrium, the movement reveals its true motivation, which is hatred of the Jewish state, ergo Jews. This is the tired argument of all those who wish to deflect attention away from their own human rights violations. Similar arguments were made by South Africa in response to calls for divestment during the apartheid era; by the Soviet Union, in response to calls for sanctions during the struggle for Soviet Jewish rights; by some southern US states, in response to calls for integration during the civil rights movement. To expect of Palestinians and their supporters that they will devote more of their energies to human rights abuses that little concern them is morally unreasonable. It is also hypocritical, in so far as those who criticize the BDS movement usually devote more of their own energies to supporting Israel than to fighting human rights violations elsewhere in the world. By their example they undermine their own argument.
Another argument is that the global BDS movement, in so far as it deals not only with Palestinian human rights violations in the Occupied Territories, but also calls for full equality for Israeli's Palestinian citizens and recognition of the Palestinian right of return, wishes to delegitimize and destroy the State of Israel. And since the State of Israel understands itself as the expression of Jewish self-determination, the BDS movement is, in effect, if not by design, opposed to Jewish self-determination, ergo anti-Semitic. Yet this argument rest on a string of questionable assumptions. It concedes, unnecessarily, that the State of Israel can only survive if it foundationally discriminates against its non-Jewish citizens, or defies international recognition of the refugees' right of return. It confuses criticism of Israel on these points with anti-Zionism, and anti-Zionism with anti-Semitism, all of which are distinct positions.
As for the "delegitimization" charge: Israel is a member of the United Nations and recognized by many countries. Its political legitimacy is no more nor less than that of the United States, Germany, Russia, North Korea and the Islamic Republic of Iran. But its moral legitimacy, like that of all states, rests on its adherence to human rights standards expected of all states.
The final argument is that the BDS movement, while itself not anti-Semitic, has attracted supporters who are either motivated by anti-Semitism, or who use anti-Semitic stereotypes and tropes. But even conceding this point, similar things are true of the pro-Israel movement, which has attracted supporters who are Islamophobes, anti-Palestinianist, Nakba deniers, and advocates of Jewish spiritual and metaphysical superiority. Bigotry is, unfortunately, a common vice, and its manifestations are to be condemned. But just as opponents of BDS are not necessarily, or even mostly, anti-Palestinian bigots, so the proponents of BDS are not necessarily, or even mostly, anti-Israeli bigots, much less anti-Semitic.
The "Anti-Semitism" Charge against BDS is Morally Repugnant. Anti-Semitism, like racism, is one our era's "mortal sins". To accuse a movement of anti-Semitism is not only to criticize or delegitimize it; it is to tar it as immoral. The BDS movement has been embraced, in part or in whole, by the overwhelming majority of the Palestinian people and its leadership. To label as "anti-Semitic" Palestinians and their supporters who are fighting for their rights using tried and true non-violent tactics is morally repugnant and itself represents a sort of bigotry. Moreover, in supporting the charge with insufficient evidence and sloppy arguments, one not only fails to establish one's point; one trivializes and cheapens genuine anti-Semitism.
In short, the "anti-Semitism" charge against BDS is not only offensive to Palestinians; it is offensive to all those who reject anti-Semitism.
It should have no place in the ongoing, legitimate debate over BDS.
[Jeremiah (Jerry) Haber is the nom de plume of Charles H. Manekin, an orthodox Jewish studies and philosophy professor, who divides his time between Israel and the US.]