How Nike's Neoliberal Feminism Came to Rule the Global South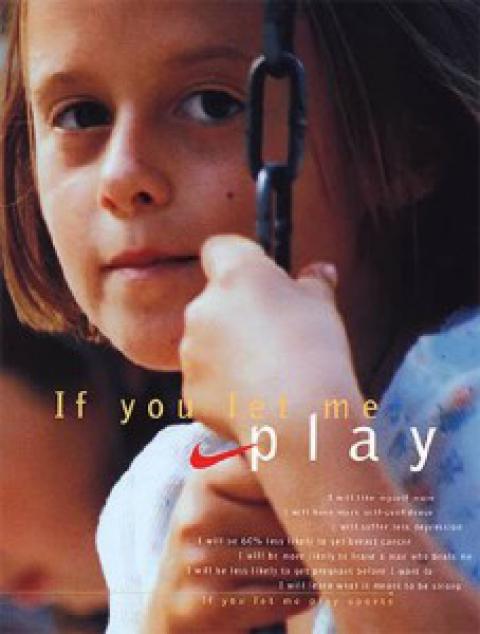 The first time Nike tried to convince American consumers that it cared about women's equality was in 1987, when the shoe giant aired a TV campaign in which the famous triathlete Joanne Ernst, sitting on a locker room bench, told women that "it wouldn't hurt if you stopped eating like a pig." The goal of the campaign was to inspire women to get their sporty acts, and of course their new Nike gear, together, and get in shape to purchase patriarchy away. Most women didn't buy it though. Not the message, which they found insulting, and not the shoes; Reebok was far more popular amongst women at the time.
What the ad failed to disguise was that, rather than putting Nike's economic power in the service of women, it was pursuing the exact opposite. By capitalizing on calls for gender justice, Nike treated patriarchy as nothing more than a novel marketing strategy to drive ever more Swooshes over the counter. But true to its competitive character, Nike didn't give up on its mission to win women over. Soon after the embarrassing Ernst campaign was taken off the air, as Melisse Lafrance wrote in 1998, "Nike executives put their industrious heads together and decided that in order to successfully colonize the female body, they needed a bit of feminine sensitivity." What they came up with was the 'If You Let Me Play' TV campaign, which aired in 1995. Rather than using some tough preachy love from women icons, the new campaign chose to target men's benevolence by persuading them to allow their girls to get their Swoosh on and get moving. The TV commercial showed young American girls, promising viewers that if they'd let them play:
I will like myself more. I will have more self-confidence. I will suffer less depression. I will be 60% less likely to get breast cancer. I will be more likely to leave a man who beats me. I will be less likely to get pregnant before I want to. I will learn what it means to be strong.

While some feminists critiqued the ad for its portrayal of women as monolithic and 'savable' victims, the relative feminization of the profits that followed the campaign suggested it was quite successful. Not so much for the feminist cause perhaps, but certainly for Nike. 
The campaign seemed well timed too, because the anti-sweatshop campaigns, which targeted Nike more than its competitors, were about to reach their peak. From the late 80s, the company's corporate image had been under heavy attack from journalists, union leaders, students, labor rights advocates and feminists, all challenging and demanding better working conditions for Nike's Asia based factory workers, most of whom were –and continue to be- women.
In 1995, when the 'If You Let Me Play' campaign hit the airwaves, the stream of critiques was spiraling out of Nike's control, well on its way to permanently stain the Swoosh with a gendered brand of corporate slavery. It showed the public that Nike reserved the 'Right to Play' for the consuming woman only. The producing woman on the other hand, whose 70 hour work weeks and toxic working conditions were captured vividly by publications such as USA Today, the New York Times, Mother Jones and the Oregonian, had little to no time to play. Neither could she afford the type of sneakers to exercise any such rights in style; her monthly pay didn't even meet the price of a children's pair of Nike Air Max.
As much as Nike tried to brand itself as concerned with women's wellbeing, the sweatshop scandals made it crystal clear that Nike profited from, rather than, railed against patriarchy. As Cynthia Enloe pointed out in her 'Global Sneakers' article in 2004, the outsourcing countries that appealed most to Nike were those where women were most economically disempowered. That's one of the reasons why Nike, in its earliest outsourcing days, chose South Korea, a country that was ruled by a military government that was all too keen to suppress workers' unions, and where gender norms allegedly measured women's morality by her willingness to work hard for her family. With its special eye for untapped resources, Nike saw these women as a fabulous labor force. The women themselves, however, weren't having it. Undeterred by abusive line managers and threats of government violence, many of them organized themselves and managed to push up their wages. While it wasn't much of a raise, it was significant enough for Nike to leave. "In response to South Korean women workers' newfound activist self- confidence," wrote Enloe, "the sneaker company and its subcontractors began shutting down a number of their South Korean factories in the late eighties and nineties."
Nike's top executives insisted that sweatshops were, in fact, a wonderful opportunity for women to uplift themselves and their countries' economies. Nike spokesman Dusty Kidd argued that without these jobs, women would only be "harvesting coconut meat in the tropical sun". Ignoring evidence from the International Labour Organization (ILO) that showed that 88% of the minimum wage workers in these factories were, in fact, malnourished, he argued that women were much better off because of Nike.
Twenty years later, Nike has radically transformed its feminist credentials on the global stage. Today, few organizations carry as much global power and authority on the economic needs of young poor women as the Nike Foundation, which was founded in 2004 and is led by CEO Maria Eitel, a former special media assistant for President George H.W Bush [1]. Under Eitel's leadership, Nike has turned into a global 'adolescent girls expert', whose campaigns are celebrated, supported and endorsed by various UN agencies, USAID, the British Department for International Development, Save the Children and a plethora of international women's rights organizations. The Nike Foundation has become so influential that even the White House has adopted some of their ideas in its gender focused policies. President Obama has praised Maria Eitel as a "smart and innovative thinker" and as "a leader who shares [his] belief in the power of service." Michelle Obama has also publicly referenced Nike's ideas.
Over the past seven years, the Nike Foundation's ideas on what young women need economically has, rhetorically at least, become 'common sense' in international development and gender equality circles. By funding NGOs in the developing world to implement their programs, and prioritize 10-19 year old girls (because by 20, Maria Eitel says, it is 'too late' to save them), the Nike Foundation has now reached thousands of girls across the developing world, mostly in emerging markets, such as Rwanda, Nigeria and Ethiopia. According to The Foundation Center, a global grant database that many small NGOs use to find potential funders, the Nike Foundation uses "communication tools, brand leverage, innovative investments, inspirational messaging, and effective calls to action" to transform girls' lives [2].
The alarming irony of their feminist momentum is that Nike's message hasn't actually changed that much. It's still about saving women by putting them to work in the service of their families and their markets. The key idea of the Nike Foundation's new feminism is captured in its 'Girl Effect' theory, which it launched in 2008. It is a poverty-reduction theory that argues that the economic empowerment of poor adolescent girls is the magic bullet to solving global poverty because, according to the theory, 'girls give more back' than boys (apparently a difference of 35% vs. 90%). The Girl Effect videos explain the essence of Nike's new feminism best:
The world is a mess. Poverty. AIDS. Hunger. War. So what else is new? 
What if there was an unexpected solution that could turn this sinking ship around? Would you even know it if you saw it? It's not the internet. It's not science. It's not the government. It's not money. It's (dramatic pause) a girl.
It then tells a story of a girl, who is hungry, has a baby and also happens to be infected with HIV. The viewer is asked to "pretend you can fix this picture" by putting the girl in a school uniform, help her get a loan to buy a cow, make profits to help her family and grow into a business owner, who brings clean water to the village and persuades the village council how valuable girls are. This progression of events, we are told, "means the economy of the entire country improves and the whole world is better off". "Multiply that by 600 million girls in the developing world and you've just changed the course of history". "It's called the Girl Effect."
Adolescent girls have been ignored for too long, says Nike, when in reality girls' potential to make money and solve poverty makes them the world's greatest untapped resource. Educating adolescent girls and teaching them how to save money, take loans and become entrepreneurs, the logic goes, prepares them to solve poverty, which the theory assumes girls are dying to do. According to the Girl Effect, the empowerment of girls, who Maria Eitel has frequently referred to as 'economic powerhouses' and 'unexploited resources' is 'smart economics.'
In another recent Girl Effect video, which was shot in central Africa during a USAID-backed program that mobilized entrepreneurs to work for girls, a male participant says about the programs' goal:
I came in here thinking what can we do to help girls but that thinking has completely refined and turned on its head. The question shouldn't be what should we do to help girls but instead, if girls were a target market for business, how do you unlock that. I think that's really going to help our businesses and bring the girl effect to life.
Unsurprisingly, the overt pro-market vision of the Girl Effect has attracted a good dose of academic critiques. "What if the numbers hadn't added up," asked Michelle Murphy, "and, in fact, another object, or another "human kind," or different life form was calculated as the best investment?" Others, such as Hester Eisenstein, Heather Switzer and Jason Hickel, have denounced how, 'in the name of gender and development,' the normalization of the Girl Effect further entrenches the developmental instrumentalization of women (a phenomenon that has long been visible in pro-business development interventions, such as micro-credit) and how it obscures the neoliberal policies and trade relations that fuel poverty, suppress wages and drain government budgets for basic services, such as education and health. Another concern, which I have raised elsewhere, is that despite the fact that Nike's own supply chain history paints a profoundly illuminating picture of how labor rights awareness, unions and living wages can help women to empower themselves, the Girl Effect is as silent about this as it is about the multinational corporations, whose labor and tax evasion practices are impoverishing the Global South.
Under the Girl Effect, market participation is portrayed as the ultimate form of liberation and protection for women, whilst the violence of the market on the lives of women (as workers, citizens, mothers, daughters, entrepreneurs or activists) is erased. Against the backdrop of these paradoxes, it is not surprising, that the researchers who have studied the implementation of Girl Effect programs in countries such as Uganda, Egypt, Rwanda, Ethiopia and Brazil expressed concern about the efficacy of these programs, the self-reliance they instill, the unjust vilification of men they may contribute to and the burden they place on girls by falsely portraying societal images of girls, and girls' own perceptions of themselves, as the cause for poverty. As Lyndsay Hayhurst, whose research focused on a program in Uganda, observed, girls are taught to "fend for themselves".
This is not to say that Nike's money makes no positive impact at all. A quick glance at the Nike-backed Coalition for Adolescent Girls shows that some great projects have been supported by it. However, the Coalition's slogan 'Poverty Ends with Her' perpetuates the profit-motive upon which these funding flows rely. According to the Association for Women's Rights in Development, many women's groups are concerned about the impact that these corporate-driven profit motives are having across the gender and development field. Apart from mystifying corporate accountability problems, the Association rightly argues that the "[i]ntervention of corporate actors in development can hinder [transformations to the market-oriented pro-private sector model] due to their self-interest in maintaining neo-liberal models." Moreover, by singling out Nike as the supporter for the Adolescent Girls Coalition, the coalition's website perpetuates the notion that Nike has been driving massive amounts of profit to grassroots groups, when in reality, Nike's foundation has received more funding from the UK's Department for International Development than from Nike Inc. these past years, and the vast majority of these funds have gone to expensive communications and media campaigns and consultancy agencies, rather than grassroots organizations. In a way, the Coalition thus helps Nike to brand itself as the women's champion that it isn't and that it never has been.
The exploitative essence of Nike's feminism hasn't changed all that much the past twenty years. 'If You Let Me Play' has simply turned into 'If You Let Me Trade'. Girls are still conceived as resources, instruments and victims, waiting to be saved by consumption and business. And women's supposed intrinsic desire to take care of their families and communities is still treated as an economic asset, rather than a problem of gender norms. The difference with 1995 is that this time, the effects are no longer limited to what sportswear women buy. Distressingly, Nike is making it increasingly difficult for women's and girls' groups to push back not only against the discourse they promote or the interventions they prioritize, but also against the naturalization of neoliberal realities and Western imperialism more broadly.
[1] Very recently, Nike announced that the Girl Effect will become its own independent charity
[2] Though they recently adjusted the description
Maria Hengeveld writes about neoliberalism, gender, labor and education. She has studied these issues at Columbia University and the University of Cape Town. She blogs at Africa is a Country.