labor
"Labor for Bernie" Network Building New Approach to Union Politics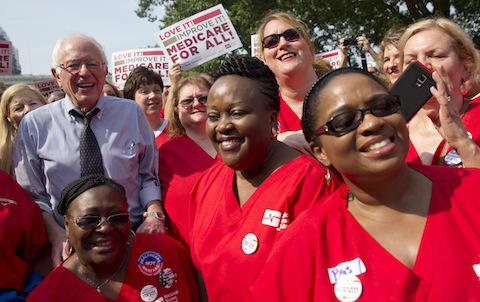 The Nation
Labor for Bernie was initiated in June 2015 by trade unionists who have worked closely with Senator Sanders for many years. The network now includes thousands of elected officers, shop stewards, organizers, and rank-and-file members from 50 states and all of the national labor organizations as well as many independent unions.
These labor activists signed an on-line statement embracing Sanders as the only declared candidate, in either major party, "who challenges the billionaires who are trying to steal our pensions, our jobs, our homes, and what's left of our democracy." The first 5,000 union supporters may be viewed on the Labor for Bernie website at www.laborforbernie.org.
More than a quarter of these Sanders supporters belong to building trades' unions, (with more than 1,000 coming from the International Brotherhood of Electrical Workers alone). Members of other unions who have showed significant membership support for Sanders' presidential campaign include the Communications Workers of America, American Federation of Teachers, the National Education Association, Service Employees International Union, International Union of Operating Engineers, United Auto Workers, and International Brotherhood of Teamsters.

Of course, social media has played a major role in helping to quickly build a strong grassroots network. The Labor for Bernie Facebook page has more than 10,000 "likes" with daily posts frequently reaching over 100,000 people.
The national AFL-CIO's decision not to make an early endorsement in late July was a reflection of the then surging union support for Sanders' bid for President. An important early victory for Labor for Bernie! That delay created more space for national affiliates and local unions to support Bernie. Sanders soon won support from the energetic National Nurses Union and picked up endorsements from many local unions, including unions like Iron Workers Local 7 and IBEW Local 2222 where members have had previous experience with his strong commitment to workers' rights.
Larry Cohen, past president of the Communications Workers of America and now a volunteer working on the Sanders campaign said, "Our strong and growing grassroots movement shows that workers are fed up with business as usual. This campaign is about building new power at the grassroots to put a stop to the corporate assault on working families."
When the American Federation of Teachers national executive board voted to endorse Clinton with little membership input in July, the endorsement caused a huge uproar on social media and led to a major spike in sign-ups by teachers on the Labor for Bernie website. Today, more than 1,000 members of the AFT or the larger NEA have joined the network. Similarly, when the Machinists Union made a Clinton endorsement there was a strong membership reaction.
"The IAM is a great union and I am very proud to be a member, but the leaders went about this endorsement the wrong way," said Al Wagner a Local 701 journeyman auto tech out of Chicago. "I cannot describe how disappointed I am with the IAM endorsing Hillary. Bernie Sanders is clearly the "pro Labor" and pro middle class choice who can't be bought by big business."
The top-down and premature endorsements by AFT and IAM spurred members of Labor for Bernie to make support for Sanders even more visible. By networking the large number of signups by union, Labor for Bernie organizers have encouraged members to begin grassroots campaigns within their unions to generate pressure on leaders for "no endorsement" and/or for "broad membership debate and discussion about the candidates and their stands on the key issues for working families."
After a broad internal effort within the IBEW, new International President Lonnie Stephenson replied to members who emailed him, "In recent years, the IBEW International Office has made a practice of not endorsing a presidential candidate early in the primary process. We do not intend to do so this year…I encourage all IBEW members to study each candidate's positions on the issues and to get involved in their local union's grassroots political efforts."
A similar effort supported by Labor for Bernie is ongoing to convince the SEIU International Executive Board not to make an early endorsement.
Bernie's long track record has given his campaign great credibility with union members.
"Telephone workers in New England know Bernie well because he has walked our picket lines and supported our organizing efforts for years," said Don Trementozzi, president of CWA Local 1400, based in Portsmouth, New Hampshire. "In our union's recent campaign against the Trans-Pacific Partnership, Bernie was not on the fence—he was helping us lead the fight against a job-killing trade bill backed by Democrats and Republicans alike."
"Bernie is running on a record of real accomplishment for workers, farmers, veterans, and millions of other blue-collar Americans," said Erin McKee, President of the South Carolina AFL-CIO. "But here's the real difference between him and all the rest: he's the candidate who truly believes in the power of grassroots organizing. Bernie has been to South Carolina over the past few years and some of our members got the chance to see that first hand when he met not only with labor unions but with the fast food workers fighting for $15 an hour and a union."
"I think everyone is just sick and tired of hearing promises from politicians who say they'll fight 100 percent for people but then act for Wall Street," said Mari Cordes, an RN from the University of Vermont Medical Center and Vice President of Healthcare for AFT-Vermont. "Bernie Sanders has never strayed from his working class roots. Not only has he been true to his word in Vermont for the last 35 years, he has rallied real hope across the country—as a four-term mayor, eight-term Congressman, and now two-term U.S. Senator. I stand strong for Bernie for President in 2016."
"Bernie has a long track record of supporting workers and their right to unionize," said John Murphy, a Carpenter's Local 40 steward from Lowell, Mass. "Just recently he was standing with Fair Point workers on their picket lines and offering them aid and support. When members ask me if Bernie can win, I tell them, that's up to us!"
Union members across the country were out in force on Labor Day promoting Bernie Sanders' campaign for president and his vision of putting people before profits.
At Labor Day union gatherings, supporters passed out "Why Workers Support Bernie" flyers, held signs, marched in parades, and signed up hundreds of more members to be part of the grassroots "political revolution."
"By showing the depth of grassroots support for Bernie, we hope more local and national labor leaders will seriously consider his candidacy," added Cohen who barnstormed for Bernie at Labor Day events in eastern Iowa.
Already tens of thousands of union members have embraced a call for "political revolution" and the "socialist" ideas that Bernie is making the cornerstone of his campaign. They are also implicitly challenging the legacy of "blank check" support from many unions for corporate Democrats who have not stood with the working class on the key issues of our time. They want to elect new leaders who can't be bought by Wall Street or the billionaire class of "One Percenters."
Whether or not Bernie gains the Democratic nomination and/or wins the presidency, the challenge will be to create new political structures in the labor movement – perhaps even a new party – capable of continuing the "political revolution" in contests for elected office in tens of thousands of municipal and state level races. If that is the legacy of the Sanders' campaign, we will owe him a debt of gratitude for many years to come!
Labor for Bernie 2016 is a volunteer effort neither funded nor directed by the Sanders for President campaign. To join this grassroots mobilization, download useful organizing materials, or learn more about Bernie's past and present support for workers and their unions, go to: www.laborforbernie.org
Rand Wilson has worked as a union organizer and labor communicator for more than thirty-five years. He is currently on the staff at SEIU Local 888 in Boston, MA and a volunteer for Labor for Bernie.