Environmental Racism Harms Americans in Flint - And Beyond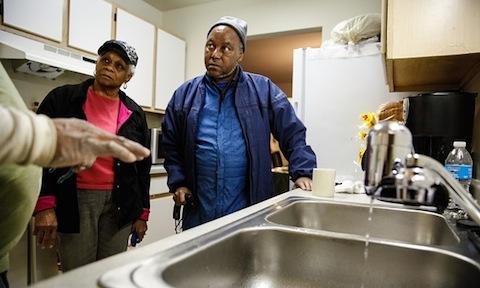 'If you want people of color to drink the post-racial Kool-Aid, mix it with clean water.', Sarah Rice/Getty Images
Environmental racism is often an afterthought, even for those who want to fix our race-based ills and protect black and brown lives. Now, the water crisis gripping Flint, Michigan is shining a bright light on how structural racism is found in our environmental resources and is costing people their lives across the nation.
Flint, Michigan is experiencing a well-documented crisis as a result of a contaminated water supply. A study dating back to 2011, showed the Flint River water supply needed to be treated with an anti-corrosive agent in order to be fit for human consumption, as required by federal law. This study and law was ignored when officials decided to use the river as the primary water source for the city.
Potentially large numbers of children in Flint will have to cope with the neurological damage caused by lead poisoning for the remainder of their lives as a result.

Filmmaker Michael Moore, a native of the city, posited that the reason state of Michigan officials were willing to switch the water supply from Lake Huron to the notoriously polluted and foul-smelling Flint River was largely to do with race and class. He pointed out the obvious fact that Flint's population is majority black and economically depressed.
Governor Snyder's denial that this is environmental racism is deplorable and infuriating. Institutional and structural racism is often based upon neglect and valuing money or assets over human life and well-being. Such is the case in Flint, where not only did the officials switch the water supply to a dangerous source, but according to residents, they are still being billed for water that poisoned their children and qualifies as toxic waste according to the EPA's own standards.
Yet Flint is not the only place where environmental racism and neglect are damaging the health and quality of life of large numbers of poor people of color. According to a Tufts University report, "hazardous sites, municipal landfills, incinerators and other hazardous facilities are disproportionally located in poor minority neighborhoods". Black children have high rates of asthma which could very well be attributed to exposure to toxins and "pesticides during the first year of life".
African Americans are also more likely to live in close proximity to industrial pig farms in North Carolina, which have been linked to groundwater nitrates that lead to heart defects and hydrogen sulfate, which is said to cause "respiratory ailments". According to the Huffington Post, oil trains emit dangerous diesel gas fumes in black and brown communities in California. Even in the cities and towns widely considered environmentally safe and clean, "Blacks breath a poorer quality of air".
African Americans are also not the only communities of color that suffer from environmental racism. The Natural Resources Defense Council found that Latinos, particularly communities close the US/Mexico border, "lack potable water and adequate wastewater treatment". Lead poisoning is also prevalent in Latino communities. Latino children comprised 77% of those diagnose with lead poisoning in Arizona, despite only making up 25% of the population in 2002. And pesticides continue to put Latino farmworkers at risk for miscarriages, certain cancers and birth defects.
There are certain human needs that are so basic and fundamental that they are often not mentioned when we speak of human rights. Every man, woman and child needs clean water to drink and bathe in, air to breath and decent shelter. The white supremacy that manifests as environmental racism robs us of those inalienable human rights. If you want people of color to drink the post-racial Kool-aid, mix it with clean water.
Jason Nichols is an academic and artist with a range of interests, which include black masculinities, hip-hop music and dance, bullying amongst emerging adults, and black and Latino identities and relations. He is a full-time lecturer in the African American studies department at the University of Maryland College Park and the current editor-in-chief of Words Beats & Life: The Global Journal of Hip-Hop Culture, the first peer-reviewed journal of hip-hop studies. Dr Nichols is also a rap artist who raps under the moniker Haysoos and is one half of the internationally recognised rap group Wade Waters.