Black Artists and Intellectuals Who Like Bernie Sanders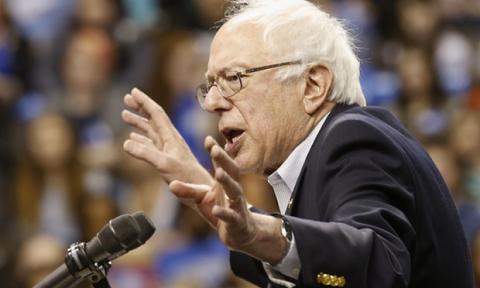 Bernie Sanders' revolution is appealing to those who want the system to change., Steve Helber/AP
Spike Lee is the latest black public intellectual to endorse Bernie Sanders and to question the sanity of black voters and politicians pledging their allegiance to the Clintons, who have done as much harm to black America as any living political couple. I've said it before and I'll say it again: I am mystified by robust black support for Bill and Hillary Clinton. 
Spike Lee's Do the Right Thing helped me wake up about race in America when I first watched it as a teenager. That's why I was delighted to read that Spike Lee
encouraged
South Carolina democrats to "wake up" in a
radio ad
on Tuesday and to vote for "Brother Bernie".
The case against Clintonian neoliberalism is compelling. I am glad to see black thinkers making a case for Sanders' democratic socialism and its potential to address structural racism as an alternative. If anyone is smart enough to effectively make Sanders' case to black America, it would be the intellectual leaders who have endorsed him thus far.
Take Spike Lee. He is one of the contemporary black geniuses who have helped the nation (and me personally) reconsider race in transformative ways – and the latest to be feeling the Bern. Or Cornel West, who has been stumping for "Brother Bernie" for
months
. Just as I understood race differently after watching Crooklyn and Jungle Fever, I grew to understand black liberation theology and the radical potential of Christianity by reading West's
books
– his influence been immeasurable. And, like much of America, I learned how to better think about
the case for reparations
after Ta-Nehisi Coates made it in the Atlantic. That's why it matters so much that he said he would
vote for Sanders
.
Similarly, much of the country first
got woke
about the scale and racism of mass incarceration when they read Michelle Alexander's
The New Jim Crow
. Alexander has not endorsed Sanders or any candidate – "I endorse the revolution" she wrote – but she has offered the most skewering critique on why "Hillary Clinton doesn't deserve the black vote" in the
Nation
. She has also reminded black voters that "we are not checkmated" –
that
we can approach politics with a sense of possibility.
No one speaks for "the black community" or the mythical "black voter". But the Black Lives Matter movement has upped the level of discourse and critique in racial politics. So, it's fantastic to see such serious black minds from American film, letters and academia making their cases in public with
insight
and
heft
. And, given their decades of deep intellectual work on race (along with Sanders' commitment to
universal public college tuition
and
healthcare
and his aversion to Wall Street and
private prisons
), their cases for Sanders are sound.
To me, Sanders is not only appealing because he marched with Martin Luther King Jr or was
arrested fighting racism
(though I like the idea of a president who has been arrested for social justice). Sanders is most interesting because he offers black Americans a real possibility for change, thanks to his
willingness to genuinely critique capitalism
. You don't get to take
millions
in speaking fees over the years as Hillary Clinton has done – much of it from banks – and get to critique capitalism.
This critique is not without specific implications for black Americans. Malcolm X infamously
said
: "You can't have capitalism without racism." The Clinton machine is the friend of unfettered capitalism, which makes them the friend of
racial capitalism
, too. Sanders and his dreams of democratic socialism are the enemy of cowboy capitalism – and the racist system in enables.
This is just one of the many intellectual arguments to be made in his favor. As more black geniuses feel the Bern, our arsenal of arguments in favor of the revolution will only grow. For those of us longing for change, they could not have spoken out at a better time.
Steven W Thrasher is writer-at-large for Guardian US. He was named Journalist of the Year 2012 by the National Lesbian and Gay Journalists Association. His work has appeared in the New York Times, the Village Voice, Rolling Stone, BuzzFeed, the Advocate and more. Follow him on Twitter at @thrasherxy or visit his website.