The Transformative Power of Democratic Uprisings - In Praise of Impractical Movements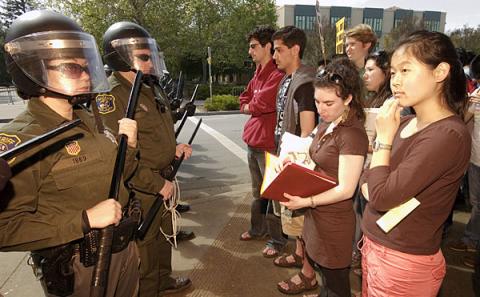 Stanford students staring at police at a protest of a visit by President George Bush in 2006., Building Digital History: Social Movements and Protest at Stanford (Winter Quarter 2013-2014 course)
Bernie Sanders's insurgent presidential campaign has opened up a debate about how social change happens in our society. The official version of how progress is won -- currently voiced by mainstream pundits and members of a spooked Democratic Party establishment -- goes something like this: politics is a tricky business, gains coming through the work of pragmatic insiders who know how to maneuver within the system. In order to get things done, you have to play the game, be realistic, and accept the established limits of debate in Washington, D.C.
Unlike elected officials who preoccupy themselves with policies considered practical and attainable within the political climate of the moment, social movements change the political weather. They turn issues and demands considered both unrealistic and politically inconvenient into matters that can no longer be ignored; they succeed, that is, by championing the impractical.
Such movements, of course, face immense barriers, but that shouldn't stop us from acknowledging their importance and highlighting the key role played by moments of mass defiance in shaping our world. Outbreaks of hope and determined impracticality provide an important rebuttal to the politics of accommodation, to the idea that the minor tweaking of the status quo is the best we can expect in our lifetimes.
Here, then, are three moments when the world broke open -- and two when it still might.
In this context, civil rights activists were constantly counseled to embrace the mildest sort of incrementalism and avoid divisive tactics.
The genius of Martin Luther King, Jr., lay in recognizing that the explosive events altering the perceived limits of the possible were not accidents; rather, there was a craft to engineering them. With the Birmingham campaign of 1963, aimed at breaking segregation's hold on that city, his Southern Christian Leadership Conference teamed up with local activists in a premeditated attempt to create a public crisis, using escalating acts of civil resistance to galvanize popular sentiment.
Just over a year later, however, he would lose power amid mass protests and shortly thereafter be sent to The Hague to face trial as a war criminal. A crucial catalyst in the upheaval that unseated him was a youth-based group called Otpor.
If those fighting in undemocratic societies have an advantage in their pursuit of transformative change, it's this: there is little pretense that insider politics is a viable route to change of any sort. Left with few good options, those who are unsatisfied with the world they inherited have little choice but to transform unrealistic aims into winning ones.
Though its focus may not have been mass protest, gay marriage was still a notable instance in which change came not through the leadership of an outspoken president or champions in Congress, but despite all the timid political realists in Washington.
Between 2010 and 2014, more than a dozen states joined the growing list of jurisdictions allowing same-sex marriage. Increasingly, the wins came via legislation and public votes, not merely court decisions by judges. By the time the Supreme Court was ready to make major rulings on the issue, it was hardly a fair fight.
The beauty of impractical movements is that they confound established expectations about the political future, which means it's difficult to predict when and where new outbreaks of defiance and hope will succeed in capturing the public imagination. Still, there are a number of areas in which, at this very moment, activists are developing strategies of disruptive revolt with an eye to producing the kind of whirlwind moments that can redefine the public perception of what's politically practical and necessary.
Two that might matter in the near future are those focused on immigrant rights and climate change.
Another issue on which activists are organizing in a major way and that may be primed for a breakthrough is climate change -- and a breakthrough is needed if civilization as we know it is to continue. It's frequently said that climate change represents a tougher fight than an issue like same-sex marriage, since the latter involved a change in cultural attitudes but threatened to impose no significant economic costs on giant corporations or economic elites.
Never before has humanity depended so fully for the survival of us all on a social movement being willing to bet on impracticality.