film
'Junction 48' Film Review: Permission to Rhyme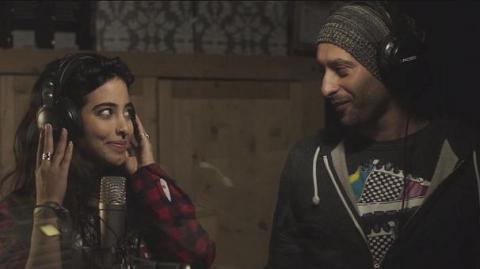 Tamer Nafar and Samar Qupty in Junction 48, euronews.com
Udi Aloni's new film Junction 48, won the the Audience Award at this year's Berlin International Film Festival; it is currently screeining at the Tribeca Film Festival in New York.  For Aloni, the film is something of a homecoming. Years ago, the leftist Israeli director shot the music video for Min Irhabi? (Who's A Terrorist?), the breakout hit of the Palestinian hip hop group DAM in the trio's hometown of Lydd. The video and lyrics slammed the Israeli state's institutional neglect of its Arab citizens (20% of Israel's population), the state-enforced violence of home demolitions, and routine discrimination and police brutality. All these themes are resurrected in Junction 48. And, as if coming full circle, DAM's lead rapper – Tamer Nafar – is the film's sympathetic main character.
Despite being less than 10 miles southeast of affluent Tel Aviv, Lydd is a destitute town. A mixed city where the Arab half naturally fares worse than the Jewish one. Without stressing the poverty or trying to tug at viewers' heartstrings, Junction 48 conveys that it's simply the reality of Arab existence in Israel: trash goes uncollected, public libraries are non-existent, roads remained unpaved, and drug-related gang violence disrupts the night with gunfire.
Aspiring rapper Kareem (Nafar) navigates this unruly world with his on-the-low girlfriend Manar (Samar Qupty) and friends Talal (Saeed Dassuki) and Amir (Sameh "Saz" Zakout, also a rapper on-and-off screen). Although devoid of a climax, Junction 48 carries our attention as we follow Kareem's journey out of his unemployed stupor to his stage appearance at a Tel Aviv hip-hop club. The act before his is a duo of Israeli Jewish rappers spewing chauvinistic nationalist rhymes. On the whole, Israel's rap scene is decidedly right-wing, but the on-screen stand-ins (stage names: RPG and 67 Carat) are more buffoonish than menacing. Their welcoming attitude toward Kareem and his friends is belied by their barely concealed contempt for Arabs, which finally bursts into the open when both sides descend into a bar brawl. (This may be inspired by actual events: Nafar made his debut in the underground rap scene with the help of Israeli rapper Subliminal, but the latter's right-wing politics brought an end to their relationship.)
Parallel to Kareem's story is that of his friend Talal, whose life is focused on saving the family home from demolition – an all too common occurrence in Israel where many Arab citizens are denied building permits, build anyway, and then risk demolition. In this scenario, the film focuses on a minority-within-a-minority: the so-called "present absentee" Palestinians. This Orwellian term was coined by Israel in 1950 in reference to those Palestinians who had been displaced from their original homes but remained within the borders of the newly-established state  (as opposed to those in refugee camps). Talal's father, Abu Talal (Tarik Copti), had fled his home in Lydd as a young boy after a Zionist militia massacred a group of Palestinians taking refuge in a mosque and threatened his family with the same fate. Although he managed to make it back home after the initial escape, the Israeli Absentee Property Law rendered void the family's deed to their property. As Abu Talal struggles to understand how a simple return home is a violation of state law, the absurdity of the situation becomes heartbreakingly clear.
If there's a climax to Junction 48, it is Kareem and Manar's plan to perform a duet on stage. However, Manar's cousins accost Kareem to let him know that her presence on stage would violate the family's "honor," leaving a clearly implied lethal threat hanging in the air. In order to protect her, Kareem tells Manar to stay home that evening, a plea that is met with anger by the female vocalist. (This, too, may be inspired by actual events: In DAM's early years, female vocalist Abeer Alzinaty sang many of the hooks for the band's tracks. She had to sit out a live television performance due to her family's objections.) Kareem is torn between doing right by Manar and rebuking her cousins or respecting their strict traditionalism for fear of the implied threat in their attempt to "protect the family's honor."
Junction 48 is an ambitious film: It challenges both Israeli structural violence against Palestinian citizens and internal Palestinian oppression, especially against women. On the latter score, Nafar's DAM has been a pioneer in challenging misogyny and domestic violence and insisting that Palestinian liberation from Israeli oppression is intertwined with the struggle for internal emancipation from patriarchal societal norms.
Aloni's film is certainly a rebuke to his own country. He's long been an advocate of a binational state and upon accepting his award in Berlin, he described the Netanyahu government as "fascist." But Aloni has also done right by his Palestinian subjects in refusing to glorify them and portraying them in all their (glorious) complexity as a community facing legalized injustice but striving to free its voice from all those seeking to silence it (including its own members). That voice is rooted in a generational struggle to resist Israel's efforts to erase the heritage of Palestinians and even colonize their identity by labeling them "Israeli Arabs." As Kareem says, "The memories [my father] passed on to me are stronger than the history that they are trying to rewrite."
Junction 48 is an enjoyably welcome addition to the growing coverage on the '48 Palestinians.
Junction 48 is currently screening at the Tribeca film festival in New York City.
The remaining showtimes are:
Wednesday 4/20, 5pm: Regal Cinemas, Battery Park.
Thursday 4/21, 10pm: Bow Tie Cinemas, Chelsea.