When `Both Sides' Are Covered in Verizon Strike, Bosses' Side Is Heard More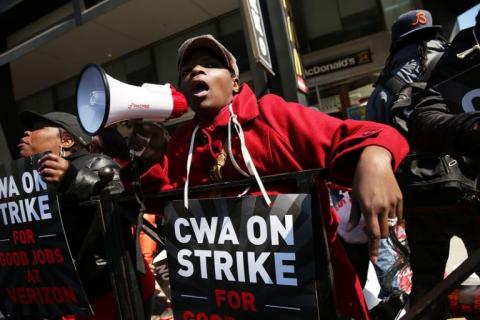 An image of a worker with a bullhorn accompanied a Vox story (4/13/16) in which no workers were quoted., Photo: Spencer Platt/Getty // FAIR - Fairness and Accuracy in Reporting
Last Wednesday, approximately 36,000
Verizon
workers went on strike, ranging from FiOS installers to network technicians. They demanded a new contract with,
among other things
, more robust worker protection and the right to not relocate at the company's whim.
Corporate media coverage of this strike illustrated the fundamental asymmetry of power that still exists between multi-billion-dollar corporations and comparatively small unions. (A union like Communications Workers of America has an annual budget roughly 1/500th of Verizon`s annual revenues of $131 billion.) An analysis of coverage in two major "old media" outlets (New York Times and Washington Post) and two "new media" outlets (Buzzfeed and Vox) exposes a consistent pattern of prioritizing management's voice over that of the workers or their representatives, to the tune of roughly 2-to-1.
Below is a comparison of direct quotes from Verizon management and the unions or workers on strike, including press release citations. Multiple quotes from the same source were counted separately if they appeared in a different part of the article. Third-party observations were omitted.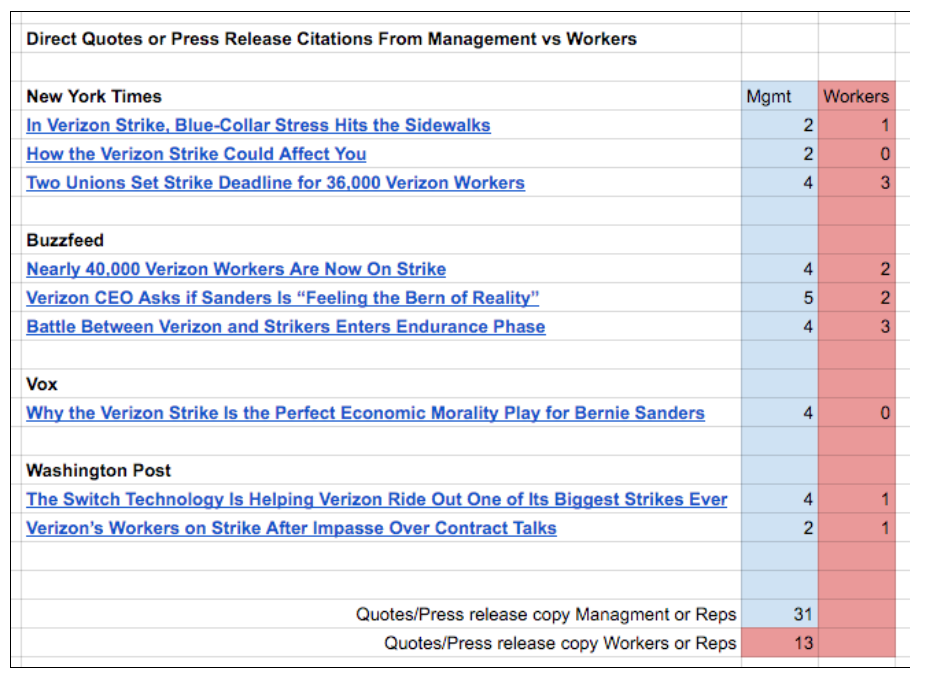 In three New York Times stories, management was quoted eight times to workers' four. In the Washington Post`s two reports, the ratio was 6:2 in management's favor. Buzzfeed`s three articles favored the company 13 to 7, while Vox`s lone post had four quotes from management and none from labor. In all four outlets together, there were 31 quotes from Verizon representatives, 13 quotes from workers and their representatives.
The reasons for this discrepancy are many, but one likely culprit is that
Verizo
n,
as a corporation with a market value of $212 billion
, has a highly
sophisticated public relations machine
, whereas unions and workers generally do not. Journalists, even when trying their best to convey "both sides," are likely to fall short in the face of this asymmetry. After all, these reports need quotes, and one side is happy to provide endless high-quality content to dozens of outlets at once, whereas the other side can manage an occasional press release with limited sex appeal.
Other outlets have had some dubious moments.
The New Yorker
tweeted out a
much-mocked
headline that insisted the protestors were "relatively privileged" in the economy. While the article itself (
4/19/16
) was a bit more nuanced, sentiments like this play into the hands of management narratives that
Verizon
workers are overpaid workers who greedily seeking more while others suffer.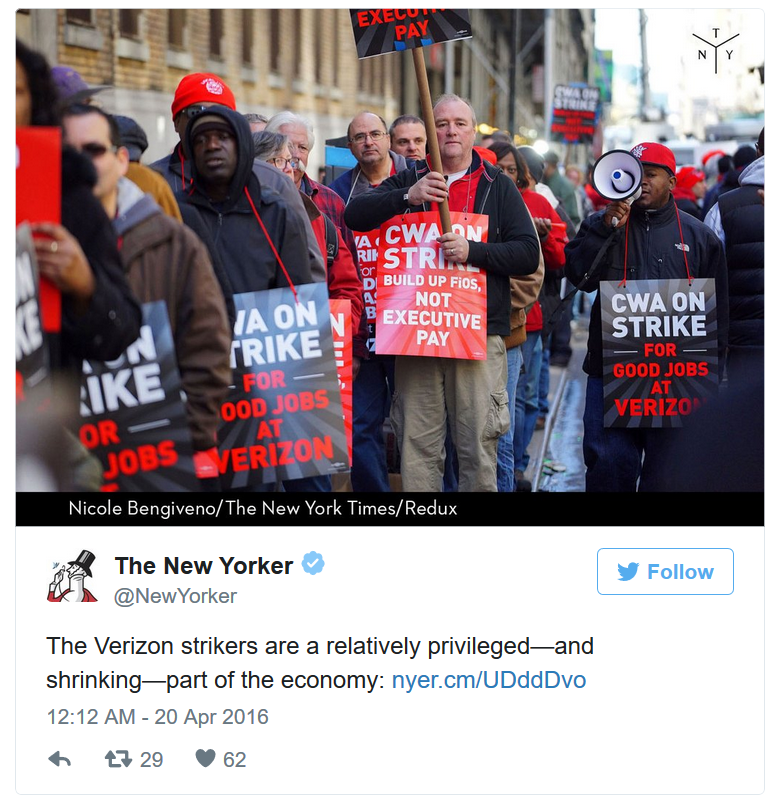 Due to the support of major Democrats like Bernie Sanders and (to a lesser extent) Hillary Clinton, the voices of strikers like those at Verizon are not entirely lost, but the deck is still heavily stacked in management's favor.
This is one of the fundamental problems with the "both sides" approached to journalism: While noble in theory, it ignores the fact that more often than not, "both sides" are not equal. In labor disputes, massive multinationals have the ability to spend millions of dollars on PR, while those representing the workers don't. The predictable result is that when corporate media covers a labor conflict, the bosses' side will get more say than the workers'.
[
Adam Johnson is a contributing analyst for FAIR.org. Follow him on Twitter at @AdamJohnsonNYC
.]