Tidbits - April 28, 2016 - Reader Comments: Puerto Rican Coalition Against Debt Formed; Verizon Strike; Sanders, Hillary and a Revitalized Left; Beyonce's Lemonade; and more...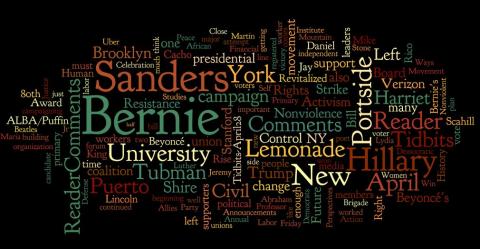 Tidbits - Reader Comments and Announcements - April 28, 2016,Portside
Announcements:
Singer Danny Rivera, one of its leaders, denounced the Board as a scheme to "kick Puerto Ricans off our own island, so they can sell our country to the highest bidder."
Union leaders, university professors, community and environmental activists, artists, students and lawyers are all part of this coalition. they are planning a major media campaign, and intensive labor organizing, in opposition to the Control Board. 
According to the coalition spokesman, Jerohim Ortiz Menchaca, civil disobedience will also be a possibility. 
This point was emphasized by singer Danny Rivera, who stated that "our people must take to the streets, and denounce this attempt to treat Puerto Ricans like cheap merchandise."
Additional background information:
I once had the privilege of spending 24 hours with two labor reporters from Japan who were doing a story on worker fatigue and wanted to learn more about the high profile worker death of one of the members of my union, Brent Churchill. They wrote for the Labor section of a large major paper.
During their time with me they talked with Brent's parents, with me and the business manager of our local union (I was an organizer and also had worked side by side with the worker in my rank and file job before going to work for the union) , and with legislators on the Labor Committee of our state legislature because we were pushing for a bill to prevent future such tragedies.
I asked them if they would like me to arrange for them to speak with representatives from the company where Brent had worked. Their response? "Why would we want to talk to them?"
Cynthia Phinney
Oh please maybe he is riding on a sea which has been going to the left 
Nena Torres
he is the only politician in my lifetime who walked his talk-I pray he continues to lead us
Jill Allison
I've been overwhelmed by preparing for both Passover starting Friday night and the 5 Boro Bike Tour May 1. So I've not thought much about the Hillary victory and the Bernie defeat in NYS. Three thoughts: 
The Bernie campaign and movement has huge support but (it seems clear) not enough yet. The people divided will always be defeated. And we are divided. That unions campaigning for $15/hour minimum endorse Hillary (who opposes that minimum) is an example; another? the significant support for Hillary among voters of color. 
Building a coherent campaign organization takes time, discipline and organization. Those of us campaigning for Bernie have been building our own grouplets independent of the campaign and with little guidance from it. 
The specter of fascism from the GOP has driven many Bernie supporters to Hillary (I think on the theory, unsupported by data, that she'd be a more likely candidate against the ultra-right (What I call the Rahm Emanuel theory that the left will come around to support a right-center candidate). 
For me the Bernie campaign continues with all of it's benefits to local organizing and opportunities for raising our issues. Here, via Portside are some thoughts of D.D. Guttenplan.
Daniel Millstone
Hillary's 16-point victory over Bernie Tuesday in New York was gracefully received by Sanders without compliant or criticism.
The victory, however, exposed several anomalies that otherwise could have produced a much different result.
Hillary won the major cities, while Bernie carried upstate NY and rural areas.
In Brooklyn, Bernie's stronghold, 126.000 Democrats were purged from the voter rolls just before the primary. --  Many Brooklyn polling stations did not open. or were late in opening, which turned away many qualified voters.
New York has a "split Primary," where a voter must stand in one line for the "presidential primary" and a separate line for the "NY electoral primary."
Under NY voter laws, the record-breaking crowds Bernie attracted in Manhattan and Brooklyn could not translate into votes.  Most youth, if registered, tend to be registered as Independents.  Only registered Democrats could vote for Sanders.
In NY, the last day to register or to change one's registration to Democrat was the first week of October 2015
over 6 months before the primary and before any campaigning in NY (Bernie's announcement of his candidacy was only 5 months earlier).
Top New York City officials are crying foul and calling for investigations, as well they should, however, Bernie has moved on.
James E Vann,
Political and Community Activist,
Oakland, California 
The Bernie Sanders Campaign is about building a movement for a just country; as well as electing a president. Win or lose the presidential contest, the Bernie Campaign has already won much. The fight against corporate control of our government - with all its disastrous consequences- is growing. Every vote for Bernie is a vote for justice; every dollar contributed strengthens the growing anti-corporate, anti-war movement. Continue to support Bernie's (and our) campaign with contributions & votes. It all counts.
Diane Laison
"She was a fighter, and impatient for the freedom of her people and the suffrage of her sex; she repeatedly put her life on the line for what she believed in. And one hopes that's how she appears on the $20 bill."
Dennis Formento
Abe Lincoln was a Republican but that has nothing to do with Republicans of the 20th & 21st Century. Also Southern Dems were Racist until Lyndon Johnson in late 1960s.
Steve Kramer
Feminista Jones' argument that Harriet Tubman's image not be placed on the $20 bill because it would only "mask" the inequalities that black women still face is ridiculous. With that argument we might conclude that African Americans should not have accepted emancipation because it only "masked" the inequality they knew they would face afterwards.
Seymour Joseph
Note the MSNBC wording, not to plan further action but to "plot" it. 
Phooey!
Stan Nadel
Some of you have been wondering what Sanders supporters might do to keep the movement building. Some of them are planning a strategy meeting in June.
Stephanie Luce
It would help the movement if Bernie would publicly endorse candidates that are running as his supporters in Dem primaries--and perhaps send them some of that cash he has received. In Oregon, these include  Kevin Stine for US Senator, Dave McTeague for 5th CD representative and Dr. Julian Bell for governor.
Mike Munk
Interesting that this comes from MSNBC which has been nauseatingly pro-Hillary from the very beginning.  This is an important discussion and it needs to be continued and acted on. But one must wonder why we didn't have it in the beginning of Sanders' campaign?  The issues didn't just appear when Bernie raised them. They've been around for a very long time.  
Of course we must continue. But the "left" needs to do some serious soul-searching as to why our reluctance in the beginning to do a unified full-throttle support may well have cost us this very significant battle. We have backed ourselves into that same corner of holding our nose and voting for someone we neither trust nor like. Altho I will not vote for Hillary, choosing other options instead, many Bernie supporters will in order to "save the Democratic Party." This is partly because I doubt that Hillary can beat either Trump or Cruz but because I can no longer think of the Democrats as allies in the economic and political struggles in today's world. To quote Bernie:  "enough is enough."
Claire Carsman
Fantastic review
Maria Mello
But the words are not her own. They belong to Somali-British poet Warsan Shire.
Jay Schaffner
Presumably Sanders will back Clinton once he loses at the convention, but the focus of his organization in all its many parts should be on getting progressive candidates elected. Control of Congress is essential to bring about a reversal of many destructive and unfair policies of the last thirty years and with a strong base the Democratic Party can choose a genuinely progressive presidential candidate next time. In the meantime continued emphasis on Bernie's themes and proof of the corrosive corruption in the entire political system is important to win over frustrated voters.
It is a big task but given the political history it should be done within the Democratic Party rather than expending energy on a third party - as that alternative has never worked. As for the mainstream media, they will do nothing or be negative so continued communication through social media is important.
Laurel MacDowell 
If we union members -- active and retired -- want to defeat Trump and racist, rightwing fascism, we better start LISTENING to BOTH union members and *unorganized* workers who are voting for Trump.  Ads, door-knocking and phone raps will need to MOVE workers to the polls for positive change overcoming very real FEARS that workers and their families are living each day.  One of UE's largest locals represents workers at GE in Erie -- where UE members rallied and voted for Bernie.  Maybe AFL-CIO leaders can check-in with UE leaders to talk about strategy and tactics?
Leanna Noble
If we think of Uber, Lyft and Sidecar (and its cousins) as the cutting edge of the gig economy, the drivers are the ones getting cut. They are nominally "independent contractors" Their rates of pay get cut, their access to the app as a source of customers is unreliable. But, of course, it's not only them. Drivers for more traditional cab companies and car services, also nominally independent contractors, have taken a huge hit (as have taxi owners). Drivers everywhere are trying to fight back with varying success. Here, via Portside, is an interesting overview of the coming struggles by Giuseppe Eroico. While you're there, visit the Stansbury Forum website, which I had never heard of (had you?)
Daniel
What Happens in America Happens Throughout the World .... the role of Money in Politics
Sue Zipp
==========
Screw it. They don't care about climate change -- why should you?
Hear from professional old people who certainly won't be alive long enough to see the effects of climate change continue to plague our planet.
Drone warfare.....Nothing to be proud of!
William Proctor
When I heard Taxman--not my favorite song on Revolver--I thought about military spending, not of public schools and healthcare. Also the folks listening to the Beatles were getting high--so they were paying taxes to the law on which they were on the wrong side. Good reasons for not liking the taxman...
Howard Dickler
The flashmob, I've missed that being in China for so long.That's what it means to be human, 
Mike Liston
Fred Niles
Panel participants:
Charles Cobb (participating remotely), SNCC Digital Gateway Visiting Scholar, Duke University
Mary Elizabeth King, Professor of Peace and Conflict Studies, University for Peace; Scholar-in-Residence in the School of International Service, American University; and Distinguished Fellow at the Rothermere Institute, University of Oxford
Danielle McGuire, Associate Professor of History, Wayne State University
Maria Varela, community activist, writer, photographer, and teacher based in Albuquerque
Clayborne Carson (Chair), Director of the Martin Luther King, Jr. Research and Education Institute and Martin Luther King, Jr. Centennial Professor of History, Stanford University
Other Panels and Roundtables:
Spiritual Outrage and Redemptive Activism"
Civil Versus Armed Resistance in a Global Context: Quantitative Studies and Historical Contingencies
Nonviolent Action Versus Diversity of Tactics in Contemporary Resistance Movements
Cui Bono? Do Violent 'Flanks' Help or Hurt Nonviolent Movements? Does Nonviolence Help the State?
Meanings of 'Nonviolence': An Approach to Political Action or a Way of Life?
Cosponsored by the Peace+Justice Studies Initiative, the Martin Luther King, Jr. Research and Education Institute, the Stanford Humanities Center, the Arca Foundation, Students for Alternatives to Militarism, and the Stanford Concert Network
Working on both sides of the Mexico-United States border, Cacho and Scahill have dedicated their careers to exposing the corruption, violence and abuse of power which go routinely unchallenged in the mainstream media. Their work exemplifies the intersections of expository reporting and human rights activism.
Commemorating the 80th anniversary of the outbreak of the Spanish Civil War and the arrival of the International Brigades & presenting the ALBA/Puffin Award for Human Rights Activism to Lydia Cacho and Jeremy Scahill
With songs of the Spanish Civil War performed by Velina Brown and Barbez.
Seating is limited. Early ticket purchase is recommended.
Rise of the Right in the U.S.
Why now?
What does it mean for our democracy?
How does it impact our role in the world?
How can we counter it?
Speakers:
Bill Fletcher, longtime labor and social justice activist; Host of The Global African television show. Author of "Solidarity Divided: The Crisis in Organized Labor"
Chip Berlet, award-winning investigative journalist; Author of  "Right-Wing Populism in America: Too Close for Comfort"
$10 suggested donation; no-one turned away
Train: A/C/G to Hoyt-Schermerhorn; 2/3 to Hoyt; 4/5 to Nevins;
B/D/N/Q/R to Atlantic/Barclay's Center; F to Bergen