food
Google unveils top food trends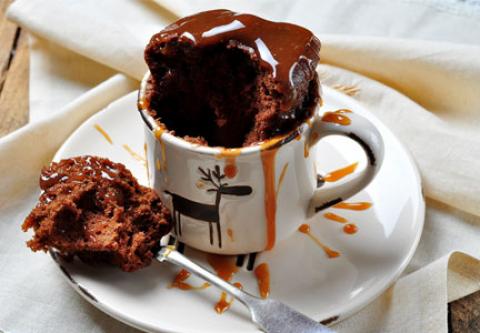 Photo caption: Mug cakes are on the rise.,Food Business News
Turmeric, jackfruit and vegan donuts are considered "rising stars" in the latest food trends report from Google. The company evaluated the monthly volume of top food-related queries in the period between January 2014 and February 2016, measuring year-over-year growth, velocity and acceleration to determine which food trends are rising and falling the fastest. Bacon cinnamon rolls, wheat-free bread and evaporated cane juice have slowly declined over the past two years.
As for what's hot, the Google Food Trends 2016 Report confirmed consumers are seeking out functional ingredients, global flavors and customizable snacks, and revealed a few surprise findings, too.

Functional foods
Google searches for functional foods are more likely to occur during the beginning of the week, when consumers may be returning to a healthier lifestyle after an indulgent weekend, the report indicated.
"The digital behaviors tied to functional foods present opportunities for brands to educate consumers on the benefits associated with each ingredient, as well as provide methods, tips, and recipe content for consumption," Google wrote in the report.
Turmeric is trending at top speed; interest in the ingredient rose 56% from November to January this year. Top associated keywords, including "powder," "root," "ground" and "golden milk," suggest Americans are curious about how to consume turmeric, the report said. The top five turmeric consumption videos drew 3.9 million views in the past year.
After turmeric, top functional ingredients ranked by search volume include apple cider vinegar, jackfruit, Manuka honey, kefir, coconut milk, erythritol, bone broth and cauliflower rice.
Global cuisine
From bibimbap to chocolate babka, the American appetite for global flavors trends all over the map, according to Google's findings. Top searches ranked by volume include pho, ramen, Mexican candy, taquitos, empanada, queso fresco, mochi ice cream and wonton.
Interest in pho, the Vietnamese noodle dish, has grown at a rate of 11% year-over-year since 2013. Keywords linked with the dish include "recipe" and "how to make," as well as "restaurant," "delivery" and "near me," suggesting consumers are seeking ways to make it at home as well as locate the best spot for dine-in or delivery. Consumers are more likely to search for pho on weekends, and the dish trends higher on the West coast and in Denver and Seattle.
"As consumers strive to taste the world, there's new opportunity for brands to help make these dishes more D.I.Y.-friendly," Google said in its report. "Brands may also look into partnering with influencers to provide authentic cultural experiences via content and endorsements."
Pork prevails
Google searches show consumers are pigging out on pork shoulder, andouille sausage, bacon jam, pig feet and prosciutto. Interest in pork shoulder is particularly strong in December, and the dish is often paired with such keywords as "how to," "crock pot" or "slow cooker" and "recipe." Related searches for "roasted," "braised," "Cuban" and "butt" suggest consumers are experimenting with preparation methods and various cuts of meat. Consumers are 22% more likely to search for pork shoulder on Saturdays and Sundays.
"While there's opportunity for brands to enable easier D.I.Y. cooking at home, there's also an opportunity for brands to join consumers for an experimental weekend of cooking via video content," Google said in the report. "Crossover versions of familiar dishes can make the experience even more exciting."
Bite-size snacks
Consumers are seeking snacks that offer portion control, convenience and personalization. Trending snack searches include cheese curds, edible cookie dough, buffalo cauliflower bites and French toast sticks.
Interest in mug cake, the top trending bite-size snack food, has exploded in the past year, growing 82% from December to January. Associated search terms include flavors, such as "chocolate," "vanilla," "pumpkin" and "banana," as well as diet-related keywords, such as "protein," "vegan," "paleo," "no egg" and "gluten free," underscoring consumer need for customization. The top five mug cake videos on YouTube — which span such flavors as rainbow mug cake, funfetti, gluten-free chocolate banana, red velvet and apple crumble — fetched 18.4 million views from January 2015 to February 2016.
"Consumers are more complex when it comes to food choices, and snacking has become more personal," Google said in the report. "Brands will need to offer more than just customization based on flavors, but dietary restrictions, as well. Personal choices come best in solo portions — and make for convenient snacking."
Pasta makes a comeback
Rigatoni, tortellini, linguine and penne rank among the top pasta-related search terms on Google in recent months.
"While growth was slow for interest in pasta from 2011 to 2014, demand picked up again in 2015 and continues to rise through 2016," Google said.
Searches for rigatoni increased 26% year-over year from January 2015 to January 2016 and were linked with such keywords as "baked," "pie," "casserole," "stuffed" and "spicy."
"As with pork dishes, consumers are taking familiar dishes and experimenting with new ideas such as rigatoni pie," Google said in the report. "It's time for marketers to refocus their attention on pasta. There's growing interest for a variety of pasta recipes, and consumers are seeking new ideas for their weekend eating adventures."
Consumers were more likely to learn about rigatoni on weekends and showed interest in such variations as "lobster," "Bolognese," "Pomodoro," "Marinara" and "Primavera."