Unity Efforts Hit Snag at Final Meeting Over Democratic Platform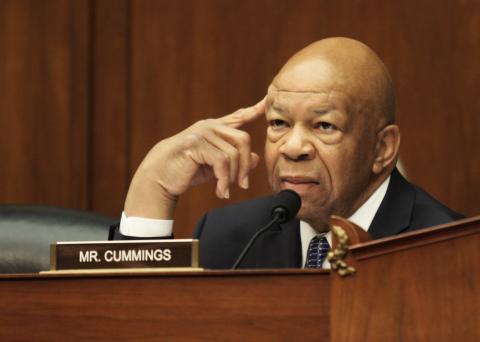 Rep. Elijah Cummings (D-Md.), Lauren Victoria Burke/AP
It was supposed to be a display of Democratic goodwill, a moment of principled agreement on shared policy objectives that would mend the rift between supporters of Hillary Clinton, the presumptive Democratic presidential nominee, and Bernie Sanders, the senator from Vermont who has refused to formally bow out of the race.
Instead, the final meeting of the committee drafting the Democratic Party platform, while featuring consensus on several items, revealed deep disagreement over others, including loyalty to President Obama and his pursuit of the 12-nation Trans-Pacific Partnership.
Reacting to the committee's progress in remarks Friday evening in New York, Sanders pledged to ensure his views are reflected in the platform, even if that means contesting party orthodoxy on the floor of the convention.
The meeting was underway Friday in St. Louis for scarcely more than an hour when the committee's chairman, Rep. Elijah E. Cummings (D-Md.), called a multiple-hour recess to resolve disagreements that were beginning to stir acrimony among committee members, six of whom were named by Clinton and five by Sanders. Rep. Debbie Wasserman Schultz (D-Fla.), chair of the Democratic National Committee, named the remaining four.
[Sanders: I'll vote for Clinton and 'do everything' to defeat Trump]
A further obstacle was a lack of printed copies of proposed amendments, making it difficult for committee members to know what they were being asked to consider. Cummings said he was not merely asking but "begging" members to circulate copies of their suggested changes.
"The document is so moving around on us right now," said Carol Browner, former director of the White House Office of Energy and Climate Change Policy and former head of the Environmental Protection Agency.
The meeting, scheduled to continue Saturday, was to be the committee's final gathering before the document goes to a larger panel that in turn will send it on to the convention for final approval.
The platform includes 12 broad topics, including the economy, climate change, health care and national security. Two prior meetings of the drafting committee were geared toward discussion and public testimony.
Committee members were united in strengthening the document's language on regulating Wall Street and taxing the wealthy, among other issues. Immigration and criminal justice also emerged as rallying points.
At the same time, familiar fault lines characterized the beginning negotiations Friday between members named by Clinton and members named by Sanders, who has suggested he will wait to throw his support behind the presumptive nominee until he is convinced she has embraced ideas that are dear to him. The makeup of the committee itself was a concession to Sanders; standard protocol calls for the committee's chair to appoint all of the members, in consultation with the White House and the winning candidate.
One clash came over Obama's signature trade deal — which both Clinton and Sanders oppose, though the former secretary of state once called it the "gold standard" of trade agreements. The fraught question was how to weigh loyalty to the Democratic president against broad Democratic dissatisfaction with the agreement he negotiated with Japan and 10 other Pacific Rim countries.
Rep. Keith Ellison (D-Minn.), one of the few federal lawmakers to endorse Sanders, suggested language making it the policy of the Democratic Party that the trade pact not get a vote in Congress. The move was blocked by committee members who said it was impertinent to rebuke the president in his own party's platform.
"I don't want to do anything as he ends his term to undercut the president of the United States," said Cummings, who nevertheless said he disfavors the trade deal. Cornel West, the scholar and civil rights activist appointed by Sanders, said the responsibilities of citizenship should transcend loyalty to the president.
Ellison offered additional amendments designed to strengthen the document's commitment to a $15 minimum wage and employment guidelines for federal contractors — issues championed by Sanders on the campaign trail. Both were rebuffed by Paul Booth of the American Federation of State, County and Municipal Employees union, who was named to the committee by Clinton.
[DNC to offer Sanders a convention concession]
Booth said the first was superfluous — it was subsequently voted down 8 to 6 — and offered alternative language in place of the second, which was tabled.
"I think we should vote it up or down, and if he likes his better, then whatever," Ellison said. "It just seems like 'I want mine, not yours,' and that's petty to me."
Cummings at times appeared irked by the proceedings, appealing to members to settle their disagreements privately so a final draft could take shape.
"I'm trying to create a win-win-win, and that third win is the American people," Cummings said.
Sanders, who has given multiple interviews and speeches about what he wants added to the platform, watched some of the proceedings on a live stream as his motorcade zoomed from Albany to Syracuse, N.Y. He took the stage at a rally for Eric Kingson, a congressional candidate in Syracuse — and a member of the larger platform committee that will meet in Orlando in July — knowing that the minimum wage plank had been voted down.
"If we do not win that fight in St. Louis, we're takin' it to Orlando, where the larger committee will meet next month," said Sanders of his platform planks. "If we don't make it in Orlando, we're takin' that fight right to the floor of the Democratic convention. Whether they like it or not, we're going to open the doors of the Democratic Party."
David Weigel contributed from Syracuse, N.Y.
Isaac Stanley-Becker covers national politics. He graduated from Yale in May with a degree in history.