Clinton Must Go Bold - and Go Left - For VP; Is Clinton a Progressive? Not If She Chooses Tim Kaine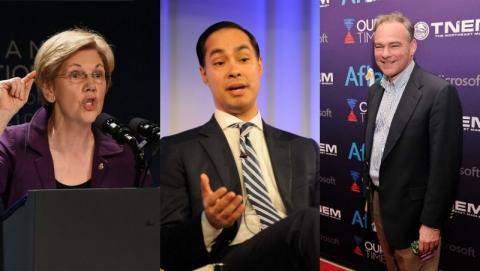 Among those mentioned as a possible vice president: Massachusetts Sen. Elizabeth Warren, Housing and Urban Development Secretary Julian Castro, Virginia Sen. Tim Kaine, The Slot/jezebel.com
By Richard Eskow
July 20, 2016
Word is that Democratic presidential candidate Hillary Clinton will announce her vice presidential choice on Friday, and rumors that she's going with a "safe" pick should worry Democrats. In this political climate, a search for "safety" could put her candidacy in serious danger.
Change vs. the Status Quo
The GOP chose Mike Pence as its vice presidential nominee in part because his extremist views will reassure the Republican base. Pence is also a seasoned politician whose nomination is meant to reassure voters who worry that presidential nominee Donald Trump has no experience in statecraft or governance.
(Note to readers: Yes, I just used the words "Trump" and "statecraft" in the same sentence. It feels as strange to me as it does to you.)
Clinton's needs are different. She has to energize and excite the Democratic base, along with millions of millennials who have never voted. She needs to bring excitement, and a sense of the new, to a campaign conspicuously lacking in those qualities.
Voters remain deeply dissatisfied with the status quo. Clinton's biggest problem, and the greatest threat to her candidacy, is the fact that she's seen as the candidate of the status quo.
Boring Is as Boring Does.
That's one reason why "safe" picks like Tim Kaine, Mark Warner, or Tom Vilsack are so dangerous. Former Iowa governor and current Secretary of Agriculture Vilsack has been described as "boring." So has Virginia's Kaine, who acknowledged the fact but added that "boring is the fastest-growing demographic in this country."
That's a good line. Unfortunately, by her own admission, Hillary Clinton is "not a natural politician," which means that this particular demographic may already be represented on the ticket.
Kaine and Vilsack have forged bland political profiles that lack progressive fire or conspicuous leadership. Both supported the Trans-Pacific Partnership (TPP), the latest in a series of job-destroying and corporation-empowering trade deals. So did Virginia Sen. Mark Warner.
Clinton claims to oppose the TPP, but she has a credibility challenge on the subject. She helped negotiate the deal as secretary of state and frequently spoke in favor of it before running for president. Prospects like Kaine, Vilsack, and Warner are liabilities for a ticket that must confront Trump's faux populism on trade.
Warner is also a longtime advocate for destructive budget cuts. He backed the unpopular and impractical "Bowles-Simpson" fiscal plan that included cuts to Social Security, pushed austerity economics measures as part of the Senate's misguided and self-promoting "Gang of Six," and even urged business elites to get more involved in politics – at a time when we need campaign reform to reduce their political power.
That may be an effective way to flatter rich donors, but it is a poor way for a Democrat to win votes in 2016.
Booker, the Wall Street Favorite
What about Cory Booker, former Newark mayor and current New Jersey senator? His political career has been lavishly financed by financial interests from the beginning, including$585,000 from Bain Capital and other financial industry sources for his 2002 mayoral run.
They got their money's worth. In 2012 Booker undercut Barack Obama, whose re-election campaign he was serving as a surrogate, by lambasting him for an ad criticizing Mitt Romney's association with Bain. Some excerpts: "… they've done a lot to support businesses … this kind of stuff is nauseating to me … stop attacking private equity."
So much for loyalty.
Booker's feeble attempt at a retraction did little to impress progressives, but Wall Street seemed to appreciate it. Contributions from hedge funders and other investors helped Booker outraise his Republican senatorial opponent by a factor of nearly 10 to 1 in 2013, when he ran in a special election.
Booker received more money from the securities and investment industry than any other senator in his next election, raising nearly 50 percent more money from that industry than second-place finisher Mitch McConnell. He also received more money from real estate, tech, and accounting industry groups.
Voters won't like Booker's record on education. Disturbing questions were raised about the millions contributed in Newark when he was mayor for education "reform," which for Booker means privatization through charter schools. Wall Street interests, including those close to Mitt Romney and Bain Capital, also contributed heavily to his "reform" projects.
Booker's presence on the ticket would remind voters of Clinton's own Wall Street associations. It would highlight big money's outsized role in politics, and would help Trump paint Clinton as the bankers' candidate.
The Progressive Choices
Nor should Clinton look for "national security experience," as a recent trial balloon hinted she might. She brings that to the ticket herself, and her hawkish record will already be a mixed blessing in the current political mood. That makes a choice like retired Admiral James G. Stavridis, one of the names floated, superfluous and potentially risky.
Who are the progressive alternatives? There's Massachusetts Sen. Elizabeth Warren, of course. She would bring the excitement of a two-woman ticket, she has good chemistry with Clinton, and she is a dynamic public speaker. Even more importantly, she represents the real political and economic change that voters crave – and that Clinton could never offer on her own.
Sen. Sherrod Brown of Ohio is considered a strong progressive, and carries some of Bernie Sanders' rumpled "anti-politician" vibe. Al Franken would be an unorthodox choice and, while not conspicuously progressive, would bring excitement to the ticket. There are also many accomplished activists and organizers outside the world of electoral politics who could bring a fresh perspective and new energy.
Hillary Clinton needs to show voters that she can make bold choices. She must embrace the populist moment and the electorate's yearning for change if she is to fend off Trump's insurgent challenge. That's not just the smartest course. In the end, it's also the safest.
[Richard (RJ) Eskow is a well-known blogger and writer, a former Wall Street executive and a former musician. He has experience in health insurance and economics, occupational health, risk management, finance, and IT.]
By Jodi Jacobson
July 21, 2016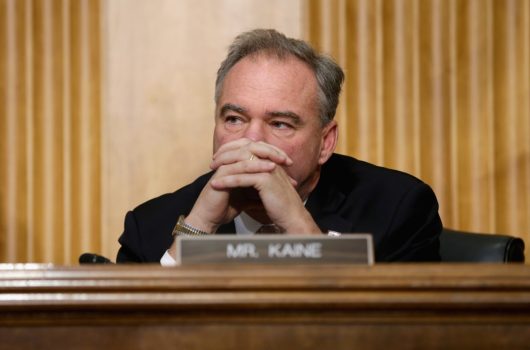 In the past several weeks, Tim Kaine has been publicly advocating for greater deregulation of banks.
photo credit: Chip Somodevilla/Getty Images // Rewire
During the 2016 presidential campaign, former secretary of state and presumptive Democratic presidential nominee Hillary Rodham Clinton has frequently claimed to be a progressive, though she often adds the unnecessary and bewildering caveat that she's a "progressive who likes to get things done." I've never been sure what that is supposed to mean, except as a possible prelude to or excuse for giving up progressive values to seal some unknown deal in the future; as a way of excusing herself from fighting for major changes after she is elected; or as a way of saying progressives are only important to her campaign until after they leave the voting booth.
One of the first signals of whether Clinton actually believes in a progressive agenda will be her choice of running mate. Reports are that Sen. Tim Kaine, former Virginia governor, is the top choice. The selection of Kaine would be the first signal that Clinton intends to seek progressive votes but ignore progressive values and goals, likely at her peril, and ours.
We've seen this happen before. In 2008, then-presidential candidate Barack Obama claimed to be a progressive. By virtue of having a vision for and promise of real change in government and society, and by espousing transparency and responsibility, he won by a landslide. In fact, Obama even called on his supporters, including the millions activated by the campaign's Organizing for Action (OFA), to keep him accountable throughout his term. Immediately after the election, however, "progressives" were out and the right wing of the Democratic party was "in."
Obama's cabinet members in both foreign policy and the economy, for example, were drawn from the center and center-right of the party, leaving many progressives, as Mother Jones' David Corn wrote in theWashington Post in 2009, "disappointed, irritated or fit to be tied." Obama chose Rahm Emanuel as Chief of Staff, a man with a reputation from the days of Bill Clinton's White House for a reluctance to move bold policies—lest they upset Wall Street or conservative Democrats—and a deep disdain for progressives. With Emanuel as gatekeeper of policies and Valerie Jarrett consumed with the "Obama Brand" (whatever that is), the White House suddenly saw "progressives" as the problem.
It became clear that instead of "the change we were hoping for," Obama had started on an impossible quest to "cooperate" and "compromise" on bad policies with the very party that set out to destroy him before he was even sworn in. Obama and Emanuel preempted efforts to push for a public option for health-care reform, despite very high public support at the time. Likewise, the White House failed to push for other progressive policies that would have been a slam dunk, such as the Employee Free Choice Act, a major goal of the labor movement that would have made it easier to enroll workers in unions. With a 60-vote Democratic Senate majority, this progressive legislation could easily have passed. Instead, the White House worked to support conservative Democrat then-Sen. Blanche Lincoln's efforts to kill it, and even sent Vice President Joe Biden to Arkansas to campaign for her in her run for re-election. She lost anyway.
They also allowed conservatives to shelve plans for an aggressive stimulus package in favor of a much weaker one, for the sole sake of "bipartisanship," a move that many economists have since criticized for not doing enough.  As I wrote years ago, these decisions were not only deeply disappointing on a fundamental level to those of us who'd put heart and soul into the Obama campaign, but also, I personally believe, one of the main reasons Obama later lost the midterms and had a hard time governing.  He was not elected to implement GOP-lite, and there was no "there, there" for the change that was promised. Many people deeply devoted to making this country better for working people became fed up.
Standing up for progressive principles is not so hard, if you actually believe in them. Sen. Elizabeth Warren (D- MA) is a progressive who actually puts her principles into action, like the creation against all odds in 2011 of the Consumer Finance Protection Bureau, perhaps the single most important progressive achievement of the past 20 years. Among other things, the CFPB  shields consumers from the excesses of mortgage lenders, student loan servicers, and credit card companies that have caused so much economic chaos in the past decade. So unless you are more interested in protecting the status quo than addressing the root causes of the many problems we now face, a progressive politician would want a strong progressive running mate.
By choosing Tim Kaine as her vice president, Clinton will signal that she values progressives in name and vote only.
As Zach Carter wrote in the Huffington Post, Kaine is "setting himself up as a figure willing to do battle with the progressive wing of the party." Kaine is in favor of the Trans-Pacific Partnership (TPP), a trade agreement largely negotiated in secret and by corporate lobbyists. Both Sen. Bernie Sanders, whose voters Clinton needs to win over, and Sen. Elizabeth Warren oppose the TPP because, in Warren's words, it "would tilt the playing field even more in favor of … big multinational corporations and against working families."
The progressive agenda includes strong emphasis on effective systems of governance and oversight of banks and financial institutions—the actors responsible, as a result of deregulation, for the major financial crises of the past 16 years, costing the United States trillions of dollars and gutting the financial security of many middle-class and low-income people.
As Warren has stated:
Washington turned a blind eye as risks were packaged and re-packaged, magnified, and then sold to unsuspecting pension funds, municipal governments, and many others who believed the markets were honest. Not long after the cops were blindfolded and the big banks were turned loose, the worst crash since the 1930s hit the American economy—a crash that the Dallas Fed estimates has cost a collective $14 trillion. The moral of this story is simple: Without basic government regulation, financial markets don't work. That's worth repeating: Without some basic rules and accountability, financial markets don't work. People get ripped off, risk-taking explodes, and the markets blow up. That's just an empirical fact—clearly observable in 1929 and again in 2008. The point is worth repeating because, for too long, the opponents of financial reform have cast this debate as an argument between the pro-regulation camp and the pro-market camp, generally putting Democrats in the first camp and Republicans in the second. But that so-called choice gets it wrong. Rules are not the enemy of markets. Rules are a necessary ingredient for healthy markets, for markets that create competition and innovation. And rolling back the rules or firing the cops can be profoundly anti-market.
If Hillary Clinton were actually a progressive, this would be key to her agenda. If so, Tim Kaine would be a curious choice as VP, and a middle finger of sorts to those who support financial regulations. In the past several weeks, Kaine has been publicly advocating for greater deregulation of banks. As Carter reported yesterday, "Kaine signed two letters on Monday urging federal regulators to go easy on banks―one to help big banks dodge risk management rules, and another to help small banks avoid consumer protection standards."
Kaine is also trying to portray himself as "anti-choice lite." For example, he recently signed onto the Women's Health Protection Act. But as we've reported, as governor of Virginia, Kaine supportedrestrictions on abortion, such as Virginia's parental consent law and a so-called informed consent law, which, he claimed in 2008, gave "women information about a whole series of things, the health consequences, et cetera, and information about adoption." In truth, the information such laws mandate giving out is often "irrelevant or misleading," according to the the Guttmacher Institute. In other words, like many others who let ideology rather than public health guide their policy decisions, Kaine put in place policies that are not supported by the evidence and that make it more difficult for women to gain access to abortion, steps he has not denounced. This is unacceptable. The very last thing we need is another person in the White House who further stigmatizes abortion, though it must be said Clinton herself seems chronically unable to speak about abortion without euphemism.
While there are many other reasons a Kaine pick would signal a less-than-secure and values-driven Clinton presidency, the fact also stands that he is a white male insider at a time when the rising electorate is decidedly not white and quite clearly looking for strong leadership and meaningful change. Kaine is not the change we seek.
The conventional wisdom these days is that platforms are merely for show and vice presidential picks don't much matter. I call foul; that's an absolutely cynical lens through which to view policies. What you say and with whom you affiliate yourself do indeed matter. And if Clinton chooses Kaine, we know from the outset that progressives have a fight on their hands, not only to avoid the election of an unapologetic fascist, but to ensure that the only person claiming the progressive mantle actually means what she says.
[Jodi Jacobson is a long-time leader in the health and development community and an advocate with extensive experience in public health, gender equity, human rights, environment and demographic issues. Previously, Jodi was the Director of Advocacy at American Jewish World Service and the founder and Executive Director of the Center for Health and Gender Equity (CHANGE), an organization that monitors and seeks to promote accountability of US international policy to women's reproductive and sexual health and rights. She has been quoted extensively on issues related to public health in the Lancet, BMJ and The Economist and national daily news media including The New York Times, The Washington Post and the Wall Street Journal. She has written numerous articles and papers, and is the co-author of 10 books.]