Artists #UnitedAgainstHate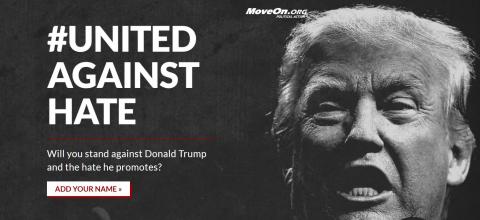 oalition of actors, artists, musicians, writers, directors, DJs, joining together against hate and Donald Trump.,
An open letter to the voters of the United States:
We are a coalition of artists who, today, are joining millions of Americans in our commitment to defeat the Republican nominee for president, Donald Trump.
We believe it is our responsibility to use our platforms to bring attention to the dangers of a Trump presidency, and to the real and present threats of his candidacy.
Donald Trump wants to take our country back to a time when fear excused violence, when greed fueled discrimination, and when the state wrote prejudice against marginalized communities into law. His rhetoric and policy proposals exclude, degrade, and harm:
Mexican and Latino people
Black people
Muslim people
LGBTQ people
Women and their health care providers
Asian people
Refugees
People with disabilities
Working class people
American prisoners of war
.and those of countless other marginalized communities.
When dangerous and divisive leaders have come to power in the past, it has been in part because those of goodwill failed to speak out for themselves or their fellow citizens. Some of us come from the groups Trump has attacked. Some of us don't. But as history has shown, it's often only a matter of time before the "other" becomes me.
That is why we need to unite before it is too late-for the sake of our fellow Americans and for the sake of our democracy-and why it is so critical for those of us with the privilege to speak out to do so loudly and forcefully, in our work, online, and in our communities, with all the resources we have at hand.
We call upon every American to join us-to stand together on the right side of history, to use the power of our voice and the power of our vote to defeat Donald Trump and the hateful ideology he represents.
We are united against violence.
We are united against sexism.
We are united against racism.
We are united against xenophobia.
We are united against homophobia.
We are united against fascism.
We are Artists
#UnitedAgainstHate.
Join us.
Signed,
Mark Ruffalo, Actor/Director/Producer and Activist
Shonda Rhimes, Writer, Director, Producer
Ryan Murphy, Producer, Director
Russell Simmons, Entrepreneur, Activist
Kerry Washington, Actor & Activist
Julianne Moore, Actor, Activist
Shepard Fairey, Artist
Adam McKay , Writer, Director
Lena Dunham, Writer, Director
Ilana Glazer, Actor
Abbi Jacobson, Actor
Moby, Recording Artist, Author, Activist
Michael Stipe, Artist, Singer/Songwriter
Third Eye Blind, Musicians
Kathleen Turner, Actor, Activist
Franchesca Ramsey, Correspondent/Writer on "The Nightly Show"
Olivia Wilde, Actress, Producer, Director, Humanitarian
Julia Stiles, Actor, Director
Patricia Arquette, Actor, Activist
Meg Ryan, Actor, Producer, Director
Michael Mann, Director
Michael Moore, Director, writer
Bryan Cranston, Actor
Paul Haggis, Director, Writer
Tony Schwartz, ghostwriter of Trump's book "The Art of the Deal"
Neil Patrick Harris, Actor
Doug Liman, Director
Lizzy Caplan, Actor
Woody Harrelson, Actor, Director
Rain Phoenix, Artist & Activist
Jane Fonda, Actor, Activist
Tig Notaro, Comedian, Writer
Rashida Jones, Actor, Activist
Clea Duvall, Actor
Kathryn Hahn, Actor
Taylor Schilling, Actor
Maggie Gyllenhaal, Actor & Activist
Alyssa Milano, Actress, Producer, Humanitarian and Entrepreneur
Macklemore and Ryan Lewis, Musicians
Busy Phillips. Actor & Mother
Piper Perabo, Actor
Cynthia Nixon, Actor
Lea Delaria, Actor
Tamara Tunie, Actor
Chloe Grace Moretz, Actor
Dustin Lance Black, Screenwriter
Jesse Tyler Ferguson, Actor
Jill Soloway, Director
Mickey Sumner, Actor
Charles Ferguson, Director, Writer
Lesley Arfin, Writer, "GIRLS"
Jesse Peretz, Director
Christian Campbell, Actor
Neve Campbell, Actor
Paul Miller aka DJ Spooky, author, musician
Laura Dawn, writer, director, producer, activist
Benjamin O'Keefe, actor, writer, activist
Sarah Sophie Flicker, producer, writer, activist
Michael Skolnick, Writer, Producer, Activist
Mary Lambert, Singer-songwriter
Christian Siriano, Fashion Designer, Reality Personality
Vanessa Hope, Director
Jeffrey Marsh, Vinestar, Author, LGBT Activist
Diane English, Writer, Producer
Mara Wilson, Writer
JJ Feild, Actor
Kat Blaque, Activist and Social Media Influencer
Emma Myles, Actor
Emily Robinson, Actor
Nik Dodani, Actor, Comedian
Laci Green, YouTuber, Writer
Ilene Chaiken, Producer
Akilah Hughes, YouTube
Trae Crowder, The Liberal Redneck
Mara Hoffman, Designer
Rebecca Woolf, Writer
Mickalene Thomas, Visual Artist, Curator, Filmmaker
Tanya Selvaratnam, Artist, Activist
Oskar Eustis, Artistic Director, The Public Theater
DJ Rekha, Producer
Elizabeth Streb, Director
Lucy Walker, Director
Catherine Gund, Filmmaker/Activist
Xaviera Simmons, Visual and Performing Artist
Chitra Ganesh, Visual Artist
Laura Michalchyshyn, Producer
Hillary Jordan, Author
Lisa Kron, Playwright/Actor
Basil Twist, Puppeteer/Director/Designer
Dave Malloy, Composer/Playwright
James Tigger! Ferguson, Performer, Activist
Stephen Winter, Filmmaker
Carlen Altman, Actor, Writer, Activist, Human
Jena Friedman, Comedian, Producer
Zoe Lister-Jones, Actor, Writer, Director
Natalie Joos, Writer, Photographer, Stylist
Rachel Sklar, Writer
Jill Greenberg, Artist
Rob Green, Producer
Romy Soleimani, Stylist
Lori White, Writer, Upworthy
Luke Rathbone, Musician
Molly R Stern, Makeup Artist, Designer, Mother
Helen Stickler, Filmmaker
India Salvor Menuez, Actor, Artist
Lisa Salzer, Jewelry Designer
Sarah Lewittin (Ultragrrrl), DJ, Record Producer, Music Critic
Hannah Rad, DJ/VJ
Marlon Taylor-Wiles, Dancer/Choreographer
Dita Von Teese, Artist
Daron Murphy, Composer, Producer
Alice Roth, Producer, Writer
Talib Kweli, Musician
Andrew Kornhaber, Producer
Eric Brown, Producer
Mikki Halpin, Writer, Author, Activist
David Ambrose, DP, Producer
Isolde Brielmaier, Curator, Art Professor
Jen Gatien, Filmmaker, Activist
Shruti Ganguly, Filmmaker
Lisa Cortes, Producer, Activist
Eisa Davis, Writer, Performer
Amanda Palmer, Musician, Author
Peter Nowalk, Creator and Executive Producer of "How to Get Away with Murder"
Allan Heinberg, Showrunner and Executive Producer of "The Catch"
T R Knight, Actor
Sydney Shackelford, Trans actress and activist
Ilene Chaiken, Writer and Producer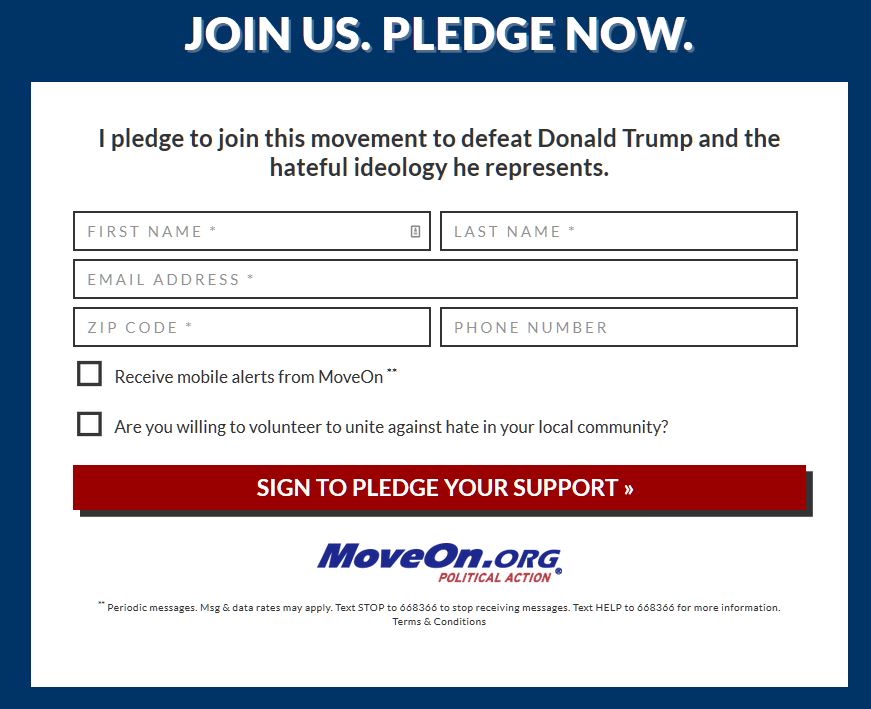 Click here to sign.

PAID FOR BY MOVEON.ORG POLITICAL ACTION, http://pol.moveon.org/. Not authorized by any candidate or candidate's committee.