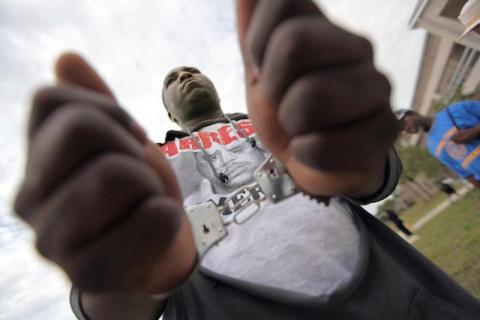 Trayvon Martin supporter Ken Gates protests while wearing handcuffs during a march through the historically African-American community of Goldsboro. The final destination was an NAACP rally in front of the Sanford Police Department on March 31, 2012., Mario Tama/Getty Images
At the height of the presidential primary season in March, about 30 activists gathered at St. Louis' Peabody Opera House to protest a Donald Trump campaign rally there. One of the activists, Melissa McKinnies, says that even before the Republican candidate took the stage, his supporters were chanting, "Build a wall! U.S.A! Build a wall! U.S.A!"
McKinnies, a 40-year-old Black mother of three who was a consistent fixture at the protests in Ferguson following Michael Brown's death, was among 20 Black and Latino protesters stationed on the ground floor trying to be heard above the din. "Stop the hate!" they yelled. "Stop the hate!" In the balcony, 10 or so White protesters rolled out an anti-Trump banner. At one point, a handful of White allies created a human shield around the people of color on the ground floor. Still, McKinnies was terrified.
"I sit there, and the more I listen, the more afraid I am because they are screaming and you hear the word 'nigger' in there like crazy—like it's an ordinary, everyday word. They are pointing their fingers and you see fists and folks are yelling things like,'U.S.A.!' and 'Get out of here, nigger!'"

After the banner was unfurled, groups of police moved to eject the protesters from the balcony and the ground floor. "We got picked up, slammed, dragged out of the building and eventually taken to the police station," McKinnies says. 
Of the 32 anti-Trump activists police removed, 31 received summonses for disturbing the peace. But McKinnies, a former member of Ferguson grassroots activist group Lost Voices, was slapped with a second-degree robbery charge that had nothing to do with the rally. The charge—greatly inflated—was connected to a 2014 nonviolent exchange at a church meeting that McKinnies had with a man who wouldn't stop recording the private gathering.
McKinnies is now facing a maximum sentence of 17 years in prison.
With nearly two decades in prison hanging over her head, McKinnies has joined the ranks of embattled activists who emerged organically as local leaders of the broader movement for Black lives. They lack the notoriety and resources of famous arrestees such as Cornel West, yet they are well known to their local police departments. A look at circumstances surrounding some of their felony arrests suggest either outlandish coincidences or that they are being targeted by the police from whom they're demanding justice. 
Unusually Stiff Charges
In June, Black Lives Matter–Pasadena founder Jasmine Richards was convicted of a charge that, until recently, was called "felony lynching" for pulling a Black woman accused of stealing a meal away from police. She was demonstrating with her chapter in La Pintoresca Park when she saw the woman being arrested. Richards faced up to four years in prison. She was sentenced to 90 days in jail with 18 served. She will be on probation for three years and must take one year of anger management training.
It is clear that the arrests are a police effort to suck us for our resources. Every time it happens, we spend money, time and energy getting people out of jail instead of focusing on ending police violence.
In December 2015, in Baltimore, the U.S. Attorney's office charged 22-year-old Gregory Butler Jr. with aiding and abetting arson and obstruction of firefighters during a civil disorder after he allegedly stepped on, then punctured, a fire hose during a Freddie Gray protest. The charges came with mandatory minimums of 20 and five years, respectively. In an exchange for the guilty plea he made earlier this month, authorities dropped the arson charge, but he could still serve five years in prison. Butler, who uses the name Greg Baly but is often identified by media as Greg Bailey, is set for sentencing in September.
Also in Baltimore, Allen Bullock, a friend of Gray, agreed to a plea deal that includes a 12-year prison sentence with all but six months suspended for smashing the windshield of a police car during a protest. A photo of 18-year-old Bullock holding an orange traffic cone while standing atop the car has become synonymous with the April 27, 2015, Baltimore uprising. His bail was initially set at $500,000.
In 2015, Brittany Ferrell, a founding member of Ferguson's Millennial Activists United, was charged with first-degree property damage for kicking an SUV that a civilian drove through a line of protesters blocking Interstate 70 on the one-year anniversary of the Mike Brown Rebellion. Alongside activists Ashley Yates, Johnetta Elzie, Tef Poe and Tory Russell, Farrell emerged as an early voice of clarity, inspiring the national resistance now known as The Movement for Black Lives. If convicted, Farrell could be sentenced to four years in prison. She appeared in court in July and wrote on Facebook that her case had been assigned to new judge for the third time, her trial rescheduled for the fifth time and that her next court date is "sometime in September."
What all of these activists have in common is that they are first-time offenders facing serious charges—and they have all been on the frontlines of direct-action protests in their own communities.
In December 2015, then-19-year-old activist was sentenced to eight years in prison for an arson he pleaded guilty to committing while protesting the police killing of Antonio Martin. The fire was allegedly set outside a convenience store, but the building never caught fire.
"They are making an example out of [Williams], not only because he was a protester, but because of who he was—someone who had been on the front pages of magazines," says Keith Rose, a member of the National Lawyers Guild based in the St. Louis. "The New York Times, in a front-page story, had called him a leader of the Ferguson protests. [The police] didn't like him. They didn't like his tactics. He embodied resistance in a way that few people do and so they targeted him."When a Church Meeting Morphs Into a Robbery Charge
The disturbing story of McKinnies' felony charge began in November 2014 at Greater St. Mark's Church in Ferguson, a few days before St. Louis County prosecutor Robert McCulloch announced that a grand jury would not bring charges against Brown's killer.
McKinnies was among 30 to 40 activists from various organizations who had been invited to discuss their role as peacekeepers. "We were having a safety meeting to talk about what to expect because we were supposed to be out there to keep the peace," she recalls. "But before the meeting started, we were told that we were not supposed to record or to have any recording device." 
The following week, I hear about this incident on the news. Before you know it, I'm hearing that I'm wanted for second-degree felony robbery.
A man who McKinnies says "just looked out of place" sat in the pew behind her. "I was going to welcome him and ask him his name, [but I saw] that he was recording. So I said 'Listen, I know you just got in, but we can't record.' Two minutes later, I look back and he was still recording."
McKinnies says she then told a woman who had accompanied the man, whom police and St. Louis media have identified as 22 year-old Chris Schaefer, that recording wasn't allowed. The woman reiterated the rule to Schaefer, but he continued to record. So McKinnies changed seats, moving further to the front. "Two minutes later, I turn around and this young man is sitting directly behind me again and he's recording! So I stood up, and pointed back to him and said, 'He's recording!'"
Almost immediately, someone McKinnies says she'd never seen before or since threw Schaefer across the room. "I was in disbelief," she recalls. "I looked at my organization brother and said, 'We need to get everybody out of here.' So we proceed to the door. By that time, there is a big scuffle outside. I turned around and went back inside because I didn't want to be in the middle of it."
McKinnies says that after she finally exited the church she encountered a group of people who had taken Schaefer's cell phone. They were debating about what to do with it and she intervened: "I snatched the phone from them and told my boyfriend, 'Let's go give this guy his phone back and get out of here.' Unable to find Schaefer, McKinnies says she gave the phone to the woman who accompanied him to the church.
"That's what he recorded his hospital interview with," says McKinnies about the cell phone Schaefer
used to record
 himself in a hospital bed. "
The following week, I hear about this incident on the news. Before you know it, I'm hearing that I'm wanted for second-degree felony robbery.
" Police investigators accused five members of Lost Voices of attacking Shafer with the intent of stealing his iPhone and charger. McKinnies and three other members were charged with second-degree robbery. 
"It's retaliation," legal observer Rose says of McKinnnies' felony charge. "Police don't like the Lost Voices because the group brought so much national attention to Ferguson. They are using this random assault charge that didn't really happen the way they say it happened and definitely didn't involve her." 
Lost Voices sparked the ire of local authorities by camping outside 24 hours a day and holding almost daily protests that included shutting down traffic on West Florissant Avenue, not far from where officer Darren Wilson killed Brown. McKinnies' trial is scheduled to begin on September 15. Colorlines' calls to St. Louis County police were not returned.  
The Dangerous Irony of Being a Local Activist
So far, McKinnies' case has drawn very little media attention or national discussion. She's not a member of a national organization or clergy network and she lacks the name recognition of a DeRay Mckesson, the Teach for America administrator from Baltimore who came into prominence for his prodigious use of social media in cities rocked by racialized police violence. Large national organizations, clergy groups in particular, tend to have legal and communications support in place before members are arrested at protests. With those resources, people who stage civil disobedience actions are generally released from jail within hours without being charged.
Richards, the Black Lives Matter–Pasadena founder who faced the bizarre lynching charge, had national support from the Black Lives Matter (BLM) network. Leaders such as Patrisse Cullors spoke out about the injustice and irony of a Black woman facing serious time for a charge intended to stop White mobs from abducting Blacks they wanted to lynch from police stations. Richards' case also received mainstream media attention, likely due to its novelty, and that attention probably helped her get a sentence of 90 days in jail instead of four years in prison. Colorlines' calls to the Pasadena Police Department were not returned.
During the protests, people also received felony charges for burglary, breaking and entering and possession of stolen goods. They have been totally ignored.
Melina Abdullah, a BLM organizer and chair of Pan African Studies at California State University, L.A., says that local police are using arrests and felony charges to contain a resistance movement pushing to disarm, defund and abolish their departments. "I saw it happen several times; I was present for the targeting," she says, recalling the way police officers watched and followed Richards over the last several years as they organized actions.
Abdullah says that mass arrests are another tactic police use to oppose the overall movement for Black lives and people affiliated with BLM in particular. "It is clear that the arrests are a police effort to suck us for our resources. Every time it happens, we spend money, time and energy getting people out of jail instead of focusing on ending police violence."
Stories have emerged from Ferguson and Baltimore about non-protesters who got caught up in waves of arrests while doing everyday things like getting off the bus or walking out of the laundromat. These people weren't connected to activist networks and some lacked friends and family to keep tabs on their whereabouts.
Ferguson has a comprehensive network of jail support and legal assistance made up of volunteers from groups including Organization for Black Struggle, Missourians Organizing for Reform and Empowerment, National Lawyers Guild, ArchCity Defenders and Saint Louis University School of Law Legal Clinics. Despite these activists' best intentions, unknown numbers of people have slipped through the cracks and are still sitting in jail, says Rose. Also forgotten, according to Rose, are those charged with looting-related crimes. "During the protests, people also received felony charges for burglary, breaking and entering and possession of stolen goods. They have been totally ignored."
Given the pattern of aggressive policing in Black, Latino and Native communities and the law enforcement surveillance of Middle Eastern and South Asian people, it is not a leap to question these charges. 
Mass Arrests, High Bail and Special Plea Deals as Deterrents
In Baltimore, when protests erupted following Gray's funeral in April 2015, police arrested more than 200 people over several days. Maryland law requires police to charge arrestees within 24 hours or release them. But Gov. Larry Hogan signed an executive order to keep arrestees in custody for an additional day without charges. Nearly 100 people were released after 48 hours with no charges because officers either could not recall who they'd arrested or why they arrested them.
TJ Smith, chief spokesperson for the Baltimore Police Department, says his colleagues now try to avoid arresting people. "I can't speak for other departments, but in Baltimore we have certainly changed the way that we respond. We are going to help facilitate the protests, except when people break the law. When people break the law, we are going to affect arrests. But arrests are definitely our last option."
How people behave at protests should go both ways, Smith says. "We have had dozens and dozens of protests in Baltimore during the last year where no arrests were made. But it's a two way street. We have to keep a line of communication open with protesters, and we have to be clear that criminal activity is not protesting. And our position moving forward is that we are going to treat a riot like a riot and a protest like a protest. And what happened on April 27, 2015, was a riot, not simply acts of civil disobedience."
When asked about the 65 arrests made on July 17 when protesters blocked interstate 83, he categorized the action as criminal. "Some people think they are going to do whatever they want to do, and things like blocking a highway [are] a crime. That promotes a significant safety risk, and that is not something that we are going to accept. So arrests were made." 
We have to keep a line of communication open with protesters, and we have to be clear that criminal activity is not protesting. And our position moving forward is that we are going to treat a riot like a riot and a protest like a protest. And what happened on
April 27, 2015
, was a riot, not simply acts of civil disobedience.
Baton Rouge is one of the latest hotspots for mass arrests. During protests that began four days after officer Blane Salamoni fatally shot Alton Sterling—and two days after Micah Xavier Johnson allegedly killed five Dallas cops—officers in Baton Rouge arrested some 185 people for charges such as obstructing a highway of commerce and failure to obey officers.
Arthur "Silky Slim" Reed, founder of Stop the Killing Inc., a local group helping to lead nonviolent demonstrations in response to Sterling's killing, says these mass arrests are not designed for public safety. 
"The goal is to discourage the protests," says Reed, a family friend of Sterling who himself was arrested on July 9 for disturbing the peace and "contributing to the delinquency of a minor"—a creative term police used to describe his presence among young protesters. "It's not about responding to lawbreakers. These are BS charges."
Reed says that police and officials are also sending a message to people who come from out of town to join protests. "Their message to out-of-town folks is, 'If you come here, we will show you how we handle business in the hardcore Confederacy.'" 
According to Stop the Killing Inc. and other activist organizations on the ground in Baton Rouge, protesters there had bonds set between $300 to $500. But many of those charged with rioting and disorderly conduct in Baltimore had bail set at $10,000 or more. Bonds that high tend to be out of reach of most people who live in the very communities protesting racialized police violence. This means that neighborhood and politically unaffiliated protesters are essentially being disappeared from the streets.
Wyndal Gordon, the attorney represending Baltimore's Bullock and Butler, says over-charging people, is customary, but it reached a fever pitch during the Gray protests. Bullock, for instance, was charged with rioting, malicious destruction of property, disorderly conduct several other infractions. "It was much more heavy handed during the Freddie Gray protests, and those charges had a chilling effect," says Gordon.
The bulk of the arrests related to The Movement for Black Lives protests in Baltimore, Boston, Los Angeles, Cleveland and elsewhere are for city-ordinance violations—misdemeanor charges for crimes like disturbing the peace, rioting, blocking a highway and disobeying a peace officer.
It's not about responding to lawbreakers. These are BS charges.
In Ferguson, some protesters arrested for misdemeanors were offered Suspended Imposition of Sentence (SIS) plea deals, an option to seemingly put the matter behind them with the least path of resistance.
But Ferguson activists tell me that by agreeing to an SIS, they essentially signed on for a probationary period. If arrested again, they would be automatically sentenced for the earlier crime. They believe that these arrests and plea deals were used to deter continued organizing—not only because the protesters who signed them were aware of the consequences that another arrest would bring, but because the police learned the names of those who signed them.
Can't Stop, Won't Stop
Of course, such tactics make it more difficult for people to exercise their Constitutional rights. But like various police actions in the Broken Windows/stop-and-frisk era, these approaches anticipate protester strategy and skirt along the border of civil rights violations for as long as it takes for activists to gather the financial and legal resources they need, including the support of attorneys who are able to move challenges through the legal system.
Ironically, few things have done more to politicize the current generation of activists than policing. Add to that rampant misdemeanor charges for protesters and felony cases against local activists like McKinnies, and many activists are doubling down on their work. "A lot of people ask me if I am going to back down a little bit now," she says. "Hell no! Because that would be saying I give up on my babies, my grandson. Because Mike Brown could have been one of mine."
Read the companion piece,"How to Prepare Yourself for a Protest—and What to Do If You End Up in Cuffs," for tips on how to handle an arrest.  
Bakari Kitwana is the executive director of Rap Sessions, which is currently touring the nation leading town hall discussions on the theme "Election 2016: Reform or Revolution?" He is the author of the forthcoming "Hip-Hop Activism in the Obama Era."