Learning to Claim Our Victories - Finding Hope in Dismal Times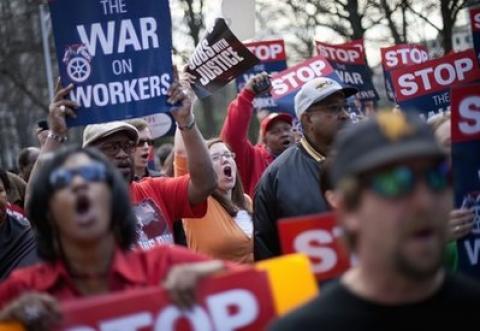 Workers protesting GOP attacks on workers wages, benefits and working conditions. Photo from protest in Madison, Wisconsin, 2011., Social Studies for Kids
But what exactly is making me feel hopeful at the moment?
For one thing, we seem to have finally reached Peak Trump, and the reason why is important.
There you have it: the devaluation of women's work (secretarial skills reduced to techniques for evading the boss's advances), the trivialization of sexual predation, and in Angela's knowing smile, admiration for the woman who keeps her sense of humor while defending her virtue.
What's most surprising about the response to Trump's hot-mic moment is the apparent national consensus that speaking -- or even thinking -- about sexual assault the way Trump did on this video is neither normal nor amusing. This shared assumption that women are not trophies for the taking marks an advance toward full personhood that we have achieved only in my lifetime. When you stop to think about it, it's an extraordinary cultural shift. And once people figure out that women are, after all, human, it's pretty hard to stuff that genie back into the bottle.
"And it's just a fact that if you're a young African-American man and you do the same thing as a young white man, you are more likely to be arrested, charged, convicted, and incarcerated. So we've got to address the systemic racism in our criminal justice system."
For the first time in years, the words "working class" have slipped back into public discourse. CNN now runs stories with headlines like "Working class white men make less than they did in 1996." A few years ago, as far as anyone could tell from the mainstream media, we lived in a country populated by a vast, undifferentiated "middle class," and a few wealthy or impoverished outliers. Now, both the Trump and Clinton campaigns have found that they must address the pain of working people. We may not agree with their proposed solutions, but they have to talk about it. That, too, is a change and a victory of sorts.
From birth, Americans normally swim in an ocean of heroic mythology about American exceptionalism, and for many of us it's been difficult to make our way out of its riptides. So our knowledge has been hard-won. Figuring out that the United States is not the international defender of liberty we learned about in school wasn't easy.
Having invested so much effort in recognizing the lies of the American exceptionalist narrative, we find it difficult to acknowledge when our government does something right.
It's almost as if, having worked so hard to understand the role and power of the United States on the world stage and of a ruling elite at home, we've imagined this country as a far greater powerhouse than it is.  It's almost as if recognizing any cracks in the edifice of American power might endanger that hard-won worldview. It's almost as if the possibility that we can sometimes push our country to do something right, that our side can sometimes win, seems to rattle us. Faced with that disorienting possibility, I suspect it's sometimes easier to believe that, while we must always fight the good fight, our adversary is too strong for us ever to expect victories.
In the 1980s, I spent six months in Nicaragua's war zones at a time when my government, the Reagan administration, was supporting the Contra armies against the Sandinista government. Together with many sectors of Nicaraguan society, the Sandinistas had thrown out the U.S.-supported dictator, Anastasio Somoza. Over and over I was struck by how living in the midst of war was like being stretched between two temporal realities.
The Nicaraguans I knew seemed eternally ready for a party under the worst conditions imaginable. One day, in the city of Estelí, I remember running into an American friend who told me this story: she'd been feeling bummed recently because the Contras had attacked a little town near where she was living and killed seven children.  It seemed to her as if this miserable war would never end. The family with whom she was staying was going to a fiesta that night and asked her along.
"I don't feel like it," she said. "I'm too depressed."
"[T]he optimism of black Americans -- especially the poorest -- is a reason to be a little more hopeful. The second term of our first black President is nearing its end, but a renegade political candidate with open disdain for minority groups is enjoying rising support. At such a moment in history, it is noteworthy that it is black Americans who seem to be keeping faith with the American Dream."
Such people are anything but stupid. They know that their communities are confronting terrible challenges, but they know, too, how important it is not to forget to dance.
How do outrageous ideas -- for example, that women are human beings, or that the U.S. locks up way too many people, or even that gay people should be able to get married if they want to -- suddenly morph into everyday commonsense? It's rarely an accident. It almost always involves dedicated people working away for years on an issue, often unnoticed, before it seems suddenly to surge into general awareness.
Sometimes I think the politically engaged life is like surfing. You expend an enormous effort paddling past the breaking surf.  Then you sit on your board breathing hard, scanning the horizon for the wave. Sometimes you sit out there for a long, long time, but when that wave comes, you have to be ready to grab it -- and enjoy it.
Even when the wave looks like a sinking Donald J. Trump.