White Nationalists Plot Election Day Show of Force; Greenville Church Burning, Vandalism Investigated as Hate Crime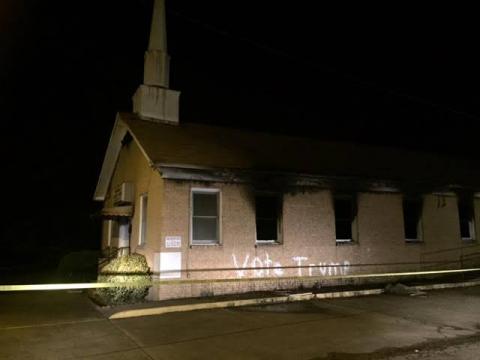 On Tuesday, November 1st, 2016, unknown criminals burned the historic, predominantly black Hopewell Baptist Church in Greenville, Mississippi and scrawled graffiti on it: "Vote Trump",Source: Angie Quezada, Delta Daily News // MS News Now (WLBT-WDBD)
KKK, neo-Nazis and militias plan to monitor urban polling places and suppress the black vote.
By Ben Schreckinger 
November 3, 2016
Neo-Nazi leader Andrew Anglin plans to muster thousands of poll watchers across all 50 states. His partners at the alt-right website "the Right Stuff" are touting plans to set up hidden cameras at polling places in Philadelphia and hand out liquor and marijuana in the city's "ghetto" on Election Day to induce residents to stay home. The National Socialist Movement, various factions of the Ku Klux Klan and the white nationalist American Freedom Party all are deploying members to watch polls, either "informally" or, they say, through the Trump campaign.
The Oath Keepers, a group of former law enforcement and military members that often shows up in public heavily armed, is advising members to go undercover and conduct "intelligence-gathering" at polling places, and Donald Trump ally Roger Stone is organizing his own exit polling, aiming to monitor thousands of precincts across the country.
By Brianna Cox
November 2, 2016
White nationalist organizations have surprisingly come to support Republican presidential candidate Donald Trump. The surprise is not necessarily because of the white supremacists, but moreso that they support him - someone they used to distrust.
In the 10-plus years prior to him becoming a presidential candidate, Trump the businessman, entrepreneur and public figure was sometimes a topic of discussion on white nationalist websites like Stormfront, the most prominent English-language white nationalist forum, according to Politico.
Posts about Trump were usually negative and mostly complained about the diversity of the contestants on both "The Apprentice" and in the Miss USA and Miss Universe pageants.
"Users on the forums mostly saw Trump as annoying or entertaining, but they frequently speculated that he was secretly Jewish, or close enough to Judaism to be worthy of hate: In the fevered white nationalist worldview, it's inconceivable that a New York real estate magnate could make billions of dollars without support from a Jewish financial conspiracy," Politico reports.
The group plans to hand out free alcohol and marijuana to voters in the "ghetto," to encourage them to get drunk and high as opposed to voting.
Politico also reports that a militia group called the Oath Keepers is apparently training its members to perform undercover "sting" operations, with the purpose of monitoring polling places for supposed fraud. Their aim is to watch "thousands of precincts across the country."
By Morgan Howard and Mary Grace Brantley 
November 3, 2016
GREENVILLE, MS (Mississippi News Now) - Authorities are investigating the burning and vandalism of a historic African American church in Greenville  as a hate crime.
The words "Vote Trump" were spray painted on the side of the charred building, leading many around the nation to call it a "crime of race".
The incident happened at 9:15 p.m Tuesday when authorities responded to the 111-year-old Hopewell M.B. Church. The sanctuary, pews and more than 80 percent of the church building was gutted by the flames and smoke. 
Authorities are working to connect the dots and find the person behind the burning and vandalism of the church.
Investigators are ruling this a "hate crime". Both state and federal resources have been brought in to help with investigation.
"The only things that conquers hate is love, said Greenville Mayor Errick Simmons. "And what we have to do as residents of this community is come together and show love."
The words "vote trump" along the side of the church caused pause for investigators.
"We feel that the quote that was placed on the church is basically an intimidation of someone's right to vote, whatever way they choose to vote," said Greenville Police Chief Delandro Wilson.
As for this church, they're trying to keep the focus on their faith.
"Whatever happens. We don't carry grudges, no way. We forgive. We believe in unlimited forgiveness," said Bishop Clarence Green.
The fact is that it's early in the investigation. They have a person of interest but no suspect. While the church's bishop "gets" this statement.
"This is an attack on the black church, the black community," said the Mayor. "And so to just bolster what the Chief says, yeah, it appears to be a race crime."
"I don't think even with this, I don't think I'll try to speculate as though this is a hate crime," said the Bishop. "Somebody set it. I don't know. Investigators, that's their job."
A reward of $11,000 dollars is now being offered for anyone with information about this crime. The Crime Stoppers number is:  662-378-8477.