Early Voting Ends in North Carolina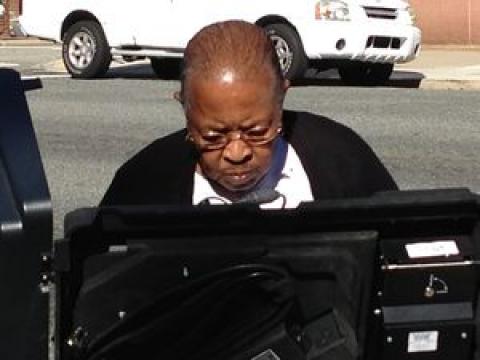 Anna B. Dumas, 75, of Greensboro casts her ballot curbside during the last day of early voting in Guilford County on Saturday, Nov. 5, 2016., Joe Gamm / Greensboro News and Record
Early Voting Concludes; Guilford County Turns Out
More GOP Emails Emerge That Urged NC Elections Officials to Limit Early Voting
Early Voting Concludes; Guilford County Turns Out
Joe Gamm
Greensboro News and Record
November 5, 2016
http://www.greensboro.com/news/early-voting-concludes-guilford-county-turns-out/article_58a98e83-1f86-547e-9d00-c69d60367962.html
GREENSBORO — Guilford County, like North Carolina as a whole, set an all-time record for the number of ballots cast during early voting.
Guilford voters turned out in droves, unofficially casting 168,720 ballots. That represents about 46.2 percent of the county's voters, data show.
The previous record, set in 2012, was 161,798, according to Charlie Collicutt, director of the county Board of Elections.
Either through in-person voting or mailing in absentee ballots, more than 3 million ballots were cast in the state's 15 days of early voting, which ended at 1 p.m. today for most sites. That represents about 44 percent of registered voters in the state, data show.
That's a record, according to the N.C. State Board of Elections, which didn't have the final numbers.
Early this election, the number of ballots cast in Guilford County lagged behind the pace for 2012, yet Collicutt said he anticipated the turnout for early voting this year to surpass that of four years ago.
Unlike in 2012, when 16 sites opened the first day of early voting, only one site — the Old Guilford Courthouse — opened on the first day this year. It was the only site open for the first five days of early voting.
"Once all 25 sites opened, the volume has been unprecedented," Collicutt said early Saturday.
Lines at many Guilford County early-voting sites were short Saturday morning, but that didn't mean turnout was low.
The sites opened at 8 a.m., and about 5,700 people voted in the next 2½ hours.
And a surge of early voters showed up at the Old Guilford County Courthouse as the polls closed.
Those voters were able to cast their ballots within the next hour.
Some of the county's recreation centers served large volumes of voters early in the day, Collicutt said.
Places like Bur-Mil Clubhouse and Leonard, Brown and Craft recreation centers were "doing big," Collicutt said. He said Leonard Recreation Center served 340 voters by mid-morning.
The county's only privately owned site, Oak Hollow Mall, which is owned by High Point University, also had significant numbers of voters, he said.
In Rockingham County, the record fell earlier.
The county had set its all-time record for the number of early votes cast by the end of Friday. It added more than 1,000 to the count today, making the county's record for early voting 24,397 unofficially.
In Greensboro, a steady line of voters passed through the courthouse all day today.
Gary Jones and Jon Wallace said they traditionally like to wait until Election Day to vote, but didn't want to wait this year.
Political pundits often declare a candidate victorious in the state before he has a chance to vote on Election Day, Jones said.
"We want to feel like we're in the counting," he said. "This one's going to be crazy."
Margaret Lewis and her 18-year-old son Adontaye Antonio went to a polling location together. They moved from Jamaica to the United States about nine years ago. The two became U.S. citizens early this year.
"We need someone we can count on," Lewis said of the presidential race.
Anna B. Dumas, a 75-year-old Greensboro woman, voted curbside. She wouldn't reveal her candidates.
"Whoever I pick," she said, "I hope they win."
Behind the scenes, preparations for Tuesday are underway.
On Wednesday, Thursday and Friday, workers distributed voting machines to the county's 165 Election Day sites.
And after the final early ballots were cast Saturday, workers were prepared to load up the early voting machines to haul to a warehouse, according to Collicutt.
The elections office has been receiving mail-in absentee ballots since September.
And elections workers have a huge day coming Tuesday. Some 1,500 people will work the county's election sites that day. Each site has a chief judge and two judges. Some sites also have assistants.
For their 12- to 15-hour day, chief judges receive $150, judges receive $135 and assistants receive $110.
"That's not a lot of money," Collicutt said. "Most are not doing it for the money."
More GOP Emails Emerge That Urged NC Elections Officials to Limit Early Voting
Tierney Sneed
Talking Points Memo
November 3, 2016
http://talkingpointsmemo.com/muckraker/more-gop-emails-emerge-that-urged-nc-elections-officials-to-limit-early-voting
As county-level elections officials in North Carolina weighed in August their plans for early voting, they faced pressure from Republican operatives who urged them to eliminate Sunday voting, which is popular among black voters, and keep early voting sites to a minimum.
A report by Reuters Thursday surfaced two new emails North Carolina GOPers sent county elections boards -- which are each generally made up of two Republican-appointees and one Democrat-appointee -- in addition to the emails sent by North Carolina Republican Party executive director Dallas Woodhouse that had been previously reported.
Per the Reuters report:
The same day that Woodhouse sent his Aug. 11 email, Elaine Hewitt, a member of the Rowan County Republican Executive Committee, sent the county elections board two proposed schedules for early voting, both of which included just one site for the first four days and no sites on Sundays.
"With all of the opportunities to vote by mail, early in person Monday - Saturday, and on Election Day, there is no justification for requiring election workers to work on Sundays," she wrote.
Garry Terry, the chairman of the Republican Party for North Carolina's First Congressional District, sent an email on Aug. 13 to elections board members in his region, reminding them to act "in the best interest of the Republican Party" by opposing Sunday voting and restricting early voting to one location.
The emails were obtained by an open records request. They made similar arguments found in Woodhouse emails, which attracted national attention for the explicitly partisan rhetoric he used to encourage county officials to limit early voting.
"Our Republican Board members should feel empowered to make legal changes to early voting plans, that are supported by Republicans," Woodhouse said in an email first reported by the The News and Observer. "Republicans can and should make party line changes to early voting."
The county officials were debating their plans for the extra week of early voting that was effectively restored by an appeals court decision in late July. The appeals court knocked down a number of provisions in a 2013 state elections law, including its cutbacks to early voting, because the court said the restrictions were passed with the intent to discriminate against minority voters. In doing so, the court also invalidated an amendment to the law that required that counties have the same number of hours of early voting as the previous equivalent election.
That gave the county boards the ability to make drastic cuts to early voting, even with the extra week. Republicans on one county board proposed cutting hours by three-quarters compared to the 2012 election, while the GOP chief of another county board proposed slashing 200 hours compared to the 2012 plan. At the urging of civil rights groups, the state boards ameliorated some, but not all, of the plans that most dramatically reduced early voting opportunities.
Woodhouse, the NC GOP executive director, defended the emails in an appearance on MSNBC soon after the Reuters report was published.
"North Carolina and Republicans and our board of elections have offered more early voting sites and more early voting hours than the Democrats ever did," he said, before pulling out handcuffs that he said were for Hillary Clinton. In the Reuters report, a GOP county elections board chairman, Bill McAnulty, said he initially favored a Sunday voting site in his county, but withdrew his support after facing the GOP blowback.
"I became a villain, quite frankly," McAnulty said. "I got accused of being a traitor and everything else by the Republican Party."
__________
Tierney Sneed is a reporter for Talking Points Memo. She previously worked for U.S. News and World Report. She grew up in Florida and attended Georgetown University.