Snowstorm Slams Water Protectors; After the Standing Rock Victory, What Next for Water Protectors?
A blinding blizzard engulfed the water protectors at Standing Rock as tribal Chairman David Archambault II told them their work at the camps is done, and it is time to go home.,Kalen Goodluck // Indian Country Today
Bu Theresa Braine
December 6, 2016
Thanking everyone for their service, Standing Rock Sioux Chairman David Archambault II said on Tuesday December 6 that with the Dakota Access Pipeline halted for the time being, and winter closing in, that it was time for the water protectors to go home.

"I know we have prayed and continue to do so. Now you must believe in your prayer," Archambault said in a statement released in the late afternoon.
"Energy Transfer Partners cannot cross the easement, even if they drill," he said. "Not only will they jeopardize the entire pipeline project, but they will also jeopardize their investors' money and their bank loans. They may drill up to the federal lands to try to provoke the campers. They will do this to create the illusion that the Army Corps of Engineers made the wrong decision. We do not need to engage them in this; we need to go home. While this phase of the struggle relied largely on the protectors at camp, this next stage will be focused on the legal battles, and keeping the current decision in place."
Archambault noted that the next administration would not easily be able to reverse the decision of Sunday, December 4, when the U.S. Department of the Army officially denied the easements under the Missouri River at Lake Oahe, thus bringing construction on the last piece of the 1,172-mile, $3.8 billion pipeline to a halt while a full environmental impact study is conducted.
"This decision is everything we had asked for: a non-granting of the easement, initiating an Environmental Impact Study, and suggestive of a reroute," Archambault said. "We got it! Energy Transfer Partners will face an uphill battle in trying to dismantle the process initiated by this decision."
Energy Transfer Partners, whose assets were recently purchased by Sunoco, has said it remains committed to the project and will not change the route.
"The White House's directive today to the Corps for further delay is just the latest in a series of overt and transparent political actions by an administration which has abandoned the rule of law in favor of currying favor with a narrow and extreme political constituency," Energy Transfer Partners said in a statement on December 4. "As stated all along, ETP and SXL are fully committed to ensuring that this vital project is brought to completion and fully expect to complete construction of the pipeline without any additional rerouting in and around Lake Oahe. Nothing this Administration has done today changes that in any way."
Along with gratitude for the steadfastness of the protectors, Archambault also expressed concern for everyone's well-being and noted that the militarized police would likely use any excuse for yet another crackdown. With a new blizzard dumping a foot or more of snow onto the camps full of thousands of water protectors, many of them in tipis, and below-average temperatures predicted for part of the week, the conditions were becoming dangerous.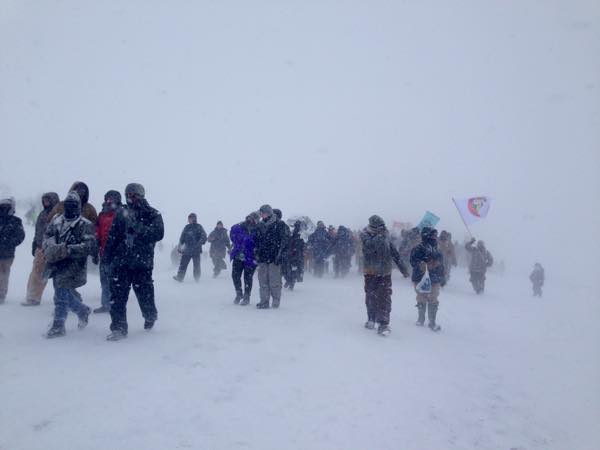 Blizzard conditions set in at the water protector camps as temperatures plummeted. 
Photo: Tracy Rector // Indian Country Today
"A significant winter storm will continue to bring heavy snow and blizzard conditions to portions of the northern Plains through Tuesday evening," the National Weather Service said in an advisory. "Snowfall amounts could reach one foot. Strong winds and very cold temperatures will also yield sub-zero wind chill readings and blowing snow. Reduced visibility from blowing snow could cause severe travel difficulties."
Writers and editors for Indian Country Today Media Network found themselves stranded on Monday and Tuesday December 5 and 6 with spotty phone and internet, along with thousands of veterans, assorted legal advisers and tribal leaders, at the Standing Rock Sioux Tribe's Casino Knights Hotel, with no word on when they would be able to travel. All of the hotel's 400 rooms were full, and a good 4,000 veterans were camped out in the resort's concert hall, the Pavilion, as well as in the gymnasium at a school in Fort Yates, said ICTMN West Coast Editor Valerie Taliman, who was among the stranded. Earlier in the day she also noted that "roads to camp and Bismarck are closed," but said some were just reopening in the early evening on Tuesday December 6.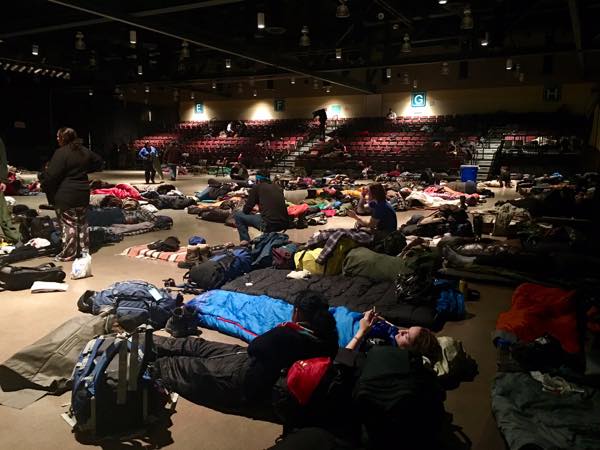 Water protectors were camped out everywhere, socked in by a blizzard. 
Photo: Stacey Thunder // Indian Country Today
The bulk of the water protectors are living in fortified tipis and other makeshift shelters outdoors at the camps. Archambault said the priority was keeping people safe, and letting them know that the job at hand was done.
"We deeply appreciate all the people who supported us with their presence, but when this storm passes, it is time to dismantle the camp and return to our homes," Archambault said. "If the camp stays where it is currently located, people are risking their lives. The current weather is severe, making travel impossible. If the camp stays, we run a risk of further provocation from local law enforcement. Once one person is hurt or property is destroyed, that will lead to more outsized actions by law enforcement. The longer the camp stays, the greater risk we run of seeing further violence at the hands of law enforcement and potential injury to our supporters."
Putting people at risk in that way is something the ancestral leaders would never have done, he said.
"I don't want anyone to be living in an unsafe environment," Archambault said. "We need to stay in prayer, believe in our prayer, and begin our journey home in prayer. I believe in my prayers and in the Creator. Take the lessons we learned here and apply them at home—unity, peace, prayer."
The camps' efforts to get the NoDAPL battle to this point have been essential, but "now it is time we pivot to the next phase of this struggle," Archambault said. "That will be lead on different fronts like in court, with the new Administration, with Congress, and with the investors."
He said the path is being laid down "to help the world understand that what we asked for, and what we got is the right decision. The world is watching us, and our behavior will determine the final outcome."
Archambault suggested that each resident make a plan for closing and exiting the camp, leaving the land as it was when they got there, and to get home before the bitterest part of winter sets in.
"Pass this on—let everyone know that we are thankful for their passion and commitment and we are thankful for them all standing with us," Archambault said. "It's time now to enjoy this winter with your families. We need all to respect the host tribe's wishes. We are asking all tribes to pass this on to their members."
The winter, he added, has barely begun, and the current storm is tamer than what the worst of the season will bring. Temperatures drop even lower than they already have, and the shelters at the camps would be no match for blizzard conditions.
Acknowledging that people were socked in by the storm, Archambault said it was time to take the water protection battles beyond Indian country, to the rest of the U.S. and the world.
"I understand that folks cannot go at this moment, but as soon as this current storm has passed, we must execute an exit strategy and continue our battles to protect water," Archambault said. "These efforts are not only needed in Standing Rock, but they are needed throughout Indian Country, across America and internationally. I want you to know that Standing Rock stands with you as you return home to carry this energy and movement into the future."
[Theresa Braine is an Editor at Indian Country Today Media Network.]
By Andy Pearson
December 7, 2016
On Sunday afternoon, the U.S. Army Corps of Engineers denied the easement for the Dakota Access Pipeline to cross under the Missouri River at Lake Oahe, just north of the encampments at Standing Rock. This is amazing, virtually unprecedented, and a movement victory—and the water protectors who have led the fight are right to claim it as such.
It's also likely temporary and by no means the end of this fight. Here's some context, and ideas about paths forward as best I understand right now.
What happened?
The Corps denied the easement and ordered an Environmental Impact Statement (EIS), a formal study that will compare various route alternatives. Denying the easement was a stepping stone to getting to an EIS. It doesn't mean that the pipeline won't be built in its current alignment near Standing Rock eventually. The Corps is essentially hitting the pause button and initiating further study.
How does an Environmental Impact Statement work?
There are usually three phases to conducting an EIS: Scoping, Draft, and Final. The public can generally comment during each phase. The purpose of scoping is to identify what should be studied. Then the Corps and their EIS contractor prepare and release a draft, which the public is invited to comment on. They then rework the draft in light of public input and release a final version, which the public can generally also comment on. The process usually takes several months, and can last for years depending on the project's complexity. A generic timeline would be about nine months, but we don't have any actual guidance yet on the timeline for this particular EIS.
Will the ACE decision actually stop construction?
This is debatable. It would be illegal for Energy Transfer Partners to drill under the Missouri, but that's not to say they won't do it and opt to pay whatever legal penalties they incur. That would be a fairly shocking move on their part but they've hinted they may be open to doing it. It's easy to imagine that an incoming Trump administration would do their best to make the penalties as minimal as possible.
Why is it important for Energy Transfer Partners to drill right now?
Contracts with oil shippers. These contracts, called take-or-pay contracts, obligate shippers to pay money to the pipeline company over a committed period of time regardless of whether they have oil to actually send or not. It's a great deal for DAPL but not so good for the oil shippers, especially now that the Bakken oil boom isn't so hot. These contracts expire if the pipeline isn't substantially complete by January 1, and there's some chance that some shippers will choose to drop out at that point due to changing economics in the industry if the pipeline isn't complete. Sunday's decision by the Corps means that the pipeline won't be complete by January 1 unless ETP breaks the law and drills anyway.
What about Trump?
Oh, you had to ask. Once Trump is president, he will be in a position to stack the deck at the Army Corps so that the EIS is weak or biased in favor of DAPL. He might be able to stop the EIS process and reinstate the permit, though I don't know the legal specifics here yet. It's very doubtful that we'll see a full and robust EIS with Trump in office.
The upshot of Sunday's decision, assuming that ETP chooses to follow the law, is that it delays approval of the line until after Trump takes office, giving time for the contracts to expire and letting the worst of winter slide by without the need for full forces at the encampments.
What can we do in the meantime?
We can continue the work we've been doing, because it's all still relevant and helpful, and will become urgent again in just a few months.
We can go after the banks harder than ever to cut off funding to DAPL.
We can continue to spread information, lobby elected officials, lobby the Corps, hold events, train for direct action.
We can engage in the EIS process once it begins.
This isn't the end of the fight by a long shot, but it's a brief respite between battles and a sign of how far we've come thanks to the indigenous leadership and water protectors at Standing Rock.
Let's celebrate and reflect and keep fighting. #NoDAPL
[Andy Pearson is Midwest Tar Sands Coordinator? at MN350 and lives in Minneapolis.]
Indigenous Environmental Network Responds to Chairman Archambault's Ask for Water Protectors to Return Home and Comments on the Fight Ahead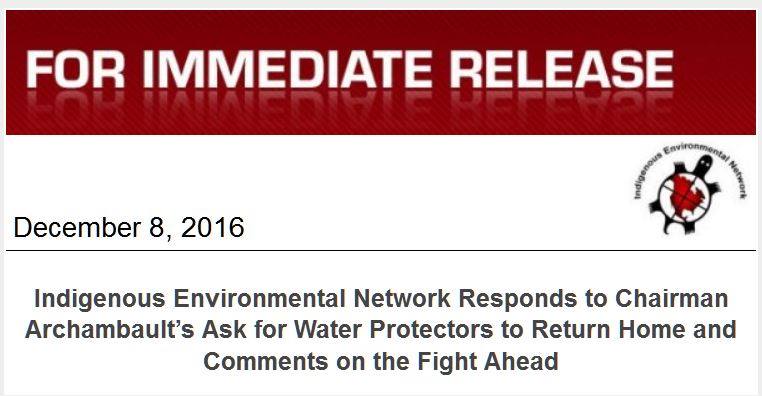 Press Contact:
Jade Begay, 505-699-4791, jade@ienearth.org
 
December 8, 2016 [Cannon Ball, ND] - Following blizzard-like conditions and plummeting temperatures at Standing Rock, Chairman David Archambault released a letter respectfully asking visiting Water Protectors to develop exit strategies and to return home once the current storm passes.
 
The following is a statement from the Indigenous Environmental Network responding to the Chairman's request and about what the organization sees as the next steps for Standing Rock:
 
"We are at a critical moment in this fight against the Dakota Access pipeline. The Army Corps of Engineers' decision to not grant the final easement to the pipeline company without further review was a tremendous victory, but it is a temporary one. With the pro-pipeline politics of the forthcoming Trump administration, the struggle to protect the Missouri River, the Standing Rock Sioux tribe's drinking water and indigenous sovereignty will most certainly need to continue in the coming year and beyond.
 
In their response to the order to pause construction until further review, Energy Transfer Partners has made it clear that they will pursue completion of the pipeline. During this period of deescalated conflict, we will remain watchful of Energy Transfer Partners and the Army Corps of Engineers' environmental impact study and fully expect to challenge any action the Trump administration aims to take in approving the final phase of DAPL construction.
 
This past week, we saw blizzard-like conditions that generated an immense burden upon camp and tribal resources and placed a number of unprepared campers at risk. Because of these challenges, along with the deescalated need for allies to be on the ground at Standing Rock while DAPL construction is paused, we now encourage allies to reevaluate staying or coming to Standing Rock. As such, we have decided to respect the Chairman's request and begin the process of transitioning out of the Oceti Sakowin camp.
 
Since the beginning of this movement, thousands have come to Standing Rock to serve as true allies and guests of the Standing Rock Sioux Tribe, the land and local communities. The support we, as visitors, received helped create a solid foundation of prayer and movement in the protection of Mother Earth and her lifeblood: the water. During this pause in action, we remain committed to supporting the grassroots leadership within the camp and will help facilitate the transition out of camp, prioritizing the safety of its individuals and ensuring that the land we've been using is left better than it was found.
 
Moving forward, IEN looks towards growing and furthering the momentum that has begun here at Standing Rock.
 
We will continue to ask our allies to divest from the financiers of the Dakota Access Pipeline and to take part in the Global Month of #NoDAPL Action . We also encourage Water Protectors to stand with communities across the nation who are resisting pipelines that threaten their water supplies and other Indigenous communities.
 
Three key dates we encourage the public stay updated on are:
 
Friday, December 9th, a hearing in the case is scheduled for Friday morning in Washington, D.C., U.S. District Court requested by Energy Transfer Partners to allow them to complete the project.
 
Sunday, January 1st, when suppliers for the pipeline construction will have an opportunity to re-negotiate their contracts with Energy Transfer Partners or back out.
 
And finally, the days after January 21st, when the specific challenges will be revealed from the new administration and what we will need to do to protect water and Indigenous rights.
 
We are not abandoning our relatives here in Standing Rock and this movement is far from over. In fact, it is escalating and the stakes are even higher. We are stronger than ever, filled with even more hope and more prayer, and no matter who is in the White House, we will continue to follow our original instructions as Indigenous Peoples to defend land and to protect water."
 
For real time updates on the status of DAPL construction at Standing Rock, please follow Indigenous Environmental Network and Indigenous Rising Media.
The Indigenous Environmental Network
PO Box 485
Bemidji, MN 56619