What Were the Top 10 BDS Victories of 2016?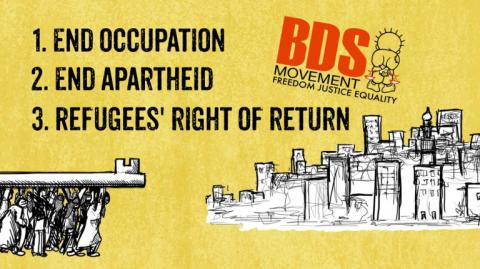 .,.
The same week, a major Irish corporation yanked its cement contracts with Israel following boycott pressure.
Meanwhile, churches, student unions and local activists continued to organize strong boycott, divestment and sanctions (BDS) campaigns that caused panic among Israeli leaders.
But throughout 2016, BDS has only grown stronger, the group adds.
"The logic of appeasing Israel's regime of oppression has started giving way to the logic of sustained international pressure, which proved instrumental in ending apartheid in South Africa," it says.
With that spirit in mind, here are the top 10 BDS successes of 2016, as covered by The Electronic Intifada.
With more than 120,000 residents, Cádiz, in Andalusia, is one of the largest cities to support the campaign.
The amendment, which was tacked onto an unrelated economic bill, would have blacklisted individuals and businesses that engage with the Palestinian-led boycott of Israel. Organizers said that in order to successfully counter the imminent anti-boycott legislation there, they knew they had to engage directly with lawmakers over a sustained period.
The campaign calling on Orange to cut ties with Israel's Partner Communications began in 2010 and involved unions and groups in France, Tunisia, Morocco and Egypt, countries where Orange or its affiliates have tens of millions of mobile phone subscribers.
"Orange had no choice but to realize that investing in occupation, profiteering from Israel's colonization of Palestinian land and involvement in violations against Palestinian rights is a commercially bad investment," said Abdulrahman Abou Salem of BDS Egypt, a coalition of trade unions, political parties and campaign groups.
Partner Communications, which operated under the Orange Israel brand, built and operated extensive mobile telephone infrastructure in Israel's settlements built on Palestinian land in the occupied West Bank in violation of international law.
"People now realize that it doesn't make any sense to claim that you're a progressive or that you care about basic principles of equality and human rights if you can't apply those principles to the question of Palestine . and a freedom struggle that has gone on for decades now."