labor
Boeing's North Charleston S.C. Workers to Vote on Union Representation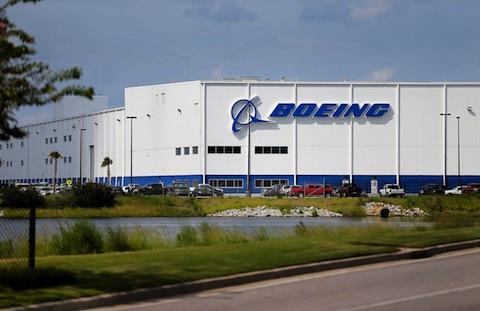 , Grace Beahm
Production workers at Boeing Co.'s 787 Dreamliner campus will get a chance to vote on whether they want to join the International Association of Machinists at a time when one analyst says the aerospace giant might be most vulnerable to organized labor.
Union officials will say at a news conference on Friday that they plan to file a petition with the National Labor Relations Board to hold an election at the Dreamliner plant and Boeing's other North Charleston production sites.
The IAM "will make a major announcement about the ongoing organizing campaign to secure collective bargaining rights for workers at Boeing's North Charleston operation," according to an announcement for the event, to be held at 7 a.m. at the local International Longshoremen's Association office at 1422 Morrison Drive in Charleston.
IAM officials declined to comment in advance of Friday's announcement, but Mike Evans - the union's lead organizer locally - told The Post and Courier in November: "We have the momentum to get to an election."
The petition would come at a time when Boeing is making job and other financial cuts to its commercial airplane division in the face of slowing sales and increased competition. The company this month said it will offer voluntary layoffs to hundreds of engineers at the North Charleston facilities and company-wide, and Boeing has said involuntary layoffs might be necessary if further cost reductions are sought.
That environment could work in the IAM's favor, according to Hoyt Wheeler, a labor union expert and retired business professor at the University of South Carolina.
"When something is being taken away from workers, like job security or wages, that is one of the things that will compel them to join a union," Wheeler said, adding that labor organizers typically wait until they have a vast majority of support from workers - typically between 60 percent and 70 percent - before they risk filing an election petition.
Wheeler said the decision to hold an election now also favors the IAM because federal rules changes that have made it easier for unions to win elections under President Barack Obama likely will be rolled back in the months after President-elect Donald Trump takes office and the majority of NLRB directors switches over to Republicans.
"They will be a good deal less friendly to unions," he said.
Boeing spokeswoman Lori Gunter said the IAM has not officially notified the aerospace company of its intention to file an election petition.
"We are not going to speculate on the reason for the IAM reaching out to the media tomorrow, although we have heard the IAM publicly state their intent to file ever since they ran away from their first petition here in 2015," Gunter said Thursday.
This will be the second petition the IAM has filed in two years. A previous attempt to organize the Boeing plants was withdrawn in 2015 after union officials said the company had created a "toxic environment" with misinformation and outside political interference. Gov. Nikki Haley and North Charleston Mayor Keith Summey were vocal critics of the IAM the last time it filed for a union election.
Joan Robinson-Berry, vice president and general manager of Boeing South, has said she has "no problem" with unions, but: "I think the best thing for our team is to have a direct relationship with us."
Gunter said Boeing employees are focused on production of the first 787-10, the largest of the Dreamliner family that will be built exclusively in North Charleston. The first test flight of a 787-10 is expected this spring.
"We've said consistently over the past several years, and we continue to believe, that a union is not in the best interest of our teammates, our business, our community or our state," she said. "We think it's important that our teammates, friends, business colleagues and community leaders in South Carolina know that our position has not changed."
An IAM spokesman declined to comment on Boeing's statement, saying "it doesn't seem like anything new."
It's not clear how many Boeing employees will be eligible to vote this time around. The company's website shows it has 7,609 workers in South Carolina, although many of those would be ineligible because they are management or contractors. The current employment figure is roughly equal to the number of workers Boeing claimed when the last petition was filed in March 2015. At that time, the IAM said 3,175 workers were eligible to vote.
Changes in NLRB rules in 2015 have put union elections on a fast track. Prior to the change, it took an average of 5½ weeks between the time a petition was filed and an election held. That time frame was trimmed to just a little more than three weeks by last year. Under the new rules, an election could be held as soon as 13 days after a petition is filed.
The streamlined time frame has helped unions win more elections, because employers have less time to present their arguments against union representation. Unions were successful in 68 percent of elections held in 2014, the year before the rules change. Last year, unions won 73 percent of the 1,396 elections that were held.
Even so, South Carolina has the nation's lowest percentage of workers represented by organized labor. The federal Bureau of Labor Statistics said South Carolina's union membership rate was 2.1 percent in 2015 - roughly 41,000 union members. Updated figures for 2016 will be released next week.
Wheeler said an IAM victory would be "important to the future of unions in South Carolina," while admitting "the climate is tough." A loss, he said, "would represent a lost opportunity" for organized labor but probably wouldn't hurt the state's already-weak standing with unions.
A petition filing likely will send Boeing's anti-union efforts "into full panic mode." Wheeler said, with both sides stepping up attempts to get their messages across through radio and television ads and in-house publications at the workplace, such as the lunchroom table-toppers Boeing employed in 2015 comparing the union to rotting fruit.
The IAM's previous election effort here was heated, with the union filing an NLRB complaint - later dismissed - claiming two of its organizers visiting workers' homes "were threatened at gunpoint and others reported hostile and near-violent confrontations."
In addition to a facility that manufactures and assembles the 787 Dreamliner twin-aisle commercial plane, Boeing's North Charleston facilities include: a plant that builds interior parts, such as overhead bins, for the Dreamliner; a research and technology center that focuses on advanced manufacturing technology; a propulsion center that builds and designs engine parts; and an engineering design center that provides support for the Dreamliner's production.
The IAM has nearly 700,000 active and retired members and represents most of Boeing's production workers on the West Coast.
Evans, the IAM's lead organizer in North Charleston, and Ken Riley, the longtime president of the local longshoremen's union, are scheduled to speak at Friday's event.
"Labor and community groups supporting the efforts by Boeing workers to form a union will also be in attendance," the IAM's announcement states.
South Carolina is among 25 states that have right-to-work laws prohibiting mandatory union membership. In South Carolina, for example, collective bargaining agreements apply to all of a company's eligible workers, not just those who are dues-paying members of a union. Such laws have led to declining union membership, particularly in the South.