Donald Trump's 'Muslim Ban' Could Be Just the Beginning, Amnesty International Warns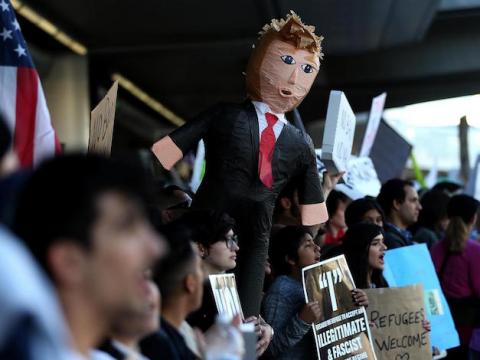 Protesters at LA International Airport vocally expressed their disapproval of Donald Trump following his executive order banning refugees from seven Muslim countries , Getty
Donald Trump's ban on travellers from seven Muslim-majority nations could be just the beginning of a broader crackdown on Muslim immigration, Amnesty International has warned.
The rights advocacy group issued an urgent call for Britain to do more to fight the policy, which effectively bans citizens from three African and four Middle Eastern countries from entering the US. It was accompanied by a 120-day suspension of all US refugee programmes.
Mr Trump pledged in December 2015 to enforce a "total and complete" shutdown on Muslim immigration into the US, before revising this to promising "extreme vetting" once he became the Republican Party's candidate.
Amnesty fears the immigration ban announced by executive order on Friday could "become permanent" and extend to more countries.
Kate Allen, director of Amnesty International UK, told The Independent: "This ban is shocking and appalling. Although President Trump says that this is a temporary ban, we fear it may become permanent and that other countries will start to follow it.
"We are in the worst refugee crisis since the Second World War and we have seen the United States closing its doors. We need to stand up for the values that we support, and that is why we call on our [UK] Government to do everything in its power to change this policy and to oppose it."
On Sunday, White House chief of staff Reince Priebus told CBS News's Face the Nation programme that the ban, which targets Syria, Libya, Iraq, Yemen, Sudan, Somalia and Iran, could be taken further.
Mr Priebus said: "The reason we chose those seven countries was [that] those were the seven countries both Congress and the Obama administration identified as being the seven countries that were most identifiable with dangerous terrorism taking place in their country.
Now, you can point to other countries that have similar problems, like Pakistan and others. Perhaps we need to take it further."
The original text of Mr Trump's executive order defines his seven-country banned list as a temporary measure, to be enforced until the Department of Homeland Security has conducted a review into its visa security controls.
It includes a clause that, once that review is complete, Mr Trump's ministers can "at any point" extend the list with "the names of any additional countries recommended for similar treatment".
The suggestion that visa restrictions could be extended to Pakistan was met with outrage in that country. Pakistan People's Party politician Syed Khursheed Shah told the
Hindustan Times: "What is clear is that Donald Trump is targeting Muslims, not terrorists."
The ban has also sparked a backlash in the UK, amid confusion over whether it will affect the hundreds of thousands of Britons with ties to the countries in question. The Government moved to assure the public that British passport holders would not be affected, before US embassies started issuing contradictory advice.
Baroness Sayeeda Warsi, a Tory peer and former Conservative minister whose parents came to the UK from Pakistan, told the BBC Radio 4's Today programme Mr Trump's executive order was only "starting to effect" the complete Muslim ban he pledged during the 2016 election campaign.
"It is important we refer to it as what it is," Lady Warsi said. "It is a Muslim ban, every sign is that it is a Muslim ban. If we are saying it is not a Muslim ban, we are saying it is a ban on people from Muslim-majority countries and it exempts non-Muslims, so make of that what you want."
Like Amnesty, Lady Warsi called on Theresa May and the British Government to do more to exert pressure on Mr Trump to repeal the order, and joined those questioning whether he should be allowed to conduct a state visit to the UK.
"We are at a very interesting crossroads at the moment, that will determine the kind of country we want to be," she said. "If we want to be a country that promotes liberal, progressive values – that people have equal worth and equal values in our society – then we have to be clear when we voice that opinion so people in this country know that whatever crazy things the President of the US may be doing, it is not what we believe and it is not what we support."
Donald Trump has explicitly stated that he believes his new immigration rules do not amount to a Muslim ban. "This is not a Muslim ban as the media is falsely reporting," he said. "This is not about religion. This is about terror and keeping our country safe."
Yet the executive order also makes special provisions for persecuted minorities in the countries in question, and when asked by the Christian Broadcasting Network if he sees Christians as "a kind of priority here", Mr Trump said: "Yes."    
Protests at US airports continued into a second day on Monday, while the Screen Actors' Guild awards in California on Sunday night were dominated by stars' political messages in defiance of the new administration.
The UN's rights chief Zeid Ra'ad al Hussein denounced Mr Trump's executive order on Monday as "mean-spirited". "Discrimination on nationality alone is forbidden under human rights law," he said.
Thousands of Britons were due to attend a protest against Mr Trump's travel ban – and against Ms May's perceived tardiness in criticising it – outside Downing Street on Monday evening.
And in an urgent question on the matter in the House of Commons, Foreign Secretary Boris Johnson said he had received assurances from the US embassy that the changes would "make no difference to British passport holders, irrespective of their country of birth or any other passports they hold".
The Trump order was, he said, "a highly controversial policy which has caused unease", adding: "This is not an approach that this Government would take."
"Where we have differences from the United States, we will not quail from expressing them, as I have done today," he said. "But we also repeat our resolve to work alongside the Trump administration in the mutual interest of both countries."
The SNP's national women's and equalities convener, Tasmina Ahmed-Sheikh, said: "This action is inhumane, it is racist and it is immoral."
And Labour's Emily Thornberry said Mr Trump was "heading down a very dangerous slope", in reference to images showing Ms May holding the President's hand as they walked down a gradient at the White House last week.
Boris Johnson accused the opposition of "pointlessly demonising the Trump administration".