Tidbits - November 16, 2017 - Reader Comments: Sexual Predator on the loose in Alabama; North Carolina Black Church vandalized; Worker Abuse, Sexual Abuse; Russian Revolution; Muslim Ban - new resource; Announcements; and more....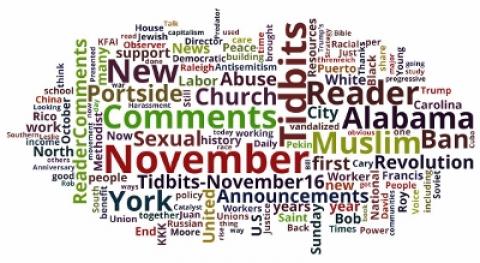 Tidbits - Reader Comments, Resources, Announcements and Shorts - November 16, 2017,Portside
Resources:
Announcements: 
Some in Alabama say they will support Roy Moore even if the charges of pederasty are true because they will not under any circumstances vote for the Democrat.  What has the Democratic Party done to the people of Alabama that justifies such hatred?  Democrats after all got them cheap electricity, Social Security, Medicare and  Medicaid among hundreds of other programs.  Of course all that is ancient history -- but by that standard, the Civil War is part of ancient ancient history and few in Alabama have forgotten that.  The only thing I can think of is Democratic support for the Civil Rights movement.  That is, the Democrats betrayed the white race.
Bob Supansic
Alabama Creeper - cartoon by Rob Rogers
Despite sexually assaulting a 14-year old girl when he was in his 30s, Judge Roy Moore's name will remain on the ballot in Alabama. He will probably be elected to the U.S. Senate. Unbelievable.
Rob Rogers
November 12, 2017
Pittsburgh Post-Gazette
Re: Why Evangelicals Can't Quit Roy Moore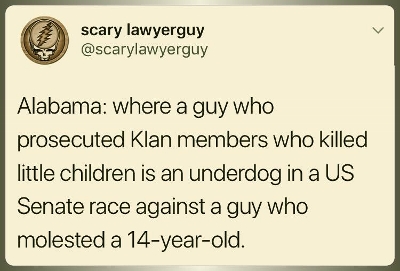 Re: The Trump White House's Actions Recall the Most Divisive Eras of the American Past
Dennis Parker shows wisdom in reminding us that we can't simply bask self-assuredly in the dramatic electoral victories of the Center and the Left in last week's balloting.  As the Alabama Republican Party and its ditto-heads make clear in the US Senate race, the Right has no intention of ceding political ground to decency and a concern for others.
Solidarity,
James Young
Harrisburg, PA
Re: GOP Attacks Healthcare, Now Seeks to End Medical Tax Break 
Over one hundred thousand dollars per year.
I called up a first rate skilled nursing home in my town and was told that the usual cost for long term care came to $10,000 per month.
I already knew that the monthly cost for specialized residential care for patients with dementia can be more than $10,000 per month.
How many seniors have a retirement income of over one hundred thousand dollars per year?
Currently someone whose medical expenses exceed ten percent of their annual income can subtract that amount from their income when calculating their taxable income.
The tax plan Republicans have proposed will eliminate the deduction for large medical expenses.  This will rapidly exhaust the resources of most frail elders who require this kind of care.
Furthermore, if it passes many people in their middle years are likely to have before them the choice between helping their aged parents and helping their children pay the high cost of education.
Carolyn S. Scarr
Re: Paul Manafort's Role in the Republicans' Notorious 'Southern Strategy'
The old Southern Strategy of racism still works.
Bob Zellner
Posted on Portside's Facebook page
North Carolina Church Vandalized with Racial Slurs. 'This is Why People Say Racism is Still Alive.'
By Abbie Bennett
November 13, 2017
Raleigh The News & Observer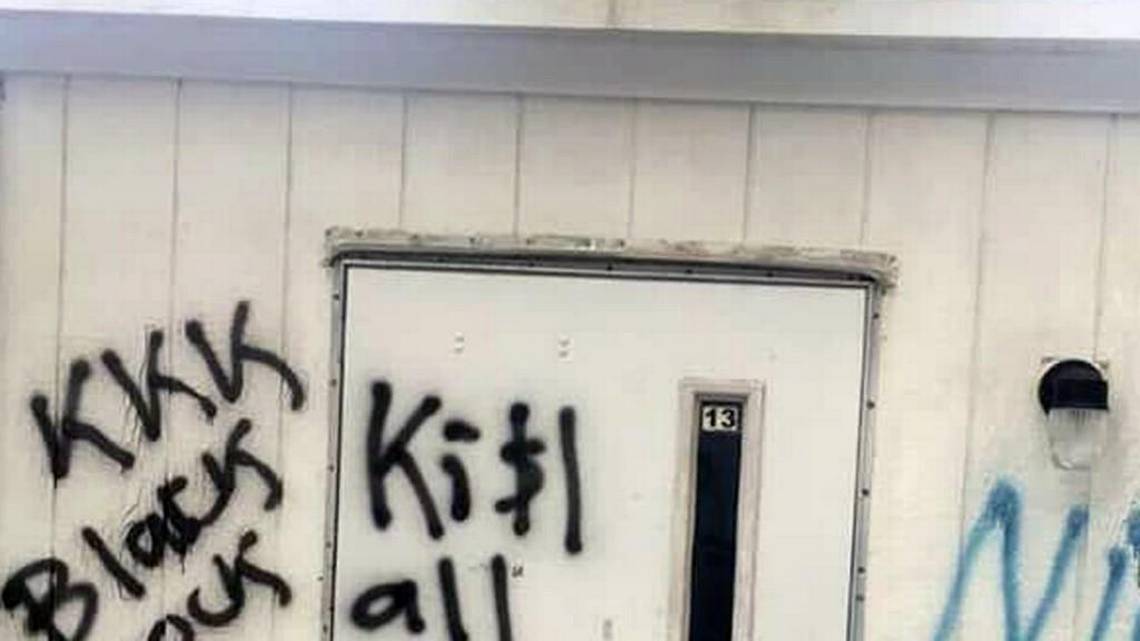 A Cary church was vandalized with spray-painted racial slurs, "KKK" and other messages over the weekend.
At about 4 a.m. Sunday, Saint Francis United Methodist Church on Kildaire Farm Road in Cary discovered spray-painted graffiti on one of its buildings used primarily for Sunday school and Bible study. Church members, staff and volunteers were able to clean the graffiti before morning service was finished Sunday.
Messages including "Kill all n-----," "N----- church," "KKK" and "F--- Jesus" – along with offensive images – were painted over the outer walls, windows and doors of the building, according to photos posted on Facebook on Sunday by Tyler Bentley. He said he and others spent three hours removing the graffiti from the building.
"Just a PSA that this sort of thing is happening in your communities, too," Bentley wrote in his post sharing the photos. "This is why people say racism is still alive."
Bentley's post had been shared more than 140 times, had more than 50 comments and 170 reactions as of 4 p.m. Monday.
Graffiti on a building used for Sunday school and Bible study at Saint Francis United Methodist Church in Cary. 
Photo courtesy of Saint Francis United Methodist Church // Raleigh The News & Observer
Re: The Day I First Picketed the White House — And Why It Wasn't a Bad Idea
On March 5, 1962, the first working day after Kennedy's announcement of the planned resumption of atmospheric testing, I joined a group from the Committee for Nonviolent Action (CNVA) to sit down in front of the Atomic Energy Commission in New York City. It was the first day after my 18th birthday and my first arrest.
Vicki Rovere
Re: Barbara Ehrenreich: Worker Abuse Is Rampant, and Sexual Harassment Is Just the Start
(posting on Portside Labor)
Barbara Ehrenreich author of Nickel and Dimed among other books and prominent socialist feminist writer adds labor into the Sexual Harassment equation.
Friends of South Bend Labor Studies 
Posted on Portside's Facebook page
Re: First-Ever Sex Discrimination Legal Network Is Ready to Defend Women in Trump's America
Awesome! Well done! Out of chaos & conflict comes creation!
Donna Shumaker
Posted on Portside's Facebook page
(posting on Portside Culture)
He can be resurrected and he seems on the path. Good luck
Jacqueline Wallace
Posted on Portside's Facebook page
    ====
Nope. He's finished in Hollywood as he should be
Adrienne Kirk
Posted on Portside's Facebook page
Snakes on a Plane - Newsweek magazine cover - November 10, 2017
Trump's jet setting White House may be the most corrupt in U.S. history - Trump is leading the most corrupt administration in U.S. history, one of first-class kleptocrats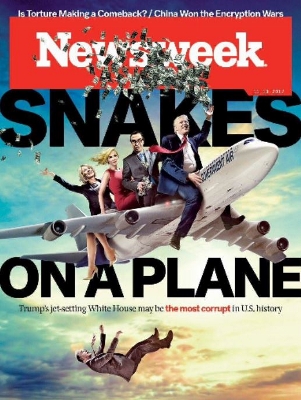 Read full story here.
Re: The Corporate Roots of the Opioid Crisis
Can this be classified as corporate terrorism?
Ramón David Rodríguez
Posted on Portside's Facebook page
Re: 2017 is The 100 Year Anniversary of The Bolshevik Revolution, What Have We Learned?
The 20th century was the international moment for humanity. The rise of imperialism brought WW1. The war brought a challenge to nationalist dominance among socialists, and the October Revolution. The postwar world was greeted by a wave of revolutionary fury in the developed capitalist countries, and elsewhere. The working class began the second (or third?) movement of its symphony.
A renewed internationalism rallied around the Soviet Union. The Russia question now defined the international left, pro or con, especially when postwar capitalism began to crack up.
In the 30s and 40s, the Soviets under Stalin were able to maintain their prestige despite the terror that negated the vestiges of post-monarchist democracy, the blood, torture and crushed freedoms. Partly it was blind faith. Partly it was humility in the face of the unparalleled sacrifice that crushed Nazism.
I speak from the standpoint of a red diaper who never joined the party, who identified with the New Left which partly defined itself as anti-Soviet, but anti-anticommunist. For folks who can't picture this, all I can say right now is, after the red scare of the 1950s, it was a thing and important in its way.
Like others, I read Trotsky but was more excited by Cuba, Vietnam and China than the Fourth International. After China chose Nixon over the Vietnamese in their growing fear of the Soviets, I joined with critical China sympathizers, following the trend including Cuba, Vietnam and various Global South revolutionaries, which eventually re-sanctified the Soviet party.
That didn't last, for obvious reasons. And my generation doesn't like to reflect on that, also for obvious reasons, but not justifiable ones. After 1991, the old time religion was overshadowed first by anarchism, then by 'third camp' socialism, an offshoot of Trotskyism that saw Stalinism (and everything that issued from it) as reactionary through and through, not anti-capitalist in any meaningful way.
Is there room in democratic socialism for another point of view? There seems to be room for a lot else, some of it really nuts - at least at this point. Can internationalism rise again, and include the Soviet experience as a massive historical chapter of gains as well as losses?
Anyway, Vijay Prashad's latest resonated with me.
Ethan Young
Re: Looking Back on October, 1917
Wow!!!!!  Quite a history lesson!!!!!  Best regards, everyone!!  
Joe Grogan/Bolton-Ont, Canada
    ====
"First, stating the obvious: the October Revolution brought the working class to power in a major country" -- No, let's be honest about this.  It brought a party to power that claimed to represent the interests of the proletariat and which had substantial proletarian support in some major cities--that turned out to be a far cry from really empowering the proletariat in Russia, or what was left of it after the devastation of WWI.  If we are going to try to learn from October 1917 we need to hold ourselves to a brutally honest analysis and not engage in ideological obfuscations.
Stan Nadel
Re: Taking Back Power: Public Power as a Vehicle Towards Energy Democracy
Ontario eliminated all coal fired power in 2014! Just do it!
Yelda Miedema
Posted on Portside's Facebook page
Re: He Fought for Farm Workers for Decades. Now He's a MacArthur 'Genius Grant' Winner
Well deserved
Dahna Solar
Posted on Portside's Facebook page
Re: Iowa Workers Defy Attempt to Weaken Their Unions
(posting on Portside Labor)
I think you mean Pekin (Illinois) Daily Times, not Peking (China) Daily Times. And FYI, Bill got a lot of his info from the story we [Press Associates Union News Service] sent out the week before. 
Mark Gruenberg
Editor
Press Associates Union News Service
    ====
It's great that this latest edition has Bill Knight's story from the PEKIN Daily Times in Pekin, Illinois (not the Peking Daily Times). For those of us in the area, this is an interesting slip of the tongue, as Pekin High School went through a huge battle 20 years ago, when they changed their team mascot name from the "Pekin Chinks." ...
Mike Matejka
Normal IL
Re: What Explains U.S. Mass Shootings? International Comparisons Suggest an Answer
The US, "a time-tested if noisy democracy" "a crusader in foreign policy" "an exporter of beloved music and film."
Do you mean a plutocracy??  A policy that has kill millions of innocent foreigners??  An exporters of more killing equipment than any other country??
Why is Portside publishing NYTimes bullshit??
Bob Fearn
Re: Israeli Forces Target Palestinian Schools, Teachers in East Jerusalem and Hebron
How it is very traumatizing for kids to see their teachers arrested and their school closed down in front of their eyes.
This is the mentality of the colonizers either in the West Bank or Gaza. They just don't care on the children well-being or rather, they are confident they are immune to punishment from the international community.
Ayman Nijim
Posted on Portside's Facebook page
    ====
TUNE IN FRI. NOV. 17 (1pm) "Catalyst" on KFAI RADIO: hear from STUDENTS For JUSTICE For PALESTINE a University of Minnesota student group. KFAI 90.3/106.7 FM Minneapolis-St.Paul Online after broadcast on CATALYST@kfai.org
Posted on Portside's Facebook page
Re: Unions and the Gig-Economy: The Case of AirBnB
....a good analysis of some instances of capitalist activity attempting to pose as justice, as reasonable methods to establish ways to tend to living... Labor is all stolen in capitalism, so I'm not referring to it as work.  Work is what we do to live together, to maintain us all, to complete our ways of interacting, etc., as Marx – and we – often enunciate. 
What is described here is complexity, ways to divert people from analyzing our relationships together in capitalism; overcomplicating our understandings of where we're living, diverting us from the simple organizing that socialism is:  We produce as needed and desired for our benefit, maintenance and enjoyment.  We access together the results of our work.  All work equals all work.  None is done as the 8hour day/40 hour week.  We just do – what we need, like, can do – together – as we will.  ...the opposite of what our unions attempt to enable, to support.   
Norma Harrison
(posting on Portside Culture)
Touching poem. Thanks. 
Joyce Parkes
    ====
What war means for families, for mothers, for sons & daughters
Margaret Rozga
==========
Re: 50 Years On, Steinbeck's Classic Still Packs a Punch
(posting on Portside Labor)
It's not the 50th anniversary of Of Mice And Men. It's the 80th anniversary. It was published in 1937.
Harold Meyerson
    ====
It's 80 years on. "Of Mice and Men" was published in 1937.
David Berger
Re: What to Black People is the National Anthem?
Branch Rickey, not Richey; grave sites, not sights! Please correct.
Otherwise, good article.
Thanks 
Leonard Lehrman
Re: Trump's Arpaio Pardon and Nazi History
(Portside post of August 31)
I know you're going to think that I'm weird, but I've got to tell somebody. If folks are beginning to equate Trump and Hitler, they are right to do so. I've been an astrologer for the past 35 years and if there wasn't something to it, I would have taken another direction years ago. Yesterday I was trying to figure out why so many Americans are supporting this president and decided to take a look at Germany's astrological chart during the rise and fall of the Third Reich. And sure enough the US is having the VERY SAME aspects that Germany had during that time!  The foggy planet Neptune (illusion & delusion) squaring it's ascendant while Pluto (wrecking ball of the status quo) is transiting the second house and taking down government.  Look for something to happen in mid to late December of this year regarding government, banking, or our values...all second house matters.  All of these matters are in the forefront of the US and these transits are the reason for it.  I don't think it can get as bad as the Third Reich, but this man is now on his way home from visiting all those authoritarian leaders.  This is scary.  Sometimes my thinking gets the best of me and I begin to believe he was there to solicit their support for a coup attempt. If you read my full email, thank you. If you don't believe it, that's ok, too. I just want to make SOMEBODY aware.
Darlene
You are my news for the day. I have great respect for the contributors.
Thomas Baker
Posted on Portside's Facebook page
How Progressives Should Talk About the Muslim Ban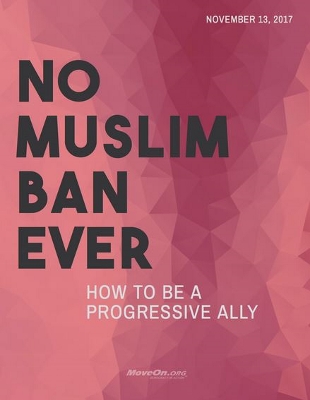 I want to share out a guidebook on how to effectively speak about the Muslim Ban to our own progressive audiences and how to avoid pitfalls that may harm Muslim communities: 
As you know, the Muslim Ban is an issue that isn't going away any time soon and, after watching some progressives, at times, try to be allies to Muslim communities but use problematic speech, we thought it was time to put this out into the world. 
We've tried to account for many of the angles here including: 
Why call it a Muslim Ban when the current version includes Venezuela and North Korea? 
How can we tie in the humanitarian crises in Syria or Yemen to the Muslim Ban? 
What are talking points progressives should absolutely avoid even if they seem to be everywhere? 
This is the first part of our work where we're hoping to actively uproot lingering Islamophobia in progressive circles by sharing alternative language that we could and should be using instead of relying on anti-Muslim frames that are easily adopted within our own circles. 
Please do read, share, and use this guidebook in your own work. I would love to hear if it's been useful for you, your organizations, or your campaigns. And please reach out to me if you have any feedback!  
[Click here to download full PDF.]
I also wanted to share this powerful video we made with Areej –– who was detained when the first Muslim Ban was implemented. She puts a narrative and story to a policy that may be hard to understand for many people: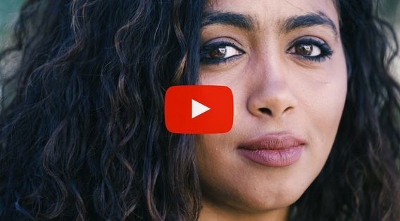 Watch here.
Iram F. Ali
Campaign Director, MoveOn.org 
iram.farman.ali@gmail.com 
718-300-9874 / @iramfali
Journalist Juan González discusses his new book at Labor Talks - New York - November 21

Seats are filling up fast, so if you haven't yet, be sure to reserve your spot at the next installment in our Labor Talks series on November 21 at 6:30PM with journalist Juan González!
Juan will discuss his new book, Reclaiming Gotham: Bill de Blasio and the Movement to End America's Tale of Two Cities, and lead a conversation around economic justice and class issues in the United States today.
TUESDAY, NOVEMBER 21, 2017
6:30 – 8:00 PM
The Workmen's Circle Headquarters
247 West 37th Street, 5th Floor, NYC
The Uses and Abuses of Antisemitism - New York City - November 28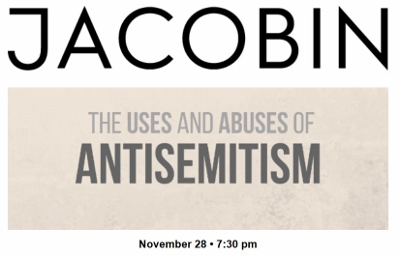 Tuesday, November 28 at 7:30 PM - 9 PM
The New School's Alvin Johnson Auditorium
66 West 12th Street
Manhattan, New York 10011
Tickets are just $5.00
Click here for tickets.
Moderated by Amy Goodman, host of Democracy Now!
Featuring Leo Ferguson, Lina Morales, Linda Sarsour, and Rebecca Vilkomerson
Antisemitism is harmful and real. But when antisemitism is redefined as criticism of Israel, critics of Israeli policy become accused and targeted more than the growing far-right.
Join us for a discussion on how to combat antisemitism today.
Event will be livestreamed at Facebook.com/JacobinMag.
All tickets good for $5 off copies of "On Antisemitism: Solidarity and the Struggle for Justice", essays collected by Jewish Voice for Peace and published by Haymarket Books. Tickets good for discount on copies purchased at this event.
Presented by Jewish Voice for Peace (JVP), Haymarket Books, Jacobin, Jews for Racial & Economic Justice (JFREJ), and The New School Creative Publishing and Critical Journalism program.
About our speakers
Leo Ferguson is the community and communications organizer for Jews for Racial & Economic Justice.
Lina Morales is a member of Jews of Color and Mizrahi/Sephardi Caucus of Jewish Voice for Peace.
Linda Sarsour is the former Executive Director of the Arab-American Association of New York, a co-chair of the National Women's March, and was a co-founder of MPower Change.
Rebecca Vilkomerson is the Executive Director of Jewish Voice for Peace.
Abraham Lincoln Brigade Archives - End of the year benefit - New York City - December 10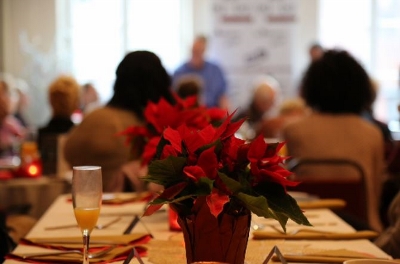 We will gather at La Nacional to look back on a momentous year and look to the future. The renowned activist Leslie Cagan will give a talk and we will share tapas, mimosas, and paella. 
Spanish Benevolent Society
239 West 14th Street, 2nd Floor
New York, NY 10011
12PM to 2PM
(Doors at 12PM, program begins promptly at 12:30PM)
Tickets are $45 in advance, $60 at the door.
A family pack (3 tickets) is available for $125.
Leslie Cagan has worked in peace and justice movements for more than 50 years. From the Vietnam war to racism at home, nuclear disarmament to lesbian/gay liberation, fighting sexism to working against U.S. military intervention, from support of Palestinian rights to police brutality to normalizing relations with Cuba, she's been a central organizer in many struggles. She is currently the coordinator of the Peoples Climate Movement NY and serves of the national PCM leadership body. Leslie was the National Coordinator of United for Peace and Justice, a coalition that grew to 1,400 member groups. She's has worked on progressive electoral campaigns, including serving as the Field Director in the 1988 Dinkins NY Mayoral race. Her writings appear in 10 anthologies and in scores of print and online outlets. She played a major role in winning back the first listener-sponsored media network and was chair of the Interim Pacifica Radio National Board.
Fundraising Concert for Puerto Rico - Presented by The Red Silk Dancers - New York - December 17
Sunday, Dec 17, 2017 at    3:00 &    4:30 pm 
Sirovich Center 
331 East 12th Street
Manhattan
Suggested donation: $10 - any amount will be appreciated All proceeds will go to relief efforts in Puerto Rico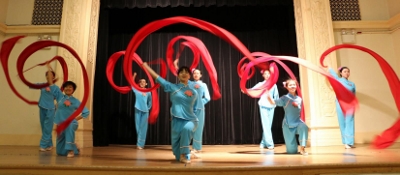 Photo by Heidi Lem