food
These Chefs and Farmers are Preserving Gullah Food Culture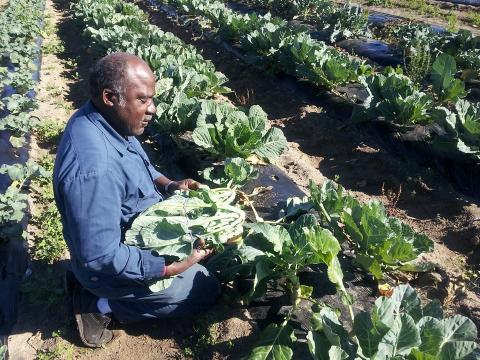 Chefs and Farmers Preserving Gullah Food Culture, Benjamin "B.J." Dennis
Food is central to the Gullah way of life. For over 250 years, distinctive places along the Eastern edge of South Carolina, Georgia, and Florida have maintained a culture called Gullah or Geechee. The families living in these seaside towns and on the barrier islands off the coast practice traditions that are linked to West Africa through language, religion and the arts.
Customs that traveled the Trans-Atlantic slave trade are still present in those living in the area, agricultural traditions remain strong, and many African-American lowcountry kitchen tables remain covered with sweetgrass baskets, shellfish, bottom feeder fish, legumes, Carolina rice, and backyard vegetables.
Multimedia food icon and cultural anthropologist Vertamae Smart-Grosvenor guided readers down dusty roads and illuminated the Gullah way of living and eating before straight-from-the-ground produce was popular. Cookbook author Sallie Ann Robinson's Shrimp and Tada Salad nourished many "beenyah" or "born and bred" bellies. Her book gave readers permission to wade knee-deep in flavor and to write recipes down. And from fruit to greens, John Island's 50 acres Joseph Field farm still plays an important role in Gullah food culture.
As we turn the pages of the past, a voice is singing "pay 'tention now—we ain't gonna be here always." Indeed, these communities are increasingly threatened by tourism and development. But despite those challenges, a fresh generation rooted in Gullah is spelling out stories and thriving—honoring the nuances of a highly cooperative and communal people.
These days, Charmaine Bee, founder of Gullah Girl Tea, lives in Los Angeles, but she has built her business around the herbal knowledge she learned growing up in Beaufort, South Carolina. "That's where my mother, grandmother, and grandmother's father were born," she says. She's heard stories about their farming practices, including her grandmother's ability to process her own chickens.
"The land that my grandmother once owned—she grew life everlasting, bull grapes (muscadines), had a huge pecan tree, and raised chickens and hogs—was sold to a neighboring family in the early 1990s," Bee recalls. "When I would visit her I remember people coming by for pecans. The tree was huge and looming."
 "My grandmother gave birth to all of her children in the house and the placentas were buried on the land. She would go near the area, pull horehound, and make herbal infusions for healing," says Bee. She took those lessons with her to form Gullah Girl Tea. "I was thinking of herbalism being a part of Gullah identity within this separation and assimilation into Western medicine," she adds.
Matthew Raiford, chef and farmer at Gilliard Farms and The Farmer & The Larder in Brunswick, Georgia, grew up believing family is more than his blood relations. It's an attitude that is indicative of many close knit communities in the region.
"I can remember my great-grandmother Florine Gilliard Johnson always reminding us that everything we were doing on the land—from feeding the chickens and hogs to helping pick okra—was to ensure not only that we ate but that our neighbors ate also," he says.
Many lowcountry natives are known for catching and cooking with shrimp and crab. Benjamin "BJ" Dennis IV, a personal chef and caterer based in Charleston, South Carolina, still relies on a number of local fisherman to provide seafood for cooking gigs.
"The matriarch of John's Island Freeman Farm reminded me to always ask her when I need blue crabs and such—she has the perfect guy for me," he says. Backman's Seafood has a great history and is well respected. Ravenel Seafood's garlic crabs and the middle age men repairing fishing nets proves we 'outchea.'
Germaine Jenkins, CEO & Market Director of Fresh Future Farm, spent her formative years in Cleveland, Ohio, before moving to her familial home in South Carolina.
"Truth be told, the Gullah story started to come alive for me when we found the show Gullah Gullah Island on Nick Jr. when my kids were little" says Jenkins. "As I've come to learn stories from authentic people like Benjamin Dennis and Giovanni Richardson, I now view the up-close-and-personal version of the Gullah story of perseverance as regal."
"As a poor kid growing up away from home," Jenkins says. "What I knew about my ancestors wouldn't fit on an index card." But now she's working with low-income families in North Charleston in an effort to "reacquaint them with the chemical free growing techniques of our ancestors. It's humbling to be able to offer hands-on learning opportunities and share the West African impact on this region's culinary traditions in the middle of a food (and place) desert."
Chef Dennis also sees himself as a "keeper" of Gullah culture. "Doing this work is paying homage to the folks that came before me. Oftentimes, Gullah living was looked down upon by our own. It's about respecting my ancestral lineage and embracing the culture. Being a keeper means allowing the ancestors to speak through me and listening to knowledge from our elders."
When it comes to keeping the culture alive he says places like Bertha's Kitchen and Ellen Bright Hall (now closed) have provided inspiration. "I can't forget Mrs. Charlotte Jenkins, owner of Gullah Cuisine and author of Gullah Cuisine by Land and Sea. And any remaining 'holes in the wall' serving things like smoked herring purloo [rice]. Also, my childhood friends who are stirring sausage and purloo on electric ovens in Charleston poorest neighborhoods—their survival skills keep me pushing."
Matthew Raiford echoes this sentiment. "What keeps me going is that being Gullah/Geechee means that I am supposed to always be connected to the land. It is my duty to ensure that I pass this on as a griot to as many of the next generations to come to make sure that these things stay preserved."