Why Riverside Church Supports the April 29 March on Washington for Climate, Jobs & Justice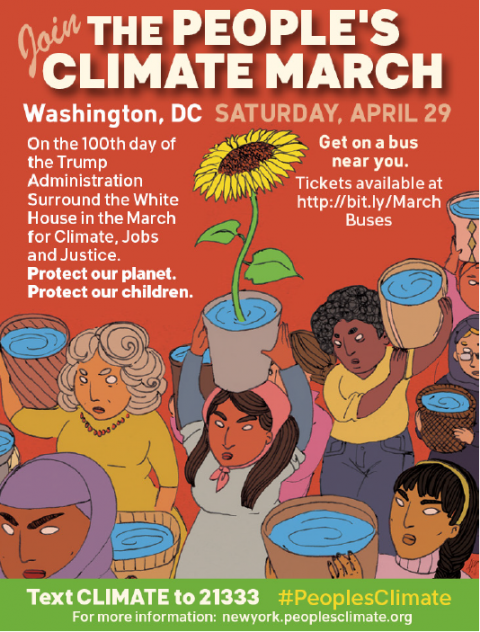 ., Peoples Climate March
On Easter Sunday the temperature was approaching 90 degrees, which is a nice reminder that summer is on the way. But this week was also yet one more on a list of weeks with 50 degree temperature changes in our city this year, occurrences that make  us look at each other with concern, shaking our heads and commenting, "Climate  Change!"
Anybody  who is paying attention should be worried about the very real threat of climate change, but action on critical environmental issues is often set aside because of perceived immediate crisis: war breaking out on the international stage, racial injustice and inequality decimating our streets at home, threats of mass deportation, a growing healthcare crisis. With all of these vying for our attention, attending to the earth hardly seems high on the priority list.
But particularly on this Earth Day, it is critical we recognize that we will continue to fail in nearly all of our endeavors to build a more peaceful and sustainable world as long as we ignore the urgent climate crisis.
Consider:
Our national security community has labeled climate change a "threat multiplier" – meaning it is one of the factors that contributes to political destabilization in regions across the world. Many argue that drought is a contributing cause in the Syrian civil war.
As a city of immigrants, we know that there are a lot of factors that cause people to leave home, but too often the most fundamental needs of food, water and shelter are at the root. Just look at the history of our own thriving Irish population and the famine that brought many to our city in the first place.
Over the last 20 years, the strength and  number of powerful storms has intensified – think of Superstorm Sandy and Hurricane Katrina. We know that these storms hit the most vulnerable among us the hardest. Areas with already poor or failing infrastructure are more devastated by storms and are least able to recover. And to ignore the connections between economics and racial justice is to turn a blind eye to the systemic impacts of our nation's original sin -- slavery.
The more we pollute our air and water, the sicker we become. This is especially true for major cities like New York. Urban areas have higher rates of asthma, allergies, breathing problems, and food and water related  illnesses.
This is why members of The Riverside Church will be participating in the People's Climate March in Washington, D.C. on April 29 and why we will be raising up care for creation as a matter of faith and justice in our Sunday worship service the day after Earth Day. Anyone in our wider-community is welcome to join us. And we aren't stopping there. Next week we will announce major initiatives we are undertaking as an institution to responsibly steward creation.
Were we to even catch a glimpse of the parameters of our worldwide climate crisis, surely its magnitude would shake us out of our complacency and spur us toward action. But whatever it takes, something must compel us to act before it's too late for us all.

➪  Buy your bus ticket now…click here!   Tickets are going fast, but there are still seats available on buses leaving from around NYC. You can purchase an individual ticket or you can contact us about a bus for your group or organization. If you cannot find a bus near you, let us know…we might be able to help you find one that still has open seats. If you have any questions about buses, please contact us right away at  pcmny.A29@gmail.com
Bus prices are on a sliding scale, from $20 to $100, so that as many people as possible can participate. $55 is the current break-even price for PCMNY (see below for bus departure points)

We also have a ride-share board on our website  where you can easily arrange to hook up with others who are traveling by car and might be able to accommodate you. The most important thing is to get to DC any way you can! You don't want to miss what promises to be a powerful day of opposition to Trump and all he stands for.