food
The Hidden Radicalism of Southern Food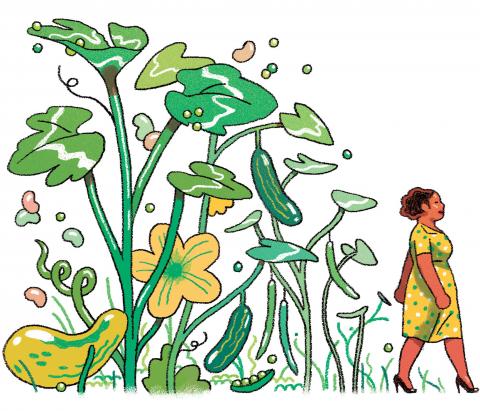 Radical Southerners, especially black women, who long provided the expertise and labor on farms and in kitchens, have challenged American agricultural practices and driven our changing relationship to food.,Richie Pope
Oxford, Miss. — AMERICA reacts with vigor to the South, for the nation has long recognized its deepest problems here. H. L. Mencken parodied a poverty-wrecked and racism-ruined South as "The Sahara of the Bozart." Modern debates about malnutrition have shifted from hunger to obesity. Different Southern deserts have come into focus.
During the Obama administration, agricultural activists trekked south to map food deserts, where access to fresh vegetables and meats is restricted and fast-food chains deliver high-calorie payloads and low-nutrient payoffs. Policy makers funded community gardens and redrew school-lunch nutrition standards. On Monday, Agriculture Secretary Sonny Perdue announced that schools receiving federal funds for lunches may opt out of federal whole-grain requirements and delay low-sodium mandates. When Secretary Perdue, a former Georgia governor, delivered this news from a Virginia school cafeteria, he applied a states' rights argument, honed in the South, to American food-system policy.
"A perfect example" of why there should be local control, Mr. Perdue claimed, lies "in the South, where the schools want to serve grits. But the whole-grain variety has little black flakes in it, and the kids won't eat it. The school is compliant with the whole-grain requirements, but no one is eating the grits. That doesn't make any sense."

The South is more than a locus for food-system problems and a battleground for policy arguments. Throughout its history, the region has incubated bold American solutions to hunger and food access. Radical Southerners, especially black women, who long provided the expertise and labor on farms and in kitchens, have challenged American agricultural practices and driven our changing relationship to food.
Fannie Lou Hamer, a woman of great emotional and intellectual ferocity, made her name as a voting rights activist. In June 1963 in a jail in Winona, Miss., a highway patrol officer ordered two of her fellow prisoners to beat her with blackjacks before joining in himself and nearly blinding her. Mrs. Hamer rose to national prominence as the leader of the Mississippi Freedom Democratic Party, which attempted to unseat the segregationist Mississippi delegation at the 1964 Democratic National Convention.
After recounting that beating in testimony before the credentials committee, she declared: "If the Freedom Democratic Party is not seated now, I question America. Is this America, the land of the free and the home of the brave, where we have to sleep with our telephones off the hooks because our lives be threatened daily, because we want to live as decent human beings, in America?"
In the late 1960s, as the civil rights movement shifted to address economic injustice, Ms. Hamer conceived agricultural solutions to the plight of her fellow Americans, including a communal farm and livestock share program in Sunflower County in the Mississippi Delta. That work set the stage for the progressive agricultural policies and practices of today, with their focus on food sovereignty and their reliance on community farms.
Near the end of his life, the Rev. Dr. Martin Luther King Jr. cautioned that not all of America flowed with the "milk of prosperity and the honey of equality." He focused his energies on the "total, direct and immediate abolition of poverty." To do that, Dr. King conceived the Poor People's Campaign of 1968, in which poor Americans, many from the South, agitated for jobs and justice.
Mrs. Hamer worked a more pragmatic tack. She argued that black Southerners would achieve full citizenship only when they controlled their own diet and in particular where their food came from. Raising your own crops was key. Mrs. Hamer said that food "allows the sick one a chance for healing, the silent ones a chance to speak, the unlearned ones a chance to learn, and the dying ones a chance to live."
From a region where slavery and sharecropping had made mono-crop agriculture possible — and a state where Senator James Eastland once said that the best fertilizer was the plantation owner's foot — Mrs. Hamer argued that stewardship of the soil was man's highest calling. With the help of the singer Harry Belafonte and a charitable group based in Madison, Wis., Measure for Measure, she founded Freedom Farm Corporation in 1969 on 40 to 60 acres of Delta land. The need was urgent, she told Northern supporters: "We must buy land immediately, or our people will die forgotten."
Freedom Farm aimed to give farmers land to work and poor families food to eat. This bold promise threatened plantation agriculture and its scions. Conservative whites saw cooperative agriculture as a threat to their political and economic power. Across the region, white banks called in loans, white families fired cooks and night riders torched crosses.
Mrs. Hamer was unbowed. "If we have that land," as she once put it, "can't anybody starve us out." By 1971, she had acquired 620 more acres of Delta farmland. She and her colleagues planted snap beans, squash, butter beans, peas and cucumbers.
Families could work for a few hours and carry home a bushel of produce in exchange. "You can give a man some food, and he'll eat it," she liked to say, in a paraphrase of the common proverb. "Then he'll only get hungry again. But give a man some ground of his own and a hoe, and he'll never go hungry again."
Mrs. Hamer began this work in the midst of an agricultural crisis. The South had begun to shift from labor-intensive family farms and plantations, hoed and harvested by men and women, to equipment-intensive farms with less need for labor. During the Great Migration, African-Americans had quit the region to claim manufacturing and service jobs in the North and the West.
This reinvention pushed more than three million farmers and their families off the land, including more than half a million African-Americans, abetted by discrimination against black farmers by the Department of Agriculture. Mrs. Hamer argued that a Johnson administration shift from commodity food distribution to a discounted food stamp purchase program, which too few could afford, had made matters worse. In a letter urging President Lyndon Johnson to bring back the troops he had sent to Vietnam and the Dominican Republic, Mrs. Hamer wrote, "If this society of yours is a 'Great Society,' God knows I'd hate to live in a bad one."
For black Southerners, relationships to the land were tangled and tragic. Mrs. Hamer's life embodied those tragedies. While cropping the Delta, her enslaved grandmother Liza Bramlett had given birth to 23 children. All but three resulted from rapes by white men. Lou Ella Townsend, Mrs. Hamer's mother, was one of those three.
To earn a living during the Depression, Mrs. Townsend scavenged scrap cotton from picked-over fields, slaughtered pigs for neighbors in exchange for parts and tended a backyard garden. When she worked the fields, she hid a gun in her lunch pail to protect her children. To feed her family, she cut the skin of potatoes and the top of beets and served them with bread and salted onions. She also washed clothes in exchange for milk and butter.
Throughout Mrs. Hamer's life, poverty and hunger would haunt her. As a child working the cotton fields of Mississippi, in bare feet wrapped with rags, she had gone hungry. When one of her daughters was a teenager, doctors fed her glucose to stave off malnutrition. Looking back on her mother's work as an itinerant butcher, Mrs. Hamer recognized that livestock husbandry could be a solution.
With the help of Dorothy Height, the president of the National Council of Negro Women, she developed a Pig Bank in Sunflower County in 1969. Conceived as a complement to Freedom Farm, the idea was innovative and, for the moment and place, odd. Beginning with 35 gilts and five boars, she gave pregnant pigs to Delta families who agreed to care for them, return the mother pig to the bank and keep the remaining piglets as dividends. Poor families butchered those dividends once they reached an acceptable weight.
Instead of buying ham and lard from a plantation commissary, Ms. Height bragged, Delta women went a year without store-bought pork. The Pig Bank built pride. "I don't be ashamed when someone comes here," Mrs. Hamer said in 1972, "and I can go in the kitchen and fry some ham."
By year two, 100 families slaughtered pigs in the fall, froze the meat and roasted hams for winter suppers. A cooperative gardening project followed. "When you've got 400 quarts of greens and gumbo soup canned for the winter, nobody can push you around or tell you what to say or do," Mrs. Hamer said.
She preached the differences between the interracial cooperative farm she organized and the white-owned plantations where she was raised. She argued that Freedom Farm and Pig Bank subverted that past. White funders grasped the promise. But many black farmers and the children of black farmers failed to grasp the difference between cropping cotton for white planters and raising beans and corn for a black-majority cooperative.
The managers of the project fumbled, Mrs. Hamer's health deteriorated, and her right-hand man suffered a heart attack. Her Freedom Farm and Pig Bank lost momentum. In a 1973 report, officials described the farm as "a dream struggling to survive."
Mrs. Hamer and her colleagues tried to incorporate the beliefs of the Black Power movement and the essence of Malcolm X's declaration that "land is the basis of all independence. Land is the basis of freedom, justice, and equality." Even though her work achieved only a short-term success, it presaged our nation's contemporary focus on food sovereignty as a solution to malnutrition.
In this moment, when fried chicken and shrimp and grits have become national folk dishes, talk of Southern food too often relies on comfort food simplicities or antebellum conceits. The work of Fannie Lou Hamer makes it clear that the South has served the nation as more than a place to situate (and eat) good food.
In the South, America has identified food-system problems and developed solutions. Today, as Americans agitate for food sovereignty, the bold agricultural ideas conceived in the late 1960s by Fannie Lou Hamer and other radical Southerners suggest paths for us to follow out of our food deserts.
John T. Edge is the director of the Southern Foodways Alliance and the author of "The Potlikker Papers: A Food History of the Modern South," from which this essay is adapted.