Remembering Chief Albert Luthuli on the 50th Anniversary of his Death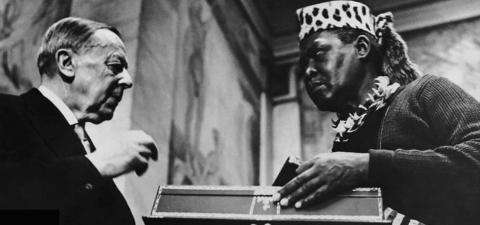 Chief Albert John Mvumbi Luthuli receiving Nobel Peace Prize in Oslo, Norway, in 1961, while under a banning order in rural South Africa, recognition for his role and contribution to human rights and the liberation struggle against apartheid South Africa, Credit: Britsh Broadcasting Corporation (BBC)
We remember leading individuals of the past in order to grapple with the meanings of their lives and to see what bearing their legacies have on the present.  The history of the ANC and its leaders is not only of concern to the ANC but also an important part of the history of the country as a whole.  We remember people and what their lives signify partly with a view to measuring what we have achieved or failed to do.
Is it a conscious suppression of memory or just that leaders are now so involved in succession battles or dubious deals that there is no time for Luthuli?  It may also be that, in these times, many people have been able to be members and advance to positions in the organisation without being very conversant with ANC history.
There are good reasons why the present-day ANC leadership may be uncomfortable with celebrating Luthuli's legacies, if these are presented in an unsanitised form.  His life represents qualities that are not found amongst current leaders, qualities that were manifested purely through his desire to live his life with integrity.
Liberal use of words like "icon" and similar notions that tell us nothing, prevent us from uncovering what it is that these leaders and Luthuli represented that are both a rebuke of the current leadership and represent an alternative model of leadership that can be advanced for emulation. 
When faced with the demand of the government to choose between the ANC and his chieftainship, in 1952, Luthuli refused to choose. He knew that his decision would bring down the wrath of the government and others who wished him ill. He was deposed as a chief. But he looked into the future and decided that he had to ready himself for whatever else could befall him, memorably declaring:
"What the future has in store for me I do not know. It might be ridicule, imprisonment, concentration camp, flogging, banishment and even death. I only pray to the Almighty to strengthen my resolve so that none of these grim possibilities may deter me from striving for the sake of the good name of our beloved country, the Union of South Africa, to make it a true democracy and a true union in form and spirit of all the communities in the land. .
"It is inevitable that in working for Freedom some individuals and some families must take the lead and suffer: The Road to Freedom is via the Cross. "
Luthuli was a Christian chief and the majority of the inhabitants of the area and of his council were non- Christians. Yet Luthuli had no contempt for the ambaBheshu (or amaBhinca) and taught his children to respect and learn from their insights.
"He always tried to stop conflicts before they got too big, and he always tried to stop a case from turning into a trial. He used to say, `It's true that the authorities say a wrongdoer must be fined. That is what the chief is expected to do to sort out the problem.  But if I fine people where are they going to find the means to pay?  How will they be able to send their children to school?'"
Luthuli never imposed them because he was conscious of the impact fines would have on an impoverished people.
Luthuli was the first non-racial leader in South Africa, the first African to have a following amongst whites
Even if the ANC chooses to neglect the memory and legacies of Luthuli we, the citizens of South Africa need to draw on these. Interestingly, Luthuli was born in then Rhodesia and in a week when a deputy Minister uses xenophobic language we need to recall not only that Luthuli was not of South African birth, but that he advanced a universal notion of rights, that freedom belonged to all of us, no matter what our origins.
He also advanced and lived ethical leadership, instead of merely voicing the words. Anyone who is serious about that notion ought to look at Luthuli's practices in order to derive insights that can benefit our society, when we eventually emerge from the abuses and crimes that characterises government today. 
Thanks to the author for sending his article to Portside.