Democratic Socialists of America Meet in Chicago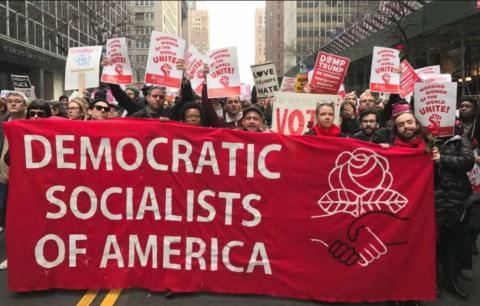 DSA members at the Women's March in New York City on January 21, 2017. ,Photo courtesy of Democratic Socialists of America // The Nation
This year, the Democratic Socialists of America held their largest national convention with 700 delegates representing 25,000 members. This was the first gathering after the group tripled in size since President Donald Trump's election. The convention, from August 4 through 6, brought together members from 46 states from rural towns and large urban centers. The newest members are mostly under 35.
DSA holds biennial national conventions. This year, the conference took strong positions on important resolutions, voted on by delegates from 46 states and at least 69 cities:
DSA reaffirmed their commitment to Medicare for All, full access to women's reproductive rights and full access for transgendered people to healthcare, but stopped short of responding to a call to initiate a pro-universal healthcare march on Washington. A push to set metrics on the results of door to door canvassing this year for Medicare for All was defeated. DSA also committed to working with allies to build a Medicare for on All Campaign at municipal, state and federal levels.
Creating a Democratic Socialist Labor Commission (DSLC) to expand and deepen DSA national and local labor work and to root the organization in the working class. DSA committed to guiding and fostering labor groups in each chapter and to creating student-labor groups on campuses throughout the US. Ultimately, DSA hopes to create a home within the organization for socialists working within organized labor.
DSA also endorsed:
Defending sanctuary cities against Trump's crackdown on immigrants
Jobs for all
the creation of an AfroSocialist Caucus
The Black Youth Project 100's Agenda to build Black Futures, an agenda which includes demands for reparations
The Boycott, Divestment and Sanctions movement and its call for Israel's compliance with International law and Universal Principles of Human Rights, equal treatment and right of return for Palestinians, and an end to Israeli occupation
Disaffiliation of DSA from the Socialist International, which counts among its members Egyptian President Mubarak's National Democratic Party, Mexico's corrupt ruling party the PRI, France's Socialist Party and Germany's Social Democratic Party. 
A fund raising banquet, which netted $100,000, featured speakers from Podemos (Spain), Momentum (the Jeremy Corbyn campaign in the UK), Jean-Luc Mélenchon's France Insoumise, Portugal's Left Bloco, and Brazil's PSOL, to the growing delight of a packed house of delegates and supporters, many newly politicized.
What's Behind DSA's Growth?
Many new members were active in Bernie Sanders' presidential campaign which called for democratic socialism as the answer to the rigged economy and capitalism which benefits the 1%. A large number of the new DSA members joined after some exposure to democratic socialist ideas on Twitter, Facebook, Tumblr and Instagram.
A combination of social media tweets, memes and videos reaching Bernie supporters, along with DSA's own consistent support for Sanders, swelled the ranks of the DSA from 8,000 the previous year. When Trump was elected, the conversations started by the Sanders campaign continued online. A few podcasts like "Chapo Traphouse," and the "Discourse Collective" discussed current events with a consistently left world view (along with a lot of smack talk) and provided a politicizing space to a new generation from their smart phones and computers. Social media bypassed the corporate media which blacked out these issues. Twitter personalities with rose emojis (which outed Twitter users as DSA members) kept the conversations and ideas moving forward to the hungry social media audience.
These online activities were matched with weekly or monthly DSA meetings where people continued to organize education and protests in their communities.  Established DSA Chapters in many cities grew rapidly to hundreds of members meeting "in real life" after the election, while hundreds more in each city remained members on paper.
Internal Changes
DSA also voted against increasing the National Political Committee to 24; it remains a 16 person body. More national organizing trainings, and a grievance procedure and anti-harassment policy were enacted. With the sudden membership increase, there was an appeal to the larger body to pay more in dues and many were strongly encouraged to pay monthly dues to replace the current annual membership dues system. DSA also abolished their longtime positions of Vice Chairs and Honorary Chairs, because many of the representatives bear little connection to the organization or its current mission.
For the first time, DSA had a serious competition for the 16 positions on the National Political Committee. With 43 candidates running, two groups emerged in the weeks leading up to the convention. The Momentum and Praxis slates released their platforms on the web, and a twitter explosion ensued discussing the many opinions. The members campaigned for their slates on social media and each won a significant part of the NPC.
All candidates addressed the future of DSA. The Momentum slate released a detailed platform which included international solidarity, rank and file strategy for labor work, electoral strategy, political education and "Medicare for All" national and local campaigns. Praxis prescribed a model of the mobilizer/organizer nationwide to be promoted through a series of local trainings, and a system of regional structure to provide chapter support. Praxis politics also emphasized racial justice and socialist feminism. Unity Through Diversity, "a network, not a slate," did not run NPC candidates, although some candidates endorsed their platform. They advocated maintaining a membership organization with a strong decentralized locals meeting distinct community needs. In a quick demographic survey, they noted that the age distribution in DSA is skewed to the under 35 and over 60 with a missing demographic in the middle. They appealed to attracting this missing group by recognizing their commitments at home or at work.
Despite these differences, all these currents in DSA agreed that there is a need to raise more money and to encourage those who can to pay more in dues. They also all agreed that the influx of new members means that a political education program needs to be developed, as a well as a system to activate the growing ranks to plug them into current projects.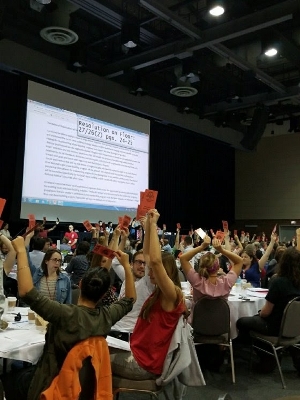 Voting on a resolution at the DSA Convention.
Photo credit: South Sound DSA Convention Diary (Tacoma, Washington)
After elections roughly half the NPC seats are occupied by Momentum or Praxis; the rest are independents and longstanding members. After the NPC was elected, it was comprised of half women and a quarter people of color with an overall geographic diversity.
The 2017 NPC members are Ravi Ahmad (NYC), Theresa Alt (Ithaca), Delė Balogun (Chicago North), Christian Bowe (Central NJ), Allie Cohn (Knoxville TN), Leslie Driskill (Oklahoma City), Zac Echola (Red River Valley, ND), Danny Fetonte (Austin), Jeremy Gong (East Bay), Catherine Hoffman (Detroit), Ella Mahony (Brooklyn), Chris Maisano (NYC), Natalie Midiri (Philly), Christine Riddiough (Central DC), Joseph M. Schwartz (Philly), and R.L. Stephens (Chicago).
At the end of the convention on Sunday, a tweet emerged revealing that one of the newly elected NPC members had previously worked as a CWA organizer for an affiliated police and prison guard union. A social media storm erupted, accusing the member of police connections and obfuscating his past in his candidate biography. Two petitions were circulated calling for him to step down from the NPC. The national interim steering committee responded with an announcement of their immediate intention to investigate the situation, and proposing future steps for national discussion.
Meanwhile, the convention's endorsement of BDS has also unleashed controversy, with strong condemnations from former members who had joined DSA when it held a softer position on Israel. One member wrote "Michael Harrington (the founding leader) would not recognize DSA today." However, other long-term members who had worked with Harrington supported the BDS resolution or, even where in disagreement, reaffirmed their commitment to DSA and the future of the organization.
[
Heidi Chua is Rosa Luxemburg Stiftung New York's Office Manager. She was born in Quezon City, Philippines, Heidi graduated in Political Science at Brooklyn College with a BA thesis on China's internal migrant workers. Previously, she worked on anti-sweatshop campaigns in Brooklyn and Manhattan Chinatowns. Heidi speaks English, Mandarin, Tagalog, Spanish, and is currently learning German
]