Dolores Huerta Documentary Opens September 1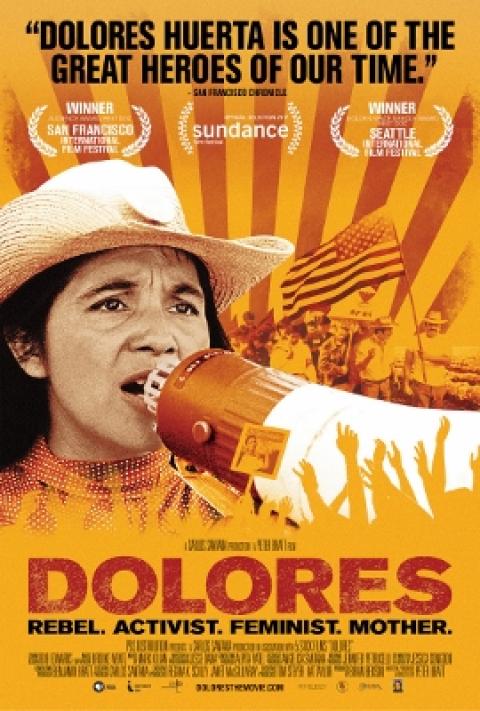 Dolores Huerta Documentary - official film poster,https://www.doloresthemovie.com/
The Trailer for the Dolores Huerta Documentary Is Out and It Looks Amazing
July 25, 2017
After premiering at Sundance earlier this year, the new Dolores Huerta documentary will begin to hit theaters on September 1. The production team released the trailer this week and from the looks of it, Dolores is definitely a movie to see.
DOLORES Official Theatrical Trailer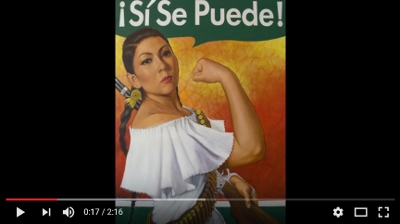 Watch here.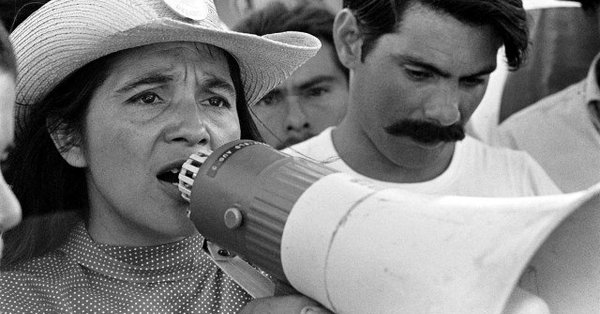 Featured image: Coachella, CA: 1969. United Farm Workers Coachella March, Spring 1969. UFW leader, Dolores Huerta, organizing marchers on 2nd day of March Coachella.
© 1976 George Ballis/Take Stock / The Image Works (Via the movie's press kit.) 
At Sundance Premiere, New Doc Strives to Tell Dolores Huerta's Erased Story
By Sharis Delgadillo
January 24, 2017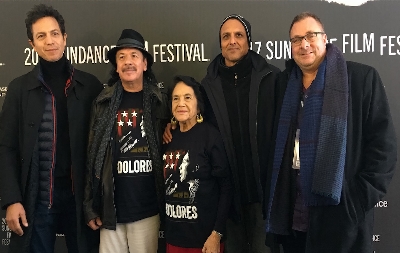 At the 2017 Sundance Film Festival premiere of "Dolores" are (l-r) Benjamin Bratt, Consulting Producer; Carlos Santana, Executive Producer; Dolores Huerta, Civil Right Leader; Peter Bratt, Director/Writer/Producer; and Brian Benson, Producer
Met with applause, roses and a standing ovation, the documentary Dolores, directed by Peter Bratt and executive produced by music legend Carlos Santana, made its world premiere at the 2017 Sundance Film Festival opening weekend.
"This is the most beautiful song I've ever written," Santana told the audience about the film.
The documentary profiles Dolores Huerta, the revered Mexican-American labor rights champion and co-founder of the National Farm Workers Association, which eventually became the United Farm Workers (UFW), an organization forever etched in America's cultural memory. Huerta's work, however, has too often been overshadowed by her male counterpart, labor leader César Chávez, also an original founder of the National Farm Workers Association.
"That's why they call it HIS-tory, history, right? Because the women's movement per se has been much written out of history and we would hope that would change some day," the 86-year-old Huerta told Latino USA. "Hopefully, we'll have a better educational system where women's contributions to history can be told… ethnic studies, labor studies and all the contributions of all the people that are kind of marginalized, will be included in our history books."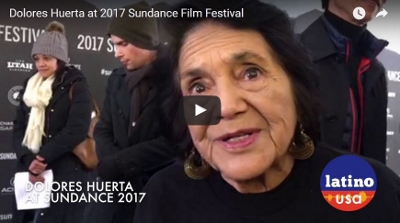 Listen here. 
Dolores aims to restore a piece of erased contemporary history, integrating Huerta into the Civil Rights Era narrative as the non-violent Chicana matriarch who worked relentlessly alongside Chávez to fight against the exploitation of farm workers through strikes, boycotts, voter drives, union bargaining and national policy changes. She did this all while unconventionally raising 11 children from two marriages and a relationship with Chávez's brother, Richard Chávez.
"Whether you are Mexicano, or Peruano like our family, or Salvadoran, or Dominican, I think Dolores, she holds a mantle that speaks for so many of us," said the San Francisco-based director Bratt, whose single indigenous Peruvian-Quechua mother marched with Huerta and Chávez in the early 1970s. "And I know our family and me as a child and in my later years, she had a personal impact in my self image."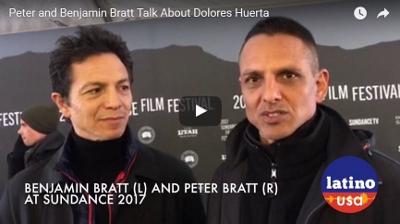 Listen here.
The documentary uses rare archival footage, empowerment speeches and provocative news interviews to depict Huerta's political career: from her earlier years organizing in Stockton, California, to her politically-charged organizational relationship with Chávez. It also explores other milestones in Huerta's life, like her alliance with former New York senator Robert Kennedy prior to his assassination, her near-death experience after a police beating that left her hospitalized, the Delano grape strike and the controversy of her stepping down from a leadership role after Chávez's death. The film even goes on to vindicate Huerta by correcting that "Sí se puede" (Yes We Can) was a term Huerta originated and not Chávez.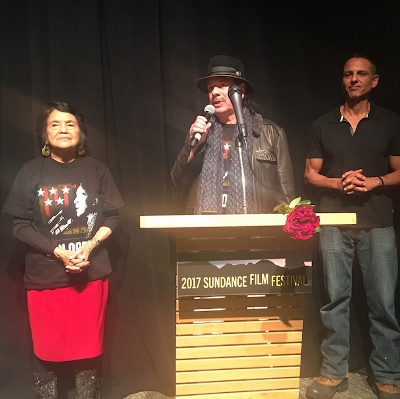 (L-R) Dolores Huerta, Carlos Santana and Peter Bratt address the audience at the 2017 Sundance Film Festival.
Photo by Sharis Delgadillo // Latino USA
With interviews from advocates, academics and iconic social justice figures, such as Angela Davis and Luis Valdez, the film provides a broader context of the Civil Right Era, including the Black Power Movement, the Feminist Movement and the initial collaboration of the Filipino farm worker strike, also often left out of historical context. Yet despite the history lessons, director Bratt chose to delve deeper into Huerta's personal life.
"As a storyteller, my job was to stay with the heroine on her political evolution. I didn't necessarily reach out to all the farm workers. I wanted to talk to her comadres, talk to her children," said Bratt.
Huerta's children interviewed in the documentary are seen emotionally breaking down when they recollect growing up with Huerta. They recall her absence for extended periods of time, which led to a lack of household stability, but it also developed a prominent sense of life purpose as adults.
In her uncategorized feminism, Huerta said in the film that she had 11 children because she believed every relationship should bear children. It wasn't until she reluctantly participated in the Feminist Movement that she concluded the only way a woman could control her life is by deciding how many children she wants.
Aside from highlighting Huerta as a labor rights leader and matriarch, the documentary also wraps Huerta in a historical and cultural indigenous identity.
"We're at a point now in this country where we are so far removed now from the shame that we learned in the beginning of our life, that we can stand now together and celebrate not only those differences, but more important, the similarities we share in that cultural identity," said actor Benjamin Bratt, Peter Bratt's brother, who worked as a consulting producer on the documentary.
Dolores was categorized under the Native American/Indigenous Sundance film category.
https://www.doloresthemovie.com/#screenings
DATE(S)

VENUE

LOCATION

August 13

Aspen, CO

September 1-7

IFC Center
Dolores Huerta and Peter Pratt in person 9/1-9/3

New York, NY

September 6

Stamford, CT

September 8-14

Nuart
Dolores Huerta, Peter Bratt, and Carlos Santana in person 9/8

Los Angeles, CA

September 8-14

Opera Plaza
Peter Bratt in person 9/9
Dolores Huerta in person 9/10

San Francisco, CA

September 8-14

Shattuck Cinemas
Dolores Huerta in person 9/9
Peter Bratt in person 9/10

Berkeley, CA

September 8-14

Smith Rafael Film Center
Dolores Huerta in person 9/10

San Rafael, CA

September 15-21

Pasadena, CA

September 15-21

Santa Ana, CA

September 15-21

Sonoma, CA

September 15-21

E Street Cinema
Dolores Huerta in person 9/15 after 4:30pm and 7:00pm shows
Dolores Huerta introduction 9/15 at 9:00pm show

Washington, DC

September 15-21

Ritz Bourse
Dolores Huerta in person 9/16

Philadelphia, PA

September 15-21

Baltimore, MD

September 15

Bethlehem, NH

September 18

Oxnard, CA

September 22-28

Ken Cinema
Dolores Huerta in person 9/22

San Diego, CA

September 22-28

Champaign, IL

September 22-28

Chicago, IL

September 22-28

Bakersfield, CA

September 22-28

Fresno, CA

September 22-28

Salinas, CA

September 22-28

Pittsburg, CA

September 29 - October 5

Mayan Theatre
Dolores Huerta in person 9/29 – 10/1

Denver, CO

September 29 - October 5

Minneapolis, MN

September 29 - October 1

Northwest Film Center
Peter Bratt in person 9/29 + 9/30

Portland, OR

October 4

Sioux Falls, SD

October 6-12

Scottsdale, AZ

October 6-12

Tucson, AZ

October 6-8

Tallahassee, FL

October 6-12

Atlanta, GA

October 6-12

Boston, MA

October 6-12

Santa Fe, NM

October 6-12

Austin, TX

October 6-12

Seattle, WA

October 13-19

El Paso, TX

October 13-19

Dallas, TX

October 13-19

Houston, TX

October 13-19

Lubbock, TX

November 7

Columbia, SC