Why are the Crucial Questions About Hurricane Harvey Not Being Asked?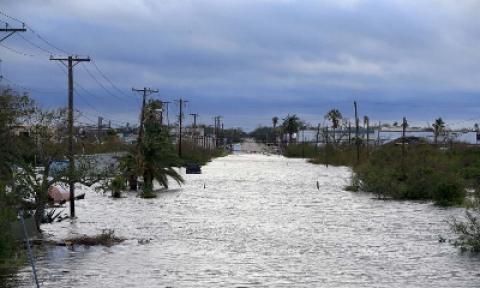 Hurricane Harvey offers a glimpse of a likely global future; a future whose average temperatures are as different from ours as ours are from those of the last ice age.',Photograph: ddp USA/Rex/Shutterstock // The Guardian
By George Monbiot
August 29, 2017
It is to expose a programme that relies on robbing the future to fuel the present, that demands perpetual growth on a finite planet. It is to challenge the very basis of capitalism; to inform us that our lives are dominated by a system that cannot be sustained - a system that is destined, if it is not replaced, to destroy everything.
I believe it is the silence that's political. To report the storm as if it were an entirely natural phenomenon, like last week's eclipse of the sun, is to take a position. By failing to make the obvious link and talk about climate breakdown, media organisations ensure our greatest challenge goes unanswered. They help push the world towards catastrophe.
This is not, however, a story of mortal justice. In Houston, as everywhere else, it is generally the poorer communities, least responsible for the problem, who are hit first and hit worst. But the connection between cause and effect should appeal to even the slowest minds.
We can't say that Hurricane Harvey was caused by climate change. But it was certainly worsened by it
By Michael E Mann
August 28, 2017
The Guardian
By Duncan Meisel
August 30, 2017
I noticed a few large list progressive organizations sending out messages about Harvey that didn't mention anything about climate change. A rapidly intensifying, major rain storm that stalls out is about as strong of a climate change signal as you're likely to see -- and not talking about climate change, and Trump's active attacks on climate science is missing a huge, crucial moment to address an enormous problem.