How to Help Irma's and Climate Change Victims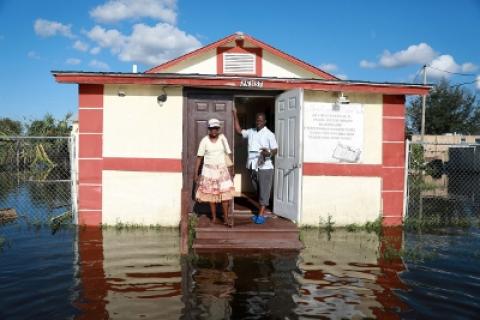 Pastor Louicesse Dorsaint stands with his wife Maria Dorsaint in front of their church, Haitian United Evangelical Mission, which was damaged by flooding from Hurricane Irma, in Immokalee, Florida, on September 12, 2017., credit - The Atlantic
Over a dozen Florida progressive grassroots organizations are already working together to help the most vulnerable communities recover. They formed a Hurricane Irma Community Recovery Fund.
Can you make a tax-deductible donation right now to help Florida organizers prepare? Early donations will allow quick planning and action.
Donations to the Hurricane Irma Community Recovery Fund are tax deductible. If you can give $5, that's water for people who may be stranded without it. If you can afford to give $1,000, your help is needed to rebuild Florida.
These once-in-a-thousand-years hurricanes didn't just happen "naturally." We need to fight climate deniers on a national level. Our sister organization, the Progressive Change Institute, is doing that and giving bold progressive leaders in Congress the backing they need to go on offense. You can donate here -- donations are tax deductible.
These Florida groups have jointly formed the Hurricane Irma Community Recovery Fund:
As Hurricane Irma barrels towards South Florida, our thoughts are with those in the path of this destructive storm, in the Caribbean and the Gulf coast. 
The combination of Hurricanes Harvey and then Irma, followed by active hurricanes Jose and Katia, is not only lethal, but a harbinger of the effects of unchecked industrialization with little regard for the earth's environment. The scientific community agrees that the frequency and intensity of these 'natural' disasters will only increase as human caused mass pollution triggers devastating climate change.
As devastating as these natural disasters are, the greatest devastation is man made. In addition to the destruction of the environment which leads to these types of weather events, low-income Black and Brown communities are disproportionately impacted by the effects of climate change, including Hurricanes such as Andrew, Katrina, Harvey and now Irma. This disproportionate impact is felt even more intensely by women, girls, femmes and LGBTQ folks in low-income Black and Brown communities, who also bear the brunt of poverty and government neglect.
The Miami Workers Center is committed to the safety, recovery and rebuilding of low-income communities in Miami, including Liberty City, Little Haiti, Overtown, Little Havana, without the forced displacement of our residents. We are committed to serving our communities to ensure access to water, food and basic human dignity. We are prepared to prevent the man-made disasters of politically motivated denial of resources to certain communities and the mass displacement of residents of those same communities.
We assert the right of low-income Black and Brown communities to lead recovery and rebuilding efforts in their own communities. Further, because solving the problem of those most oppressed also solves the problem for everyone else, we assert that rebuilding efforts must center the leadership and conditions of low-income Black and immigrant women, girls and femmes and LGBTQ folks.
As such, we call on allies to support organizations that shift power to low-income Black and Brown communities, not just to major organizations that deliver supplies to those communities. Allies must demand local, state and national governments prioritize the human needs of vulnerable populations and refrain from playing politics with natural disasters or using those disasters as financial opportunities for politically connected friends. 
We encourage Right To The City allies to support the following groups who are already organizing on the ground to coordinate recovery and response efforts that center the leadership and resilience of low-income communities of color, women, people of color. Directing resources towards empowering communities will protect our communities rights and ensure our communities dignity: 
4. Text STORM17 to "90975" to be connected to local recovery, volunteer coordination and updates coordinated by the Climate Resilience Team of NFM. 
Immokalee and other farmworker towns hit by Irma are facing significant housing loss. The season hasn't even fully begun and money is low. We don't know yet how this will impact when and how work begins. The community has no money to stay in hotels, and at his point people are collecting food and tents etc.. Many of the allies who have worked for years with Florida farmworkers have come together to raise funds.
100% of what is raised will go to farmworkers -- no overhead, no staff, no anything else. To be clear, CIW is not receiving any of this money directly nor controlling it (they want to make sure there is nothing messy in the process). It will be redirected to on the ground relief efforts that we know are providing the help the community needs right now or to purchase rebuilding materials, food, tents etc... We have people in those communities who are regularly reporting back and assisting with how to direct the funds.
The funds will go through the We Can't Have That Foundation! that has a solid track record of providing relief in Haiti. Thank you for considering helping out and here is the link!
Cathy Albisa; Executive Director
90 John Street, Suite 308
New York, NY 10038
212-253-1710 extension 303
Just weeks after Hurricane Harvey devastated the Houston area, it's heartbreaking to hear about Hurricane Irma and the destruction in Florida and the Caribbean. The storm has already caused significant damage, and it's far from over.
If you are wondering how you can help the families affected by the storm, here are some suggestions:
3. You can also support women living in temporary shelters by donating to Support the Girls. They provide pads, tampons, and other feminine hygiene products, so women don't have to choose between their personal health and their next meal.
No amount of help is too little or too much, so please consider giving today. 
Thank you,
===
Help the Cuban people: we are accepting donations to the Center's Lifeline Fund to help those in Cuba most affected by hurricane Irma. We will give the donations to the entity indicated to us by Cuba. Please state clearly that your donations are for this purpose with "Lifeline Fund/Irma" specified. When you send your contribution. [We are donating 10% of all CCS art sales this month to help, too.]
These photos tell the story: in the midst of Irma, people fought for their dolphins. If people had to get somewhere, they waded waist-deep in water.
Give what you can to help the Cuban people now. Send your donations to ccs, address below. 
231 West 29TH St., Suite 401
New York NY 10001