labor
Number of Women, Minorities in Labor Leadership Called Dismal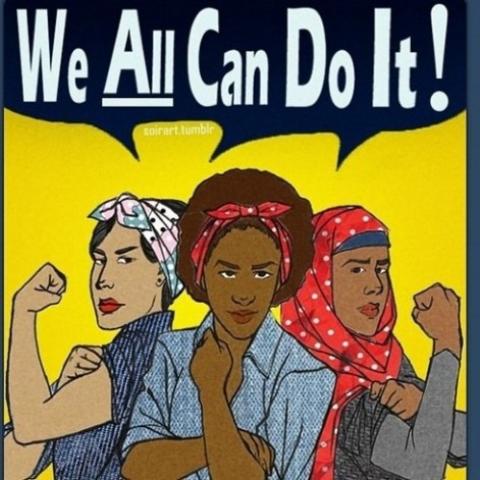 , thehotness.com
The labor movement has made progress in diversifying its ranks, but you wouldn't know it by looking at national union leadership.
The top still reflects an increasingly outdated workforce made up of older, white males, union leaders told Bloomberg Law.
"There's a saying within the labor movement: male, pale, and stale," Maria Somma, the first Asian organizing director for the United Steelworkers, said. "That has been our union. But that's not who our union is now. It's also not who our movement is going to be."
While a majority of unions have females and women of color in executive positions, the presidency usually eludes them.
The new workforce is younger, browner, and female, and observers say leadership at the national level must embrace those changes if the movement is going to survive and thrive. To do this, unions must establish recruiting and mentorship opportunities to groom young, minority members to take over, and they should aim to organize diverse workers in the future, union leaders said.
"I know how good it feels for me when I see someone like me leading," said Tamara Brummer, a black strategic organizer for the International Union of Painters and Allied Trades. "It makes a difference because it shows that you as an institution are really invested in me and my future."
Brummer is leading the IUPAT's new strategic organizing division along with Rosa Lozano and Neidi Dominguez, both Hispanic women.
AFL-CIO Touts Diversity
AFL-CIO President Richard Trumka and delegates on the floor of the labor federation's recent convention celebrated the event as the most diverse in years. About 47 percent of the delegates there were women or people of color, leaders announced at the time. That's up from 43 percent in 2009.
Not all were convinced those numbers reflect progress.
"We got work to do," Brummer said.
Representation for women in labor "is very dismal," Diann Woodard, president of the American Federation of School Administrators, told Bloomberg Law. Woodard is the group's first black, female president.
Of the AFL-CIO's more than 50 affiliate members, seven of the unions are led by women, according to the federation's affiliate membership list. A majority of the unions are led by white men.
Two major non-AFL-CIO affiliated unions are led by women.
The 2 million member Service Employees International Union is led by Mary Kay Henry. She was the first female president of the union, elected in 2010. The National Education Association, the largest union in the U.S., is led by Lily Eskelsen García, the union's first Latina president.
The AFL-CIO and its affiliates don't deny that there's room for improvement. Diversity was a major topic of discussion throughout the recent convention, and the labor federation urged affiliates to continue to work on it.
The American Federation of Teachers also has a woman at the helm: Randi Weingarten. She said many union heads are addressing this disparity.
"I don't think anybody has their head in the sand," she said.
What to Do?
In the past, it was difficult for women to move up the union ladder, Weingarten and Woodard said. Some union representatives told Bloomberg Law that men in charge didn't see women as leaders. And that was true in both male-dominated and female-dominated industries, they said.
"People considered me to be so soft and so demure and to think that in terms of putting me as a national leader would almost be impossible or something that would not happen," Woodard said. "It got down to: Who's the next person? We're running out of people. And so I got the position and then I had to prove myself later."
"My experience is not terribly different from most other women who have become leaders in their organizations, which is: You earn it and you still don't get the benefit of the doubt," Weingarten said. "It doesn't matter how many years or how long you're at it. You're never part of the boys' club. I love my colleagues, but I'm not part of the boys' club."
To change that approach, unions must mentor their young members to arm them with the knowledge, skills, and confidence needed to lead.
Leaders must also know when it's time for a new person to take the helm. To keep new blood flowing through the labor movement, older leaders have to make room for their successors, RoseAnn DeMoro, executive director of National Nurses United, said.
"You have to get out of the way. You can't just talk about it," she said. "If you're a leader, a strong leader, you step down and open that up to someone you believe reflects where this union needs to be."
DeMoro says she's walking the walk. She intends to step down at the beginning of next year so that Bonnie Castillo, the union's associate director, can take her place. DeMoro said she will stay involved in labor and be on hand to mentor and support Castillo.
IUPAT Leads the Way It takes a conscious effort for a union to make these changes, said Ken Rigmaiden, IUPAT's first black president.
"I did make a conscious effort to not only become more diverse, but to get my existing staff and existing membership to understand what it means," he said.
IUPAT represents members in an industry currently dominated by white men, Brummer, Lozano, and Dominguez said. The three women were brought into the union for their skills as organizers and for their experience as women of color. But in no way are they "tokens," Lozano said.
Being brought into the traditionally male trade union was "a historic moment" for IUPAT, Dominguez said.
Copyright © 2017 The Bureau of National Affairs, Inc. All Rights Reserved.