Tidbits - November 30, 2017 - Portside's Annual Fund Appeal; Reader Comments: Urgent message from Linda Sarsour; Trump Tax Scam; Sexual Abuse; Country Musicians Speak Out; Book sale; and more....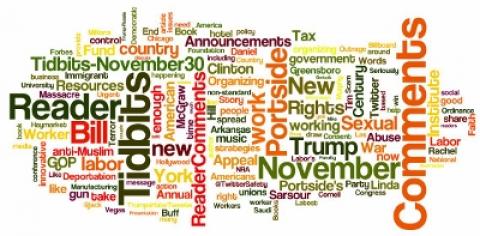 Tidbits - Reader Comments, Resources, Announcements and Shorts - November 30, 2017, Portside
Resources:
Announcements:
==========
Many thanks to Portside's dedicated readers who have contributed already about ten percent of the total that we raised last year - and this is based on a brief announcement, like this one, that appeared in Tidbits on Thanksgiving. A huge Portside thank you to those that have already responded.
Information is power. Our mission at Portside is to seek out and to provide information that empowers you -- that empowers the left. Every day we search hundreds of sources to connect you with the most interesting, striking and useful material. Just once a year we appeal to you to contribute to make it possible to continue this work. Please help.

Seriously, enough is enough. When do we draw the line?
Seriously, enough is enough. When do we draw the line? The president is RTing unsubstantiated anti-Muslim videos and accounts of neo-fascists. European leaders and politicians are APPALLED. Even Infowars was like "this is not good optics."
This isn't the first time that Trump used the social media platform to spread anti-Muslim rhetoric—and Twitter needs to stop pretending that Trump's hate speech doesn't have consequences.
PLEASE lend your voice to tell Twitter to shut him down. We are exhausted. He's a dangerous man. We need you to say ENOUGH is ENOUGH. I want this to drive him crazy like he is doing to us and our communities every day.
We can't be silent anymore.
***Here are sample tweets that we hope you can share individually and organizationally:
Trump is once again using Twitter to spread anti-Muslim rhetoric @jack @TwitterSafety: shut down #TrumpsHateTweets https://act.mpowerchange.org/sign/twitter-trump-hate-speech/
@jack @TwitterSafety: take action to prevent anti-Muslim violence. Shut down #TrumpsHateTweets https://act.mpowerchange.org/sign/twitter-trump-hate-speech/
Trump uses Twitter to spread anti-Muslim bigotry - @jack @TwitterSafety when will you take action? #TrumpsHateTweets https://act.mpowerchange.org/sign/twitter-trump-hate-speech/ 
Thank you all in advance.
Linda Sarsour
Follow me on Twitter
Re: GOP Tax Bill is the End of All Economic Sanity in Washington - Forbes Magazine
"If it's enacted, the GOP tax cut now working its way through Congress will be the start of a decades-long economic policy disaster unlike any other that has occurred in American history." Try Stan Collender's attack of the remarkably evil tax "plan" of the misbegotten GOP which came via Forbes (Capitalist tool) and Portside (socialist tool). [At the beginning the author, oddly imo, tells his readers what to tweet about the article. Has planning other people's tweets become a thing?]
Daniel Millstone
Posted on Portside's Facebook page
Re: 700,000 Women Farmworkers Say They Stand With Hollywood Actors Against Sexual Assault
Question is will the Hollywood crowd stand with farmworkers, hotel workers, waitresses?
Sonia Collins
Posted on Portside's Facebook page
Re: Want to Stop Sexual Abuse in the Workplace? Unionize
(posting on Portside Labor)
thought this could interest you...
Chicago Passes Ordinance Requiring Hotels to Provide "Panic Buttons" To Certain Employees
October 29, 2017
National Law Review
On October 11, 2017, the Chicago City Council passed the Hotel Workers Sexual Harassment Ordinance (the "Ordinance"), which requires Chicago hotels to develop anti-sexual harassment policies and provide employees who work alone in hotel rooms with panic buttons. Employers who fail to comply with these requirements or retaliate against employees for invoking the Ordinance's protections may be subject to fines and/or the suspension or revocation of their hotel license.
Jorge Mujica
Re: The Trump-Russia Story Is Coming Together. Here's How to Make Sense of It
Some of these critiques, that now appear daily may have a grain of truth, but not much more.  They don't take account of the utter hypocrisy of the Dems and all those reverting to the old style red-baiting. The United States interferes in the elections and internal affairs of dozens of countries around the world. Such interference takes the form of regime change, as occurred in the Ukraine, and is happening now in Venezuela. Other times, outright military intervention as in Afghanistan, Iraq, Libya and Syria. Drone murders and Special Ops in dozens of countries, now including Africa. 60 years of boycott continuing against Cuba. Aid to local militaries to overthrow governments or to violently repress those demanding change, Chile, Central America. So get off it Democrats and media. Go after Trump for real, not trumped up, reasons.  So let's lay off the utter hypocrisy, Russia has a concern for U.S. events, logical.   But it is not gent on overthrowing the government or sending troops.  This Russia baiting goes on daily, without a single word about U.S. interventions.  Get Trump for good reasons, not trumped up.
Dale Johnson
Re: America is About to Kill the Internet and Towns Like This Will Pay the Price
The loss of net neutrality means opening the door to censorship. We have declared a national strike.
Tell your ISP if the FCC changes net neutrality, you won't pay your bill.
Stacy Jean
Posted on Portside's Facebook page
This is the exactly wrong strategy, I think, based on experience in the rest of the nation. He needs to push a heavy class based (and anti-racist campaign a la Bernie to win over working class whites, not aim at richer Republicans. That would also help to build a movement for the future even if he loses
Joe Berry
Re: How Bill Clinton Remade the Democratic Party by Abandoning Unions An Arkansas Story
(posting on Portside Labor)
Michael Pierce's reminder of the origins of Bill Clinton's betrayal of working-class Americans hits the spot.  Arkansas labor activists warned us to withhold support from Bill Clinton in the 1992 primaries because he was not labor's friend and would embarrass us in the end.  Some, like Gerry McEntee, disregarded that warning in their eagerness to back "someone who can win."  Clinton did win; and we in labor did not.  Nor did the Democratic Party, many of whose leaders and legislators turned against a large part of its past championing of working families' basic concerns with the expectation that liberal faces on social and racial issues would sustain them while they scraped up money from the business table.  Given the rightward thrust of the Republican Party, labor had nowhere else to turn.  But working people, on their own, felt they did.
James Young
Harrisburg, PA
Re: Congress Must End American Support for Saudi War in Yemen
I believe there is another purpose behind this cruelty. Saudi wants to annex the land once they've eliminated sufficient population. Similarly, our government is trying to depopulate Puerto Rico !
Aaron Libson
Re: Lessons on the Anniversary of the Greensboro Massacre
I had a contract job right after that and traveled in from another state. Very tense all around and being an unknown, I had a police escort whenever I went anywhere.
Bruce Walker
Posted on Portside's Facebook page
    ====
"THE STRUGGLE CONTINUES"! ORGANIZE!
Curtis Muhammad
Posted on Portside's Facebook page
Re: Catalonia: The Left and Sovereign Alternative
Like many of you, I wasn't sure of the Catalan situation and so I reached out  to a leftie friend of mine who is Spanish. After checking out what information he gave me, it seemed to me that what's happening in Spain is awfully similar to when the richer parts of the former nation of Yugoslavia broke off  in order to cut and run with their own ability to generate more wealth ( and therefore not share such wealth with their fellow citizens) many of whom were subsequently slaughtered, forced to evacuate, or bombed by the US in the following civil war. I could be wrong, but I think we should slow down and take a good sober look at what's really happening here, 
Mike Liston
Re: Words, War, Words: Bertolt Brecht's War Primer
There's so much that I haven't read, have never known about. A new Brecht book. New to me. Have you heard of it even? It's mixture of photos and poems. Here a description and review of the book by Alexander Billet (whose work and magazine, red wedge, are also new to me). Are you as overwhelmed as I am by the cascade of interesting work pouring into inbox? Thanks to Portside for the link.
Daniel
Posted on Portside's Facebook page
Re: We need a new Manufacturing Consent
Thanks for sharing this Taibbi article. Over the past decade, I have been working on a new Manufacturing Consent, and I have a draft version that can be printed on demand  It's currently being edited and shortened by an academic publisher, but I do hope it will help spread the idea that media reform is one of the most important issues of our time.
All the best, and keep up the good work,
Peter Beattie
Tim McGraw And Faith Hill Outrage Millions Of Americans After Latest Comments (and Rosanne Cash, too)
By Charles Roberts
November 13, 2017
AmericaNow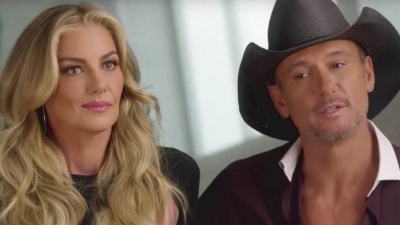 Two of country music's biggest stars, Tim McGraw and Faith Hill, are throwing their weight behind common sense gun control, calling on the government and the NRA to take action.
The couple, married for 21 years, made their comments in an interview with Billboard less than two weeks after the Las Vegas massacre in which 58 people were killed at a country music festival.
The Las Vegas gunman, Stephen Paddock, had legally purchased military-grade weapons and accessories which allowed him to fire on the festival from the window of a hotel room across the street. 
"In reference to the tragedy in Las Vegas, we knew a lot of people there," Hill told Billboard. "The doctors that treated the wounded, they saw wounds like you'd see in war. That's not right. Military weapons should not be in the hands of civilians. It's everyone's responsibility, including the government and the National Rifle Association, to tell the truth. We all want a safe country." 
McGraw shares his wife's feelings, he told Billboard.
....
Speaking out is a bold move for the couple at a time when most major country music stars are hesitant to speak about gun control. 
In an October op-ed published in The New York Times, country music singer-songwriter Rosanne Cash, daughter of Johnny Cash, described how she has received death threats for advocating gun control and called on other country music singers to shun the NRA. 
"The stakes are too high to not disavow collusion with the NRA. Pull apart the threads of patriotism and lax gun laws that it has so subtly and maliciously intertwined. They are not the same," she wrote. 
Read more here.
50% OFF All Haymarket Books for the Holidays

50% OFF Holiday Gifts for the Red On Your List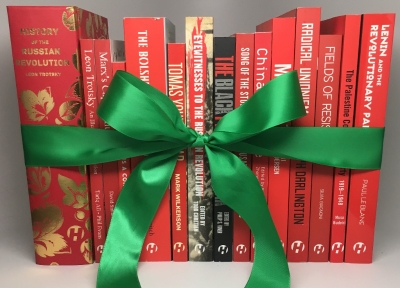 Looking for books to give to the radicals (or radical curious) on your list? Looking for your own next read? Look no further than HaymarketBooks.org!
 
Take 50% OFF everything at HaymarketBooks.org through January 2nd!
Get a FREE Ebook bundled with every book purchase!
Get FREE Shipping on orders over $25 inside the US.
Order by Thursday, December 14th to guarantee delivery by December 25th.
Continue to Haymarket Books
Book Talk: Rachel Buff on Against the Deportation Terror: Organizing for Immigrant Rights in the 20th Century - New York - December 5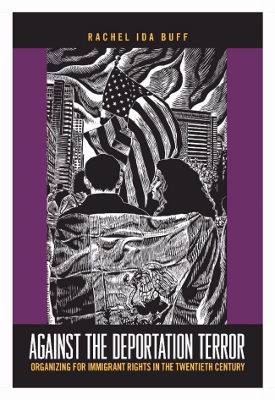 Rachel Ida Buff will discuss her new book Against the Deportation Terror: Organizing for Immigrant Rights in the Twentieth Century (Temple University Press, 2017) on Tuesday, December 5 (4:30 PM) at the Tamiment Library. A reception with wine and cheese will follow the lecture. This event is sponsored by the Frederic Ewen Center.
Tamiment Library & Robert F. Wagner Labor Archives
70 Washington Square South
10th Floor
New York, NY 10012
Rachel Ida Buff is Professor of History and Coordinator, Comparative Ethnic Studies at the University of Wisconsin-Milwaukee (UWM). She is the editor of Immigrant Rights in the Shadows of Citizenship and the author of Immigration and the Political Economy of Home: West Indian Brooklyn and American Indian Minneapolis, 1945–1992. She is a proud member of the UWM chapter of the American Association of University Professionals.​
Copies of Against the Deportation Terror will be available for purchase.
RSVP: email tamiment.events@nyu.edu with guest name(s) & event title.
Faculty Brown Bag Lunch Presentation - Labor's Bill of Rights - New York - December 6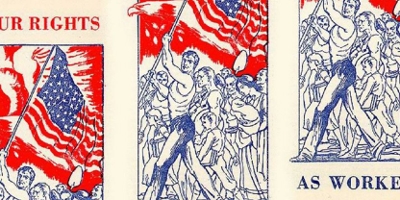 Workers seeking to join unions today are hampered by rules that make unionization exceedingly difficult. One of the root causes is the fact that the framers of the National Labor Relations Act (1935) elected to locate its constitutional authority in the Commerce clause–not in the First Amendment right of free speech and assembly, nor in the Thirteenth Amendment right to be free from "involuntary servitude."
As the Supreme Court gets set to hear the Janus case, now is the time to discuss bold new strategies to restore labor rights, starting with changing the way unions and allies talk about what's holding unions back, innovative use of the courts and the NLRB to raise fundamental worker rights questions, as well as conscientious acts that would violation the law to force the issue. Co-hosted by the Century Foundation, this brown bag talk features Shaun Richman, an adjunct instructor at The Murphy Institute, former organizing director for the American Federation of Teachers, and the author of a recent New Labor Forum article and longer report published by the Century Foundation on the same topic.
Shaun Richman and Labor's Bill of Rights
Wednesday, December 6th, 12pm -1:15pm
CUNY Murphy Institute
25 W. 43rd Street, 19th Floor Conference Room
Manhattan
Lunch Served, compliments of the Century Foundation
RSVP to murphyinstitute@cuny.edu
Redefining Worker Power - A Conference on Policy and Organizing Responses to Precarious Work - New York - April 27 - 28

April 27 - 28, 2018
Weill Cornell Medical College
Belfer Research Building
413 East 69th Street, 3rd floor, New York, NY
Seating is limited. Register today!
Click here to register. 
The Worker Institute is hosting a conference on the topic of innovative policy and organizing responses to the challenges of non-standard employment or precarious work.
 
KEYNOTE SPEAKER:
Bhairavi Desai, Executive Director, New York Taxi Workers Alliance
Additional speakers to be announced in the coming weeks. For questions about scholarships for low-wage worker groups and accessibility please contact Legna Cabrera at ljc46@cornell.edu.
ABOUT THE CONFERENCE
The conference intends to create a space for a wide range of stakeholders to share and explore new strategies in policymaking, enforcement, and organizing around the issue of non-standard work arrangements, such as temporary, on-call, part-time and contract work.
Labor advocates and policymakers from across the country have been experimenting with new policy and organizing strategies such as legal protections for freelancers, joint employer lawsuits, and licensing schemes requiring compliance with labor and employment standards.
However, these stakeholders lack a forum to share experiences and best practices in dealing with non-standard work and with the underlying factors that drive it, including the expansion of business strategies such as franchising and subcontracting.
This conference will provide a unique opportunity to bring together state and local government agencies, legislators, labor organizations (unions and worker centers), and scholars, who are connected to or engaged in these innovative efforts in the United States.
Click here for event details and to register →
The Worker Institute at Cornell engages in research and education on contemporary labor issues, to generate innovative thinking and solutions to problems related to work, economy and society. The institute brings together researchers, educators and students with practitioners in labor, business and policymaking to confront growing economic and social inequalities, in the interests of working people and their families.
The Worker Institute at Cornell - ILR School
16 East 34th Street, 4th Floor
New York, NY 10016