labor
Saggio da San Frediano # 8 – Lost in Translation – Strike at Amazon in Italia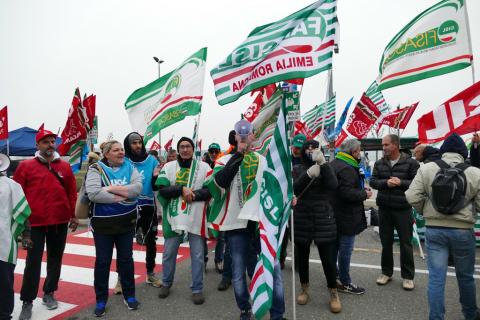 Amazon workers strike at an Italian distribution center Nov. 24., Rex Shutterstock
Even though there is no Thanksgiving in Italy, the lack of a "Giorno di Ringraziamento" does not mean that there is no Black Friday. In fact for many years now Italian merchants have celebrated the last Friday in November with discounts that fill their stores with the same bargain hungry masses as in the United States. So Black Friday this year was the day that the three Italian trade union Federations chose as a strategic day to strike Amazon's million square foot distribution center in Castel San Giovanni near Piacenza in Northern Italy. This was the first strike in Amazon's history in Italy. There have been some job actions at Amazon in Germany. Italy is a growth market for Amazon and two more warehouses have opened in Northern Italy in Vercelli (mid-way between Milan and Turin) and Passo Corese in the region of Lazio in Central Italy.
The warehouse in San Giovanni is the size of 11 football/soccer fields. The facility opened in 2015. At 5 AM on Friday, November 24 about 50% of the 1600 "Blue Badge" permanent employees stayed off of work and struck. There are however another 2000 temporary "Green Badge", short term and seasonal employees, most all of whom came to work. Amazon spokespersons insisted that the strike was only 10% of the workforce because of course they were factoring in the temporary employees. Amazon had agreed to sit down with the unions on the Monday following the strike (November 27) but subsequently canceled that meeting. and unilaterally moved it to January 18th. The unions warned that if there were not substantive face-to-face discussions by December 6th that there would be more actions. Amazon on December 5 agreed to meet on December 11th! On December 6th the pressure on Amazon was heightened by a ruling by AGCOM (Autoria' per Le Garanzie nelle Comunicazioni) the Italian authority charged with regulating all communications. AGCOM ruled that the operations of Amazon were substantially similar to Le Poste Italiane and therefore Amazon was warned that within 15 days they would have to comply with the collective labor contract negotiated for Italian postal workers! Talk about tightening the noose….!
The strike of course received widespread coverage in the world business press. In the United States an excellent article from the left daily Il Manifesto by Massimo Franchi was translated and circulated in progressive labor circles. The issues that led to the strike are certainly universal: pay, health and safety and arbitrary treatment. It is estimated that Amazon workers walk about 20 kilometers on average per day without coffee breaks and with a miserable 30 minute lunch break that is consumed by travel time from one's work post to the cafeteria: often about 8 minutes. What gets lost in translation are the differences in the industrial relations systems in the two countries.
Sectoral bargaining happens because of the historical power of the largely Communist led labor movement (coming out of the anti-fascist struggle for liberation) which included large scale strikes against the Nazi Fascists.
Three labor federations with their particular sectoral affiliates all calling and leading a strike of their members in one company? Striking without winning certified majority support among the workers? What are we on the moon here? Italy in the aftermath of WW II and mandated by Article 39 of the Constitution has a national system of sectoral negotiations coupled with a very detailed and complicated system of labor jurisprudence. Labor is even sanctified in Article 1 of the post WW II Constitution that states: "L'Italia e' una Repubblica democratica fondata sul lavoro"! Sectoral bargaining happens because of the historical power of the largely Communist led labor movement (coming out of the anti-fascist struggle for liberation) which included large scale strikes against the Nazi Fascists. Originally in 1947 there was one labor federation, but the interests of the Christian Democrats and the Western capital led to the founding of an additional two major federations (CISL and UIL) in the late 40's. The employer associations in different sectors meet with the unions and establish a national contract that regulates basic wages and conditions for all the workers in a particular industry. Such is true for warehousing and logistics, and Amazon is not exempt from such basic provisions even if not one Amazon worker is a member of one of the unions in that sector. Our US system of course is enterprise based, and it is a ferocious struggle particularly in the private sector to win a union in one location and apply the basic terms of a contract. It can often take years and much grief and heartbreak for a union to prevail even with the support of 100 % of the workforce. Conceptually the idea of sectoral bargaining resonates with many American trade unionists looking for a way out of the isolation and powerlessness of company specific organization. The Italian sectoral agreements apply to 85% of all Italian workers in companies large and small. Our private sector contracts only cover 6.7% % of the workforce down from 35% in 1955. Such sectoral agreements of course don't come out of a "good idea" or "an enterprising thought", these agreements and this system are the product of some of the most violent and militant struggle in the Western world. Thinking doesn't make it so…
However the Italians while representing most of the workforce in their national agreements only have 30% of the workforce signed up as members (all 3 Federations). This is not good news as the Amazon case illustrates. The unions are free to demand meetings with Amazon to discuss improving on the national agreement. Such improvements are needed. For instance Amazon has basically instituted a permanent Sunday shift. The national agreement calls for a 5% shift premium, but given that this is a permanent shift not an occasional interference with the Sabbath, the unions are demanding a 40% differential for those who regularly work that day. But Amazon feels no compulsion to meet, let alone agree to such conditions unless the workers can flex their muscles in strikes, slowdowns etc. So when the Piacenza facility first opened about three years ago there were initially 23 members of the CGIL. Through patient organizing meetings at work and away from work etc.; all tactics American organizers would recognize, the membership has grown and the strike can go forward. The Vercelli warehouse has just opened and there are only a handful of members among the 500 employees, and there is no capacity to strike, but the organizing continues there and at Passo Corese.
Italian law does not permit the firing or "permanent replacement" of strikers that US law allows in many situations, but nevertheless on the job retaliation and favoritism are not unheard of even for employees who have "permanent" employment under Italian labor law. For instance often employees prefer to pay their union fees on a monthly basis direct to the union rather than having the employer deduct them from their checks. This is protective anonymity in workplaces where the union is still nascent and struggling to build power.
Amazon has become a symbol of the new economy in Italy and the unions are determined to make these new workplaces, union fortresses. While the Italian system has many advantages and represents a far more developed system than our own, patient worker based organizing remains the fundamental building block of any "sectoral strategy".
Stay tuned, negotiations and maybe more strikes and job actions to come; good organizing permitting….
[Peter Olney is retired Organizing Director of the ILWU. He has been a labor organizer for 40 years in Massachusetts and California. He has worked for multiple unions before landing at the ILWU in 1997. For three years he was the Associate Director of the Institute for Labor and Employment at the University of California.]